Sunday, November 01, 2009
WONDERLAND Exhibition
San Francisco Tenderloin
, October 17, 2009
Curated by
Lance M Fung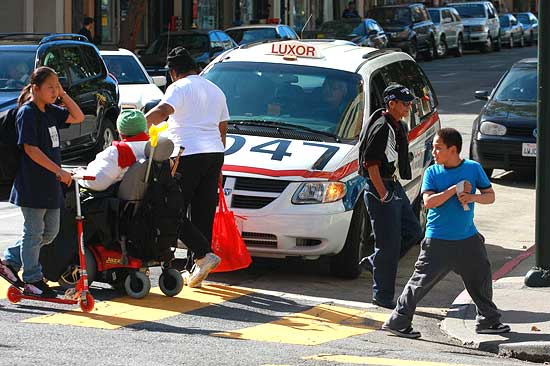 City of San Francisco, streets of The Tenderloin
A

s a participating artist in the Wonderland Exhibition, I'm asking myself why a large scale contemporary art exhibit opening in The Tenderloin in San Francisco and curated by one of today's most respected and publicized curators, Lance Fung, is titled, of all possible titles, "WONDERLAND?" The Tenderloin is a neighborhood marginalized to the point of reputation. Yet surprisingly, the title "Wonderland" correctly identifies and responds to a hidden cultural dilemma facing any group of artists approaching this historic community.
City of San Francisco, streets of The Tenderloin

Our cultural institutions often rejuvenate themselves at the expense of the disempowered. The avant garde often exploits fringe neighborhoods, brokering between corporate and vernacular cultures. This opens the door to gentrification. Yet, we find ourselves sympathetic to the impact of local material conditions. In The Tenderloin these include homelessness, joblessness, illiteracy, crime, disease and epidemics such as AIDS, hunger, poverty, drug addiction, alcoholism, lack of health care and environmental decay. In short, the untidy social effects of the "advancement" we call globalization. Locals are explained away.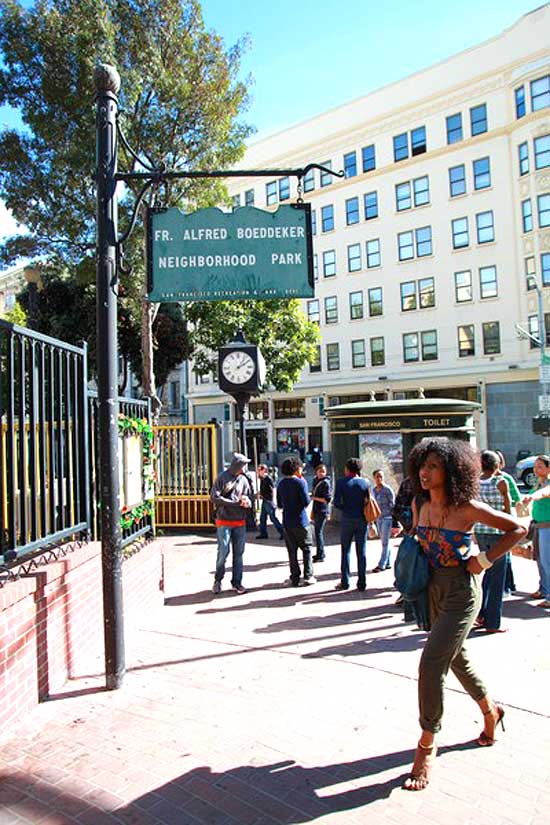 Site of

Wonderland Neighborhood Association

(WNA)
"Block Party" event, October 17th, 11 - 5 pm

Wonderland seems to take on a particular challenge, namely how to take local culture seriously when the dominant culture precludes difference, cultural, racial and sexual as an insidious evil. The challenge for Wonderland is to be locally inclusive and to negate the attraction/repulsion process of the global art market. Using the title "Wonderland" the dominant strategies, such as exploiting minority artists by insisting they source local street violence as their unique selling point or that they themselves signify misery remarketed, are surprisingly countered.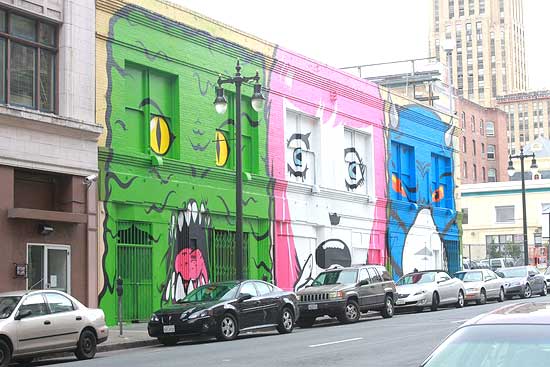 "Fear Head" by

Roman Cesario

and

Mitsu Overstreet
Wonderland Exhibition in The Tenderloin,
City of San Francisco
The Wonderland Exhibition also speaks to the need to reform dominant culture institutions, such as the Museum of Modern Art or Lincoln Center, to artist spaces and organizations based in ethnic communities that alone address a lack of multiculturalism and tolerance. A lack which has grown since Ronald Reagan left the office of Governor of California to become President of the USA and allowed a twenty year surge of neo-conservative intolerance, which in the past eight years has become extreme in the dominant culture. Wonderland is an attempt to signal the way back to a positive progressive footing, to organize beyond the survival tactics of the past twenty years and to pick up where others left off before the heterogeneous world was cast in gray.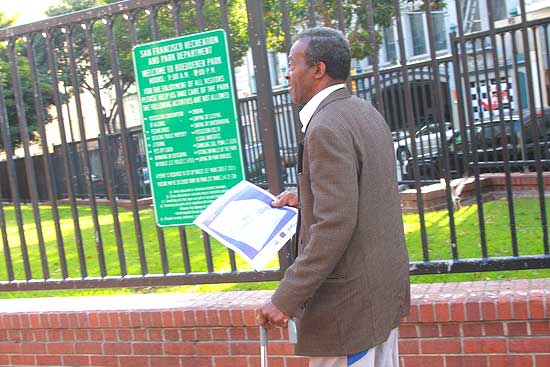 A resident follows the exhbition "Wonderland"

in The Tenderloin,
City of San Francisco

Instinctively, the artists, organizers and partners of Wonderland Exhibition, all volunteers, follow early signs of change in the air. They are taking to the streets of The Tenderloin, to engage local community, to make work which is a synthesis by artist and community. The opportunity is to finally truly turn outward, to engage with the larger society, to work with social creativity and invent new forms of organizations that suit ongoing needs of creative synthesis. They are picking up where we left off before the blight of the NEA led to the cancerous growth of the commercial gallery and auction houses. The exhibition is to push the boundaries of local culture as far as it can.

Perhaps it's time for Wonderland. The growing weight of the nation's social problems were paid for by independent local communities, while the nation's prosperity accrued to the establishment arts and the military. As artists, we've played along with a prestige game and lost. We've been robbed of our social imagination, served as an inoculation against awareness and have done the hard work of self censorship to the point of obscurity. Count the projects left unproduced, the low birth rate of institutions and a general lack of experimentation as the cost of the Reagan/Bush/Helmes/Bush era. This shadow over what was once our cultural community chills us even now. But, the Wonderland Exhibition funnels volunteerism with multiculturalism allowing artists back into local community culture.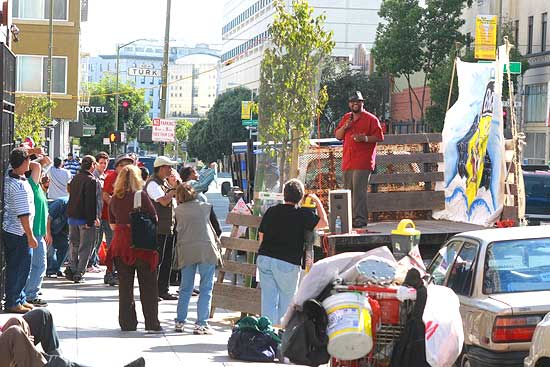 in performance:

Night At The Blackhawk
Wonderland Exhibition in The Tenderloin,
City of San Francisco
Wonderland celebrates the recent gains made at the NEA with a new attitude, an attempt to live, work and make art in a flamboyant and joyful Tenderloin community. During the twenty year neo-conservative era, the NEA used the Chair's veto to publicize censorship. Neo-conservatives condemned the Endowment for its attention to public impact, social need, tolerance, experimentation and a support of "public service" concepts. By contrast Wonderland celebrates the evolution of new and existing organizations, such as the Wonderland Neighborhood Association, as necessary to a fuller cultural life. The volunteer Exhibition remains nimble rather than being bogged down attracting funders.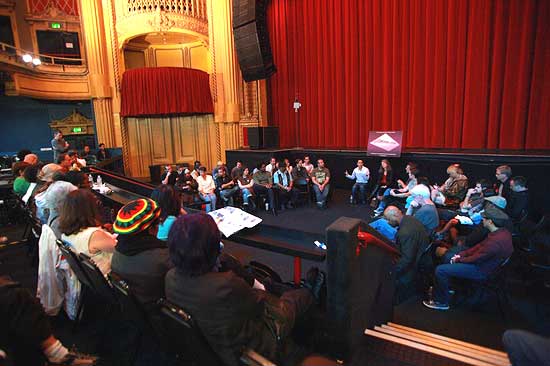 Wonderland Symposium, with

Lance Fung

at the Warfield Theater, Oct 18, 2 - 4 pm
Wonderland Exhibition in The Tenderloin,
City of San Francisco
Artists have an unusual potential to exercise social imagination. From Fluxus of the 1960's to The International Artists Museum and its connection to the Solidarity Movement of 1980's Poland, the Artists Space movement in the USA from the 1960's to the 1980's, the ability of artists to impact and innovate the organization structure itself has been remarkable. Wonderland celebrates a return to this type of artist collaboration in the structure of organization and is turning away from an era where the drive of existing corporations to perpetuate themselves has choked off all creative options.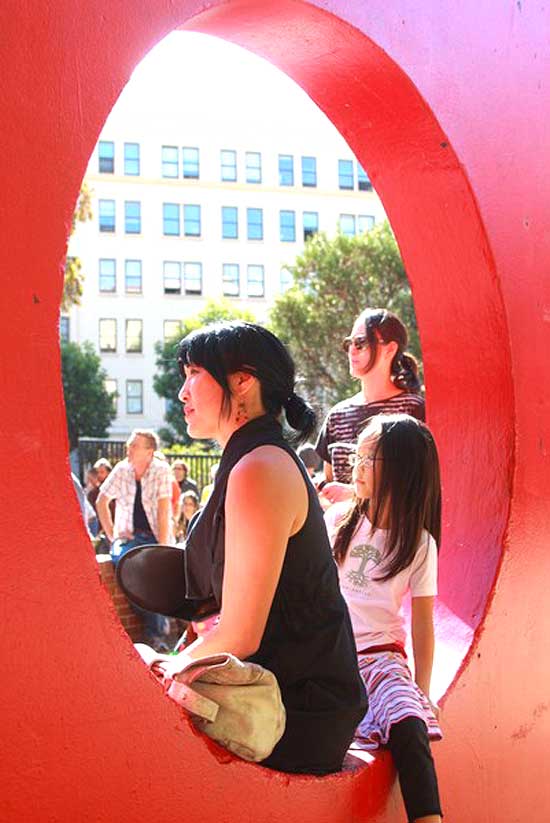 Visitors at the "Block Party" event by

WNA
Site of

Wonderland Neighborhood Association

(WNA)
October 17th, 11 - 5 pm
The project is coming out of the closet creatively, socially and culturally. In the past eight years a majority of Americans were forced to give up their own liberties even if they were willing to risk allowing those liberties to others described as terrorists, dangerous people of color, people with aids, homosexuals, illegal aliens, foreigners, feminists, community organizers and those criminals, the artists. Disempowered communities have found themselves profiled and marginalized, excluded, undercounted, prosecuted, silenced, bashed, spied on, controlled, unemployed, underemployed, defunded, put out of business and run out of town by a growing corporate elite. Yet, Wonderland's agility lets it by-pass corporatism's attack on community content and public funding using volunteerism and public service.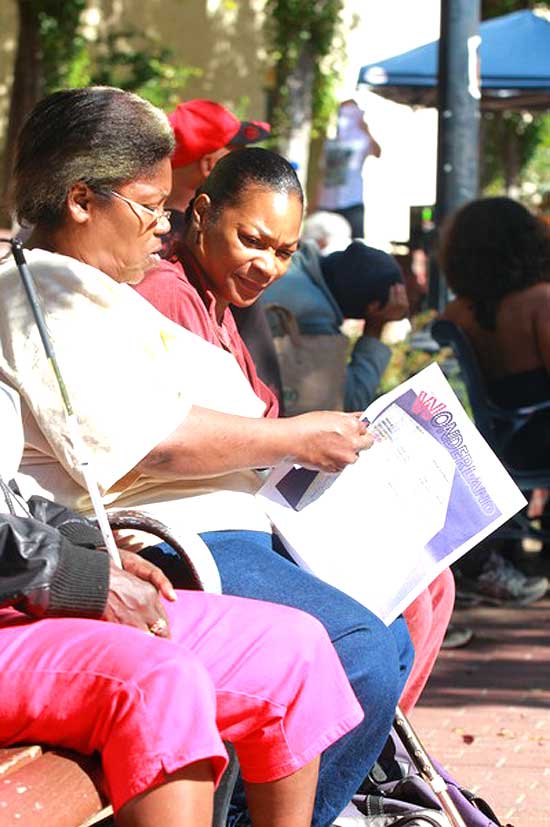 Visitors at the "Block Party" event by

WNA
Site of

Wonderland Neighborhood Association

(WNA)
October 17th, 11 - 5 pm
Despite an era of intolerance, racism, greed, religious fundamentalism, homophobia, rabid patriotism and media based brain washing we are picking up where we left off. Wonderland is a signal from the Tenderloin community to the established art world to return to supporting difficult and challenging art and to enlarge art audiences and art concerns by engaging wider publics through their collaboration. Ahead of the curve, the exhibition calls out directly to multicultural reality.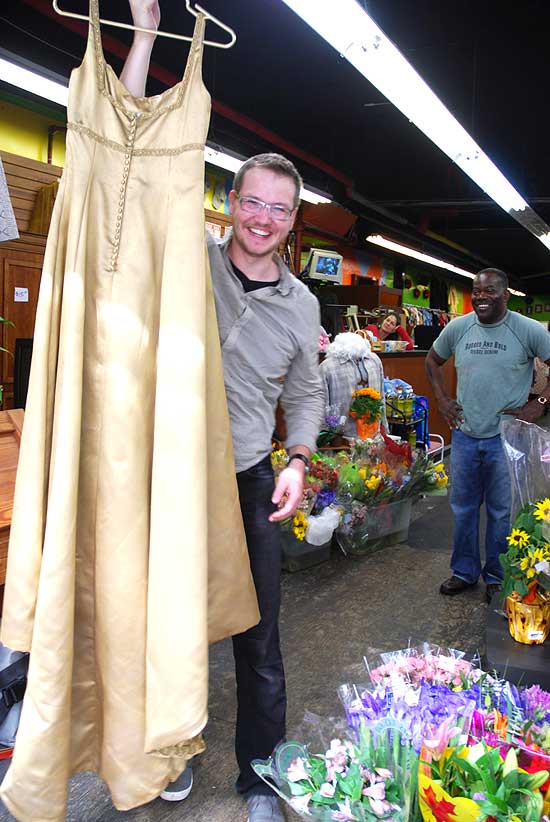 Thomas Kosbau

interaction for "Stake"
Wonderland Exhibition in The Tenderloin,
City of San Francisco
Photo: Wonderland Exhibition
As artists we know we have to earn public recognition of our significance. Communities are still untrusting of what we do. The stigma that artists are fooling the public persists. For a change, this effort includes transparency, sharing power and information with The Tenderloin community.
Visitors at the "Block Party" event by

WNA
Site of

Wonderland Neighborhood Association

(WNA)
October 17th, 11 - 5 pm
Wonderland is happening at a time of great chaos inside our corporations. As our infrastructure sustains shock after shock, many corporations, such as banks, insurance companies, governments and educational institutions are manipulating facts, ignoring inquiries, blaming, scandalizing and creating the false impression that things are fine while hoping they don't get worse. For this reason the artists have chosen a new path of reliance and affiliation based on volunteerism, truthfulness about capacity and relevance to the Tenderloin community. We know we will be doing without the resources available to established art institutions, what is amazing is how much we've been able to do without those resources and how little compromise we've had to make to cultural conservatism because of it.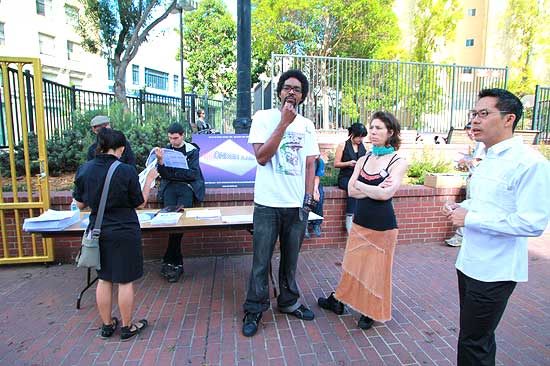 Chris Burch

,

Niki Shapiro

, and

Lance Fung

at Boeddeker Park
Site of

Wonderland Neighborhood Association

(WNA)
"Block Party" event, October 17th, 11 - 5 pm
It is not the support that makes art and art making itself is not a business. This opportunity is for nurturing young artists and for engaging works that champion those who have been discounted in their communities: the culturally diverse, feminists, gay men and lesbians, the disabled, the upstarts and those with ideas that challenge the social fabric. We simply must put an end to the corporate ice age in the art of our communities. It's an experiment that asks the public to revalidate the relationship between creativity and social change.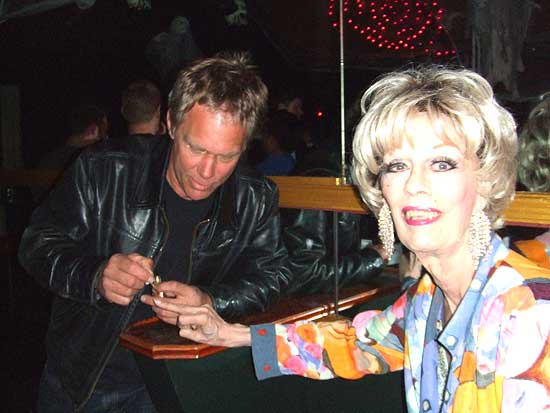 Lars Chellberg

interaction for "Stake"
Wonderland Exhibition in The Tenderloin,
City of San Francisco
Photo: Wonderland Exhibition
I've known Lance Fung for a long time. As a curator Lance is dedicated to ideas and ideals far outside the mainstream, possibly dangerous to the well being of the institution and possibly to the artist community as a whole. While the NEA was backing away from its once strong commitment to challenging work, Lance crossed sides from commercial dealing to the non-profit world of art out of a need to put experimentation ahead of survival. It is interesting that with Wonderland he has proceeded with a nearly wholesale disengagement from support funding in an effort to rekindle a call to social change at the earliest moment possible.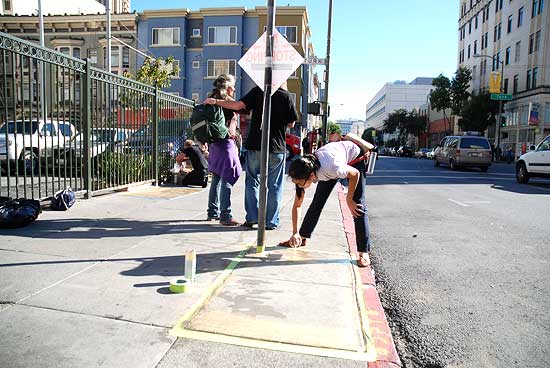 Layman Lee

interaction for "Stake"
Wonderland Exhibition in The Tenderloin,
City of San Francisco
Photo: Wonderland Exhibition
One of the benefits we hope to achieve is a mechanism to keep community support of art close to its makers of art. Because Wonderland's projects vary specifically by the community served, by the type of art presented and by the in-kind/volunteerism pledged, they are not as easily spotted as say a "museum" or "theater," but perhaps their impact will be far greater.
Joshua Selman

,
Participating artist, Wonderland 2009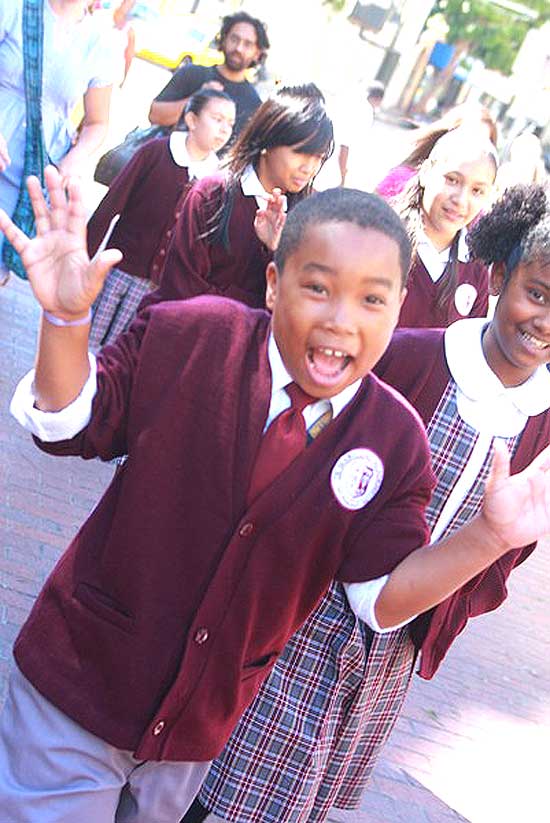 Participating Artists

at the "Block Party" event by

WNA
Site of

Wonderland Neighborhood Association

(WNA)
October 17th, 11 - 5 pm
The exhibition is free and open to the public from October 17th, with a symposium on the 18th, and will close November 15th.
www.wonderlandshow.org
The exhibition Wonderland is a large, multi-sited event born of, and responding to the rich diversities of San Francisco's Tenderloin district. The tenor of this project is truly unique, and will call upon the collaborative efforts of the neighborhood's residents, city organizations like the North of Market Community Benefit District the exhibition's sponsor, and a large number of cutting edge artist teams from the Bay Area and around the world. As in his previous internationally recognized projects, the exhibition's curator, Lance Fung is dedicated to the ideas of collaboration, community and social engagement as a means of bringing the highest level of contemporary art to audiences from all walks of life.
Participating Artists: Per Åhlund, Barry Beach, Ken Beasley, Alex Beckman, Brian Bixby, Charles Blackwell, Alex Braubach, Britteny, Christopher Burch (WNA,) Roman Cesario, Lars Chelberg, Colby Claycomb, Sydney Cooper, Rick Darnell, Jaine Dickens, Christian Kurt Ebert, Jonathan Fung, Kaif Ghaznvi, Geoffrey Grier, Doug Hall, Melkorka Helgadottir, Malak Helmy, Jessica Higgins (WNA,) Noritoshi Hirakawa, Monika Jones, Mathias Josefson, Erika Knerr (WNA,) Thomas Kosbau, Layman Lee, Mark Lee, Agustin Fernandez Mallo, Lauren Marsden, Jeff Marshall, Mike Maurillo, Lynne McCabe, Andrew McClintock, John K Melvin (Project Director), Regina Miranda, Ranu Mukherjee, Patricia Niedermeier, Erik Otto, Mitsu Overstreet, Kara Pajewski, Txutxo Perez, George Pfau, Leif Percifield, Christophe Piallat, Rex Resa, Brandon Robinson, John Roloff, Kit Rosenberg, Jeff Roysdan, Jorge Satorre, Niki Savage, Joshua Selman (WNA,) Stix, Owen Takabayashi, Kristin Timken, Brandon T Truscott, Thomas Watkiss, Wilton Woods, Izumi Yokoyama, Steven Zettler, and others...




Artist Organized Art
as seen in:


help by linking us (click in box, copy code, paste code into your site or blog page)
http://artistorganizedart.org
Makes Example:
http://artistorganizedart.org
XML
::.. bookmark this page:
del.icio.us
Furl
reddit
Yahoo MyWeb
Get More Involved: Donate Now | Log In | Sign Up Now | Subscribe | About Us