Friday, August 29, 2008
Susannah Auferoth at wünderarts
Amherst Massachusetts


by correspondent,

Richard Lloyd
S

usannah Auferoth's exhibition of new paintings opened recently at the wünderarts Gallery in Amherst Massachusetts. wünderarts is a new gallery in Western Mass. They have planted their flag in the ground and are staking out a territory all their own in the Pioneer Valley gallery scene. These new paintings are vigorous and if you live in the area I recommend you make your way to the gallery to see them in real time and place.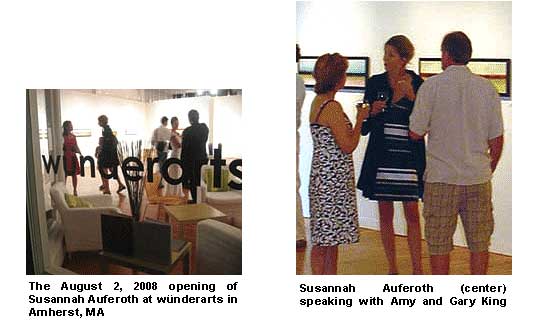 In her published statement about the work, Auferoth describes a process of layering thin washes of color one on top of the other. The results are beautiful. Auferoth is a colorist. She mentions

Richard Diebenkorn

, and

Philip Taaffe

as touchstones. Here she continues her own exploration of subtle color manipulation on an intimate and delicate plane. The paintings are deceptively simple in appearance. Three luminous bands of color run horizontally and form a foreground, background and a horizon line that bisects the painting in the center. The horizon line is a band unto itself and typically darker and more ominous.
When looking at these works my initial association is: landscape.
But whose landscape? The paintings are windows into the world we share today. What do you see? Is this the Thai beach sunrise for a twenty-something post-grad tourist? Or is it sunset on the killing fields of Darfur? Is it Hadley or Osetia? To my eye the paintings flicker between all these places.



Their size is important. They feel like scrolls that have been placed sideways on the wall. Long and horizontal yet small enough to be seen all at once. The events depicted here are ongoing, they haven't ended and the beginnings are far, far away. Think of what happens to what you see if you are moving fast enough - a smudge of colors all being pushed together in a fat line across your cones and rods; or when you stare at a blade of grass long enough and something similar happens. These paintings are peepshow slots into that world.
In some of the paintings you can see serialized images buried in the ground of the work behind the bands of horizontal color. This sets up an optical back-and-forth that animates the surface. What are these images? - and what are they doing there? Auferoth is dropping hints. It feels as though we are listening to a hushed conversation in the next-door motel room. The walls are thin but the actual words are still indistinct. You will need your intuitive channels opened up and humming.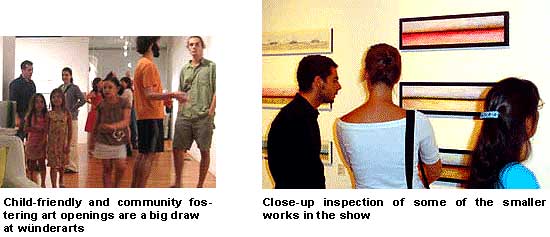 These works speak to the traveler in us all. They are simultaneously hopeful and foreboding. I kept being thrown back and forth on an emotional Tilt-a-Whirl; one moment staring at the world - post-apocalypse, empty, lifeless and still, and at the next blink standing at the edge of a new world - full of nascent life, on the verge of becoming.

current exhibition through September 7
Susannah Auferoth

, who has both a mechanical engineering and fine arts degree from UMASS Amherst, returned with her family to the Valley from New York City in 2001, and lives and works in a historic farmhouse in Hatfield that she and her husband have updated to suit their family's lifestyle. The artist works in her home studio where she creates paintings on paper and wood panel that explore color, form, and meaning. While their horizontal orientation and bands of color evoke more traditional land or waterscapes, the inclusion of repeated images or figures in Auferoth's paintings adds a layer of complexity and mystery while increasing the inherent abstraction of the works.
Richard Lloyd

lives and works in Northampton Massachusetts.
wünderarts

(wunderarts.com) is located at 383 Main Street in Amherst, Massachusetts, is currently exhibiting GIFT, featuring paintings by Susannah Auferoth and

Hillary Milens

. The show, also marking the gallery's one-year anniversary, opens with a reception on Saturday, August 2 from 6-9 p.m. and runs through September 7.
Hillary Milens, a graduate of UMASS' Fine Arts program, and the Executive Director of the Amherst Community Art Center was born and raised in Burlington, Vermont. After concentrating mainly in sculpture while at UMass, she began experimenting with drawing and painting. An exploration of surface, texture, and color, her paintings are made by building up and breaking down the surface of wood by applying layers of paint, scraping into it and marking the surface with various tools and techniques. An interest in repetition, organic form and the meditative process are present in the paintings.
In addition, works by Italian artist

Alberto Mancini

based on his concurrent exhibition of paintings - I'll tell you how the Sun rose - inspired by the poetry of Emily Dickinson, will be on view in the rear of wünderarts for the duration of GIFT. Mancini's show, on view from August 2 – 10 at the Eli Marsh Gallery at Amherst College, is sponsored by the Emily Dickinson Museum, and includes 29 paintings inspired by Dickinson's poetry. The exhibition is part of the 20th anniversary of the Emily Dickinson International Society (EDIS), which holds its annual meeting in Amherst on the weekend of August 1. For more information on Mancini and the exhibition, please visit www.emilydickinsonmuseum.org.



Monday, August 25, 2008
CAMOUFLASH - DRESDEN
Curators:
Mariusz Sołtysik,
Aurelia Mandziuk
and
Anja Tabitha Rudolph
Organizator: UNOACTU
co-organizar: PATIO Art Center, Academy of Humanites and Economics in Lodz.

http://www.unoactu.org/en_camouflash.html
http://patio.art.pl/wystawa.php?id=40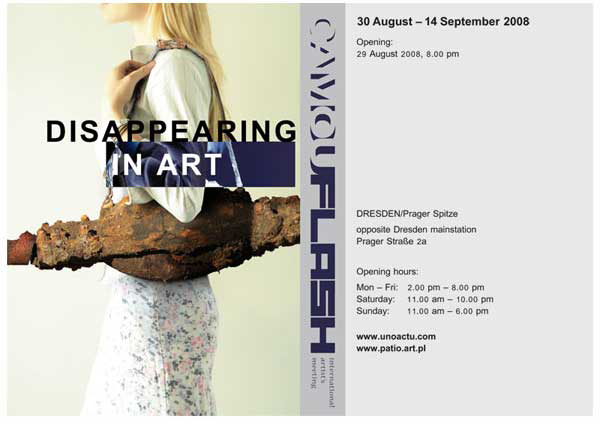 SHILPA GUPTA (India), KATHERINE BEHAR (USA), ALLAN HUGHES (Northern Ireland), REINIGUNGSGESELLSCHAFT (Dresden), JANUSZ BALDYGA (Poland), ERIC VAN HOVE (Belgium), HARRO SCHMIDT (Hanover), MARIUSZ OLSZEWSKI (Poland), ULU BRAUN (Berlin), MARKUS HUEMER (Berlin), AKI TARR (Dresden), DANIEL BIESOLD (Berlin), SUZY SUREK (USA), TAKAKO KIMURA (Japan), YOSHIAKI KAIHATSU (Japan), ERIKA KNERR (USA), DANIEL RODE (Dresden), ANDREAS SACHSENMAIER (Berlin), OLGA BERGMANN (Iceland), TATSUYA HIGUCHI (Japan), ARIANNE OLTHAAR (Netherlands), DIETER LUTSCH (Berlin), CHRISTINE MACKEY (Ireland), KRISTAPS GULBIS (Latvia), ANDRÉ MAROSE (Berlin), ANNA MACLEOD (Ireland), BERND IMMINGER (Berlin), JESSICA HIGGINS (USA), MARTIN BRAZINA (Czech Republic), EWA SZCZYREK-POTOCKA (Poland), GABRIELE HORNDASCH (Düsseldorf), MARIUSZ SOLTYSIK (Poland), MIYUKI YOKOMIZO (Japan), TOMASZ WENDLAND (Poland), BOSSE SUDENBURG (Berlin), TOMASZ MATUSZAK (Poland), ADAM KLIMCZAK (Poland), PIA MÜLLER (Düsseldorf), AISLING O´BEIRN (Northern Ireland), TOBIAS HANTMANN (Cologne), GRIT RUHLAND (Wuppertal), CHARLIE CITRON (USA), SARA PFROMMER (Dresden), NÁNDOR ANGSTENBERGER (Berlin)
CAMOUFLASH Cinema:
DISORIENTALISM (USA), DONG JOO LEE (South Korea), LUKASZ OGOREK (Poland),
KRZYSZTOF LUKOMSKI (Poland), SARAH BROWNE & GARETH KENNEDY (Ireland), AGNIESZKA CHOJNACKA (Poland), MARINA NAPRUSHKINA (Belarus), HENRIK BUSCH (Dresden), RICHARD THOMAS (Australia), WIKTOR POLAK (Poland), SUSANA PEDROSA (Portugal), CARLOS ALBERTO CARRILHO (Portugal)
Concept/Realisation Entry:
NEULANT VAN EXEL (Berlin)
The group UNOACTU based in Dresden, Germany, in cooperation with the Patio Art Centre Lodz, Poland is presenting the exhibition CAMOUFLASH – DISAPPEARING IN ART to open this friday 29 August, 2008. CAMOUFLASH began as an international artist's meeting that was led by polish artist and curator Marius Soltysik, in Lodz, that I covered in October 2007.
For Dresden Soltysik's concepts were used and the original group from Lodz is all exhibiting here. UNOACTU has broadened the theme that Mariusz began, based on concepts of Baudrillard's theories. They have compared the ideas of other philosophers working in this arena, as well as consciously picked a location right next to the shopping mall across from the central train station in Dresden, which instantly underscores the theme. This project has created an intensive exchange between German and Polish artists.
More than 50 works of contemporary art will be exhibited in the building "Prager Spitze," by artists from Japan, the USA, Australia, India and several European countries.
Many of the artists are arriving now to set up their installations and prepare for the opening. Another artist from New York, Katherine Behar, will begin a performance starting at the former Zentrum Warenhaus down the Prager Straße to the Prager Spitze, an hour before the official opening at 8 pm. Other talks, performances and a concert will follow.
MEDIATIONS Biennale in Poznan (www.mediations.pl) will present a selection of the artworks - about half of the exhibition - in October 2008.
Erika Knerr, New York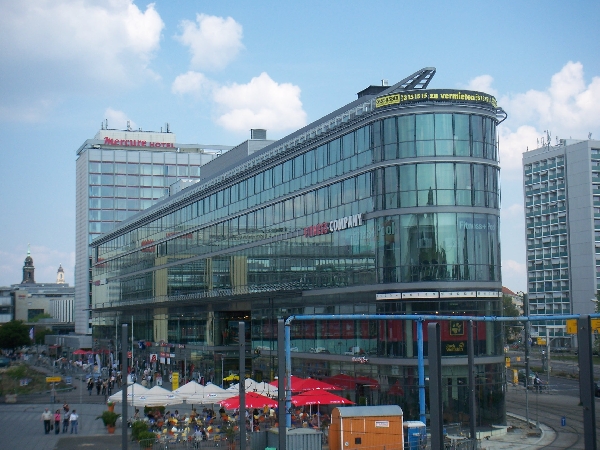 Camouflash
The Disappearing in Art
Camouflash

generates significant meaning through the combination of the words "camouflage" and "flash" which describes a paradox or convergence of opposites. "Camouflage" means both camouflage and hidden nature, and, "flash," means a spark – an outstanding moment or message that is visible only for a short moment. This is an allusion to the schizophrenia of modern human beings in the society of media communication and public performance. Their endeavour culminates in competing moments, those of hiding and those enabling them to stand out in the crowd for a short moment – to gain identity for an instant. This topic is presented to the public directly in one of those places - where this schizophrenia is celebrated in a pre-eminent manner – within a shopping centre across from the main station in Dresden.
The subtitle "Disappearing in Art" departs from Baudrillard's conceptual background. The entrance of the worlds of simulation and a matrix, sounded merely apocalyptic in the philosophy of the 80's. The disappearing in the arts gives evidence to a process that existed in the past. If it is possible to pause, then options could appear that are yet unknown and altogether different than the proclaimed tendencies leading to an abrupt ending. The double meaning of the subtitle leads us to contradicting possibilities of interpretation. There opens space for associations creating significance. The merging of the dimensions of reality and arts into each other and the entailed reduction of their operation fields and efficiency might be interpreted, as well as simply dealing with this topic in the arts. Whereby the second in particular, enables a sober reflection of the process itself.
Monday, August 04, 2008
ISEA 2008
Singapore

International Symposium on Electronic Arts

ISEA 2008, International Symposium on Electronic Arts, in Singapore is pure elegance.

The artworks are conceptually sound and technically flawless. The conference is dynamic and gathers artists, architects, scientists, and engineers from all around the world with the common interest of new media, electronic arts, and technology. Through the vision of artistic director Gunalan Nadarajan, the scope of the events is diverse and each section presents a very unique perspective on technology experience. The strength of the symposium is the depth and research behind each project and panel discussion that has much to do with social and cultural awareness about the potentials of new media art. The dialogues are rich and complex, and all participants are critically engaging current issues befitting our time. Some of the discussions include the discourse of troubled cyber-identity, ideological structuring within and outside the technological systems, geo-politics and borders created and dismantled through media culture dissemination, bio/nano technologies that raise ethical questions regarding scientific research, and concerns of eco-resource that is essential to sustainability and green technology.
Amongst the varied programs, the main juried exhibition at the National Museum of Singapore is exquisite. Out of over 100 applicants from the world, the selected 16 artist teams worked as residence at the new media and technology labs of the National University of Singapore on their proposed projects. Nadarajan states that the "intention was to create an opportunity for the artist to work closely with leading scientists and researchers in a variety of technologies in order to develop works that creatively expand the potential of these technologies while raising critical questions of aesthetic and socio-cultural value."

"Exodus" by

Metahaven
The monumental installation "Exodus" by Metahaven from Amsterdam and Brussels, hosted by Lab for Media Research, display the output of a programmed visual search engine. It is written that it is a "research engine" that uses "algorithms and visual strategies for searching the Internet, revealing the structural properties of web content and its inherent distribution of influence." This project comments on the information hierarchy presented by search engine systems, which information is given priority and which is left behind, and questions how that is determined. http://www.metahaven.net

Loitering" by artists

Shilpa Phadke

,

Shilpa Ranade and
Sameera Khan
"Gendered Strategies for Loitering" by artists Shilpa Phadke, Shilpa Ranade, and Sameera Khan from India, and in collaboration with University Scholars Programme Cyberarts Studio, traces women loiterers in Mumbai, India. Although it is common for men to loiter and just hang around, the project looks at the stereotype produced when women do it. The differentiation of social connotation when women are loitering demarcates public spaces as gendered spaces. Hence, the piece examines the gendering of space through the conceptual occupancy of loiter, which seems to be an acceptable male's space. It is written that the "research through Gender and Space project suggests that most women in Mumbai would attempt to avoid the obstacles almost without thinking. Women use multiple strategies, often crossing the street several times, walking briskly and not meeting anyone's gaze in order to avoid appearing as if they are loitering." http://www.genderandspace.org

"Smile
J
, Wear It Like a Costume" by

Momoyo Torimitsu
"Smile
J
, Wear It Like a Costume" by Momoyo Torimitsu from Japan, and in collaboration with NUS Face Group, is an interface that captures the interactor's face in order to re-make the snap shot of the face with a selectable palette of smiles. The many roles of smiles varies as much as the kind of smiles there are that people 'put on' daily. The piece reinforces the artificiality that comes out with the naturalness of smiling as well as how patterns can emerge through the staging of smiles, where facial gestures are the main interface for social communications. http://momoyotorimitsu.com

"The Global Bridge Symphony" by artist

Jodi Rose
"The Global Bridge Symphony" by artist Jodi Rose from Australia, and collaborating with Ambient Intelligence lab and Communications Laboratory, display large columns dispersed throughout the gallery that show abstract to representational videos intersecting ideas, visuals, sounds, and text pertaining to the concept of the bridge. Hence, creating a symphony of bridges from all around the world in the exhibition space. One of the texts reads, "The most beautiful bridge in the world. So pure, so resolute, so regular that here, finally, steel architecture seems to laugh. – Le Corbusier."
And, another one states that "The bridge is a location. It allows a space into which earth and heaven, divinities and mortals are admitted. The space allowed by the bridge contains many places variously near or far from the bridge. – Martin Heidegger." http://www.singingbridges.net

"Sourcing Water" by

Shiho Fukuhata
"Sourcing Water" by Shiho Fukuhata from Japan, Georg Tremmel from Austria, with Yousuke Nagao, and hosted by Singapore-Delft Water Alliance (SDWA) deals with eco-resource concerns of water in Singapore. Since most of Singapore's water is imported from Malaysia, the artists use dowsing rods with GPS and motion sensors to track water sources in Singapore and create visuals and maps of these potential water hotspots. http://bcl.biopresence.org/srch20

"The Water Book: An Encyclopedia of Water" by

Clea T. Waite
"The Water Book: An Encyclopedia of Water" by Clea T. Waite from US and Germany, and in collaboration with Singapore-Deft Water Alliance (SDWA), creates another water piece that is interactive using text, water, touch sensor, and light. By interacting and touching the water, the viewers can experience sound and images related to the subject of water. The piece states how water" is the key component in the environmental transformation that the planet is now experiencing. It is the most powerful symbol of flow, purity and survival, and plays essential roles in our daily life as well as global geopolitics." http://clea-t.de

"Aurora Consurgens" by Horia

Cosmin Smoila

and Marie

Christine Driesen
"Aurora Consurgens" by Horia Cosmin Smoila from Romania and Marie Christine Driesen from France, and in collaboration with Mixed Reality Lab, creates visualization of brain waves. It is written, "The installation offers an alternative way to render the different states of consciousness through the exploration of cognitive conglomerates. The observer is invited to explore a paradoxical place of creation where the brain waves articulate the evocations of archetypal constructions…" http://ghostlab.org

Out of the partner exhibitions,
Experimenta Play ++: Art for the 21st Century
at the Sculpture Garden is a traveling exhibition, which has come to Singapore. It is an exhibition of Australian media art, curated by Caroline Farmer and Liz Hughes. It is unlike any of the other exhibitions with its playful and fantastical Alice in Wonderland appearance and interaction. http://www.experimenta.org

A very warm reception by "Zizi the Affectionate Couch" (right) by artists Stephen Barrass, Linda Davy, Robert Davy & Kerry Richens. The piece is a furry couch that purrs and vibrates as one sits and cuddles it. The piece combines domesticated pets with comfort furniture as one assemblage.

"Immersion" (left) by Angela Barnett, Andrew Buchanan, Darren Ballingall, Chris MacKellar and Christian Rubino is a floor projection piece that creates 3D animated sea creatures by the interaction of one's shadows. "The Shy Picture" (right) by Narinda Reeders and David MacLeod comprises of a small monitor on a large white wall where people in the video react based on the viewer's proximity. The characters literally run away or shut the curtains in front of the interactor. The piece calls attention to the relationship between the viewer, camera, screen, and characters in the most delightful and charming way while intrinsically commenting on filmic issues of voyeurism and exposure.

"Listening Heads" by Kentaro Yamada (left) allows interactors to speak into a microphone which then allows the faces on the screen to react differently according to the voices. This piece is eerie as the faces gestures real listening. This piece is in the exhibition
Cloudland: Digital Art from Aotearoa New Zealand
which is on view at The Substation.
http://www.aotearoadigitalarts.org.nz
The
Lucid Fields
exhibition which displays media artworks by Swiss Artists-in-Labs at the Lasalle college of Arts shows many works that contributed to the debates of scientific research. Out of them, "The Rocket for the Rest of Us" by Roman Keller is the "actual rocket…[that] results from collaboration with scientists in the lab on alternative future energies."
From the series of panels that are held at the Singapore Management University, Nanyang Technological University, as well as other spaces, "Borders Reckonings: Border Crossings" holds a lively discussion about the concept of borders: from borders that surround Austria, the North/South Korean border, Urban borders, to scattered borders which are everywhere; "Intelligent Architecture" panel presents alternative models of architecture thinking and Paul Thomas speaks about the transsubstantiation possibilities in architecture that can come with transgression devices such as in a non-perspectival method of mapping through GPS systems as a new mode of recording time and space.


"Passing and Peril on the Information Super Highway" (top left) chaired by Kóan Jeff Baysa deals with intense issues of racism, nationalism, and geo-politics in cyberculture. The panelists include: Mina Cheon, who presents

Kenkanryu

(The Hate Korean Wave) in Japanese Manga; Jiayi Young, who shows cyberculture in China and political blockage / censoring; Judy Sibayan, who publishes the most radical and subversive critical arts journal on-line

Ctrl+P

,

and Roopesh Sitharan who examines bloggers gone politicians in Malaysia. "Locating Cyberfeminism" panel chaired by Irina Aristarkhova (top right) is a forum that voices the possibilities of the

other

in cyberfeminism and includes herself and Margaret Tan dialoguing about their experience with

SubRosa

in Singapore in 2003; Mara Tralla who looks at cyberfeminism from Estonia; Boryana Rossa, who sends a presentation from Bulgaria looking at the stereotype of women & machine that is found in popular cultures; and Mina Cheon who presents a paper on three Korean female artists while tracing the issues of displacement, performativity, and subjectivity in cyberfeminist discourse. Lastly, Artist & scientist team Jiayi Young and Shih-Wen Young, in the panel of arts & science intersection, shows their collaboration "Regular Irregularity (RI)" where through chaos theory, the minute change affects the outcome of the entire system. They show their project "Baby Nuna" where they utilize sounds from a nuclear powerplant in France to create a moving image representation as well as their recent piece on converting Chinese calligraphy and construction notes into scribbles of lines. This piece is being exhibited at the Beijing Chinese Biennale 2008, opening August 2

nd

and it is the Chinese Character Biennale at the KU Art Center, curated by Kóan Jeff Baysa.
ISEA 2008 is in Singapore from 25 July – 3 August.
Five Main Themes of the Symposium: Locating Media, Reality Jam, Wiki Wiki, Ludic Interfaces, and Border Transmission
Includes: Main Juried Exhibition, Partner Exhibitions, Keynotes, Invited Forums, Panels, Workshops, Media Presentations, Performances, and other events.
Website: http://www.isea2008singapore.org/
And Singapore Now:

Event is "Night Festival," National Museum of Singapore's day appearance changes with color projection at night.

"Surrounding David" by Titarubi is at the lobby rotunda of the National Museum of Singapore. It is 8.5 meters tall.

Whose got the best view in Singapore? Korean journalist Yoolim Lee of Bloomberg, view seen from Golden Mile Tower.

Thank you for not smoking here. Smoking Area. These are examples of "scattered borders." Singapore has the most prohibition notices one can ever see in a country. The country is unique for its commercial openness that comes with legal behavioral regulations.

Artist Organized Art
as seen in:


help by linking us (click in box, copy code, paste code into your site or blog page)
http://artistorganizedart.org
Makes Example:
http://artistorganizedart.org
XML
::.. bookmark this page:
del.icio.us
Furl
reddit
Yahoo MyWeb
Get More Involved: Donate Now | Log In | Sign Up Now | Subscribe | About Us