Monday, November 24, 2008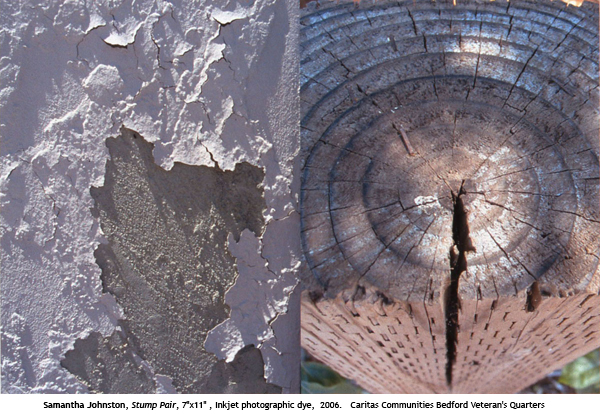 The Art Connection is a Boston nonprofit organization (currently celebrating its 13th anniversary) that seeks to enrich and educate under-served communities by expanding public access to original art. This distinct program places the work of donor artists on the walls of community service organizations. Within these healing environments, the art provides welcome opportunities for reflection, inspiration, comfort and hope. Sometimes, just one painting or sculpture can make a difference. This simple but powerful idea has resulted in thousands of installations into scores of organizations, giving those who often have the least access to art direct contact in their own communities.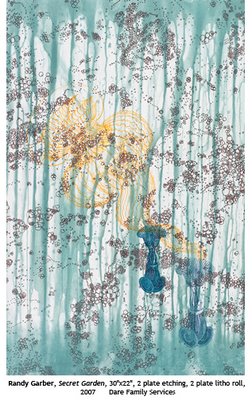 A win-win for both artist and agency – the artwork is seen by many community members annually, often those who do not have regular access to original artwork. The artists feel good about gifting a work that has the potential to really make a difference in the life of someone in need; the agencies feel good about respecting their clients and staff by creating a warm and welcoming environment; and the community members feel good about experiencing artwork firsthand, often when they are accessing services during a difficult time in their lives.
Agencies must qualify for the program through an application process and must provide direct services to an underserved community. Common placements are homeless shelters, health clinics, community centers, and treatment facilities.
Perhaps one of the most significant components of our program, agencies create a selection committee of clients as well as staff to look through the art portfolio and choose the work that is most meaningful to them. In this way – a dialogue is created not only between staff and client, but also between staff and art, and client and art, and vice versa. The selection process is empowering for all involved and allows for a deeper look into artwork and what it means to them.

No need to take our word for it. The program has caused such a stir that it has expanded already to Washington DC and New York City. What people are saying:
Artists: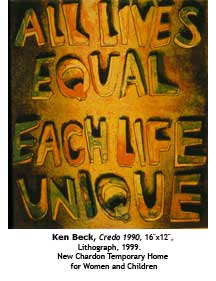 "It fulfills a lot of purposes… one of them is that there is not enough art in public spaces… and from an artist's perspective, I want people to be looking at art as often as possible."
-Ken Beck, artist
"Part of making art is communicating. Work sitting in a closet is not communicating with anybody."
-Martha Jane Bradford, artist
"It is important to me that my artwork reached appreciative audiences who may have limited opportunities to view original work."
-Marian Dioguardi, artist
Community members:
"When I walk into a room I've never ever been into, I look around and see what's in it. If there's lots of art I feel wanted. If there isn't, I feel lonely."
-Fifth grade student, Paige Academy
"Both times I was arrested, my mom would never come to visit me. She'd always send someone else to pay my bail and see where I was. But she came here, and she saw this painting (

Difficult Decision by

Fay Chandler) – and then she came back the next week. She sat at the table, and just looked at that painting. And we talked. I was shocked. I still can't believe it."
-Wanda, resident, McGrath House
Agencies:
"If you can't bring the children to the museums, you need to bring the museums to the children."
-Bill Walczak, CEO, Codman Square Health Center
"Fine art reveals creativity, imagination, beauty, emotional involvement and intellectual stimulation to all who see it. This is the kind of benefit that says to all our stakeholders, 'We value you, we appreciate your efforts in treatment and recovery.' The chronically under-resourced public health sector cannot offer luxurious environments, but through donated art, we can help provide a setting that encourages healing and wellness."
-Carolyn Ingles, Director of Support Services, Metro Boston Mental Health at Shattuck Hospital

Comments from Demetri Yannopolous, Boston Rescue Mission:
The client opens the door panting and sweating. "Man, those stairs always kick my butt," she gasps. There are six floors in the Boston Rescue Mission, and each floor serves a purpose in helping people recover from homelessness. The halls of the Boston Rescue Mission are filled with emotions: fear, hunger, hope, joy and transformation. They are
now also filled with art as The Art Connection has helped make even the walls part of the recovery process. Residents struggle every day to get their lives back in order, but with the help of generous artists, the Mission has become a warmer place.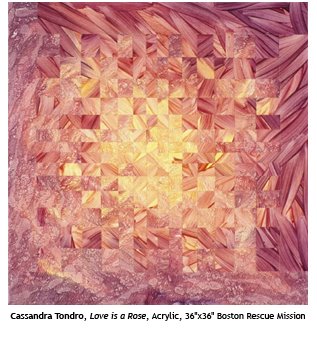 The Boston Rescue Mission has been working on transforming the lives of the poor and homeless since 1899. Reverend John Samaan, President of the Boston Rescue Mission, commented that "We now have splendid pieces of artwork that will brighten people's lives for years to come." The artwork now decorates the halls of the Boston Rescue Mission, and clients have begun to take notice and talk about what it means to them emotionally and spiritually. Erica, a client living at the Mission exclaimed that "Every day I face my demons, but the artwork has brought much needed comfort and beauty into my life. It gives me hope."
Art offers all of us an opportunity to experience emotions, thoughts, and feelings that we can't find elsewhere. It is a chance to escape to new worlds, to engage in discussion, or to gain a spiritual breather. The art donated through The Art Connection now provides the opportunity not only to make a person feel better, but to truly be a part of a person's life during their road to recovery.
Comments from Marian Dioguardi, donating artist:
Donating my art through The Art Connection has always been meaningful for me. It is important to me that my art work reaches appreciative audiences who may have limited opportunities to view original art work. My art's placement with the East Boston Health Center, this summer, was especially meaningful. You see, I grew up in East Boston selling my crayon drawings door to door to my understanding neighbors on Webster Street. My neighbors were always gracious and generous with me and now it's my turn to say thank you and give something back to the community.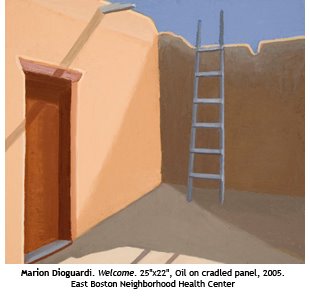 As an active and clumsy child I was an all too familiar face at the EBHC, then known as "The Relief Station". After asking my ritual question "How many stitches did I get?" I was always relieved and released once again to play, run and inevitably to fall. Now the EBHC continues to play an important part in my life as it cares for my parents Nick and Marie, life long residents of East Boston. Having my work chosen , hanging and welcoming everyone to the East Boston Health Center as me and my family have always been welcome gives me great pleasure.
Other info:
The Art Connection was established in 1995 as a vehicle for distributing original works of art to public, charitable, and educational institutions, in a manner pioneered by Fay Chandler, a painter and sculptor working in Boston since the early 1970s. As Fay began considering what would happen to her unsold inventory of work at her death or disability, she became convinced that the best result would be transferring the work, in conjunction with the work of other artists, free of charge, to interested public and nonprofit organizations in the community that have no funds for purchasing art. The program grew as founding directors recognized a demand for expanding public access to the visual arts and from their ability to build a unique program to meet that need. Since its inception 13 years ago, this unique gifting program has supported over 250 agencies in their personal selection of over 3700 pieces by 250 artists and collectors.
If you are an artist interested in donating work or an agency representative interested in receiving work, please contact us at info@theartconnection.org. Also- check out our new website at www.theartconnection.org
Tova Speter

, Boston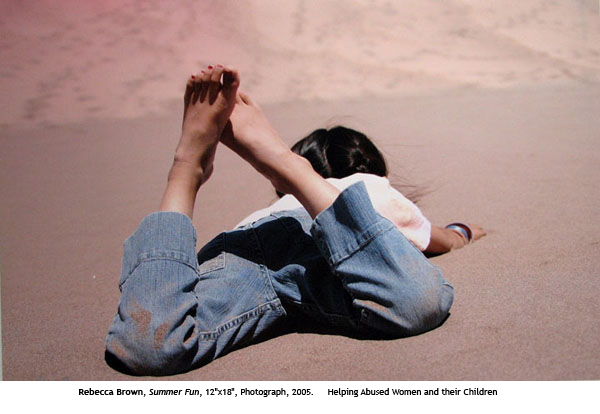 Tuesday, November 11, 2008
Suzanne Fiol at ISSUE Project Room


Old American Can Factory, Brooklyn, NY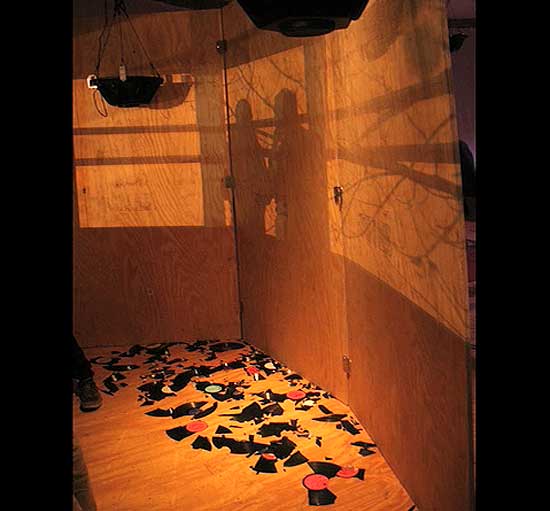 performance at ISSUE Project Room
Old American Can Factory
232 3rd Street, 3rd Floor
Brooklyn, NY 11215
An Interview with media artist,
Angie Eng



If you're projecting video on a wrinkled bed sheet, performing on a door in lieu of a table, carting your own mic and mixer, getting lost in the rain by the Gowanus Canal only to roam in circles around a cylindrical room avoiding its audio hot spots, rest assured you've found it. ISSUE Project Room is a place where initiates hack such a pilgrimage to meet, hear and see experimental performers. I love New York for such venues. Recently ISSUE Project Room was awarded a twenty year rent free lease on a beautiful 4800 square foot room in Downtown Brooklyn. I interviewed

Suzanne Fiol

, Founder and Artistic Director, who elaborates about the venue and its unique culture.
AE:

Please give us a detailed profile of a typical loyal ISSUE Project Room (IPR) fan.




SF:

ISSUE's fan base is all over the map. We don't have any one typical fan because the kind of work that happens at ISSUE ranges from every type of music from Noise to Chamber music, literature, experimental film and video. What I could say is that the type of person who comes to ISSUE is someone who has a serious connection to the work presented…a person who might be deeply touched by a performance. Possibly a student, possibly a collector, possibly an artist or filmmaker or a pianist.




AE:

IPR has been able to not only survive but also thrive in Brooklyn, when just recently many venues could not afford to lose their Manhattan crowd. What are the reasons that set IPR apart from other small experimental music houses?




SF:

ISSUE is an artist run organization (though so are Roulette and the Stone which are both fantastic places). Our focus has always been towards the artist, to provide an atmosphere and a safe space where their visions could be realized. Our programming features some of the most accomplished people in their fields, but also emerging artists who are finding their voice. The opportunity for conversations and an informal and warm atmosphere lends itself to new collaborations and new ideas. This kind of energy creates growth and expansion for not just ISSUE Project Room, but for everyone affected by what goes on.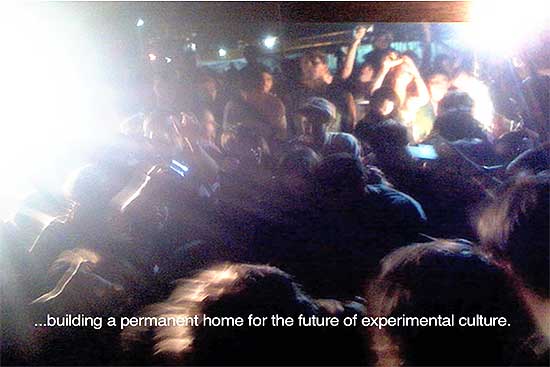 crowds at

ISSUE Project Room
AE:

IPR was quite a special place on the Gowanus inside the silo. Sound wasn't the best depending upon your seat, but architecture and the surreal placement inside that landscape made up for it. Then it moved to The Old Can Factory, its side-lit austere chapel-like room was also rich in character. And now... what can your faithful crowd expect for the new space?




SF:

ISSUE was recently awarded a 20 year rent free lease on a beautiful 4800 square foot room in downtown Brooklyn. Easily accessible by most subways, this former Elk's club room in the old Board of Education Building is going to be the most amazing thing you can imagine. We've been meeting with the acoustical engineering firm, ARUP, who designed the Sydney Opera House and the Beijing Olympic Stadium to name a few projects and they have been interested in helping us take this space and make it sound completely amazing. It's quite an uphill battle trying to get in there and raise the funds to restore and treat the space, but trust me…it will be worth it for a generation of people who care about serious culture in New York and sustaining our artistic legacy as New Yorkers.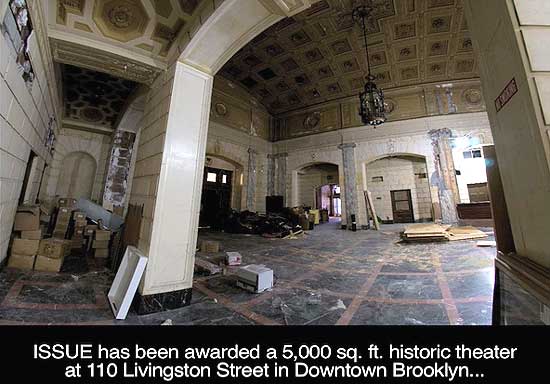 ISSUE Project Room's
new space at 110 Livingston Street, Brooklyn, NY
AE:

Oops, I did a journalist faux pas I just read your mission statement and realized I made the generalization that you were a music club. IPR is renowned for its programming of experimental music, yet its mission statement is much broader. Please explain.




SF:

ISSUE is dedicated to all forms of artistic expression, while we do tend to feature music, our programming has included many incredible filmmakers, visual artists, poets, novelists, actors and even dancers. Our Artistic Advisory Board includes the great writers

Paul Auster, Jonathan Lethem and Bob Holman

as well as filmmakers

Julian Schnabel

and

Jim Jarmusch

. We've been profiled by many magazines and newspapers for our great literary series called "Littoral" which I co-curate with

Tony Antoniatis

. And just recently we presented a week of "Women in Experimental Cinema" which was very successful and a wonderful program. So I thnk our programming definitely crosses a number of genre boundaries.




AE:

Artists are usually asked the same questions they dread posed to them. But if they were not asked of them, they are more than willing to address them voluntarily in a more organic fashion. Such as, what are your models or influences in building IPR? Better yet, what are your models to avoid so as not resorting to the bar for income?




SF:

I've always been a big fan of

Ellen Stewart

at La Mama. They have a really fantastic organization and her energy and openness has been a big inspiration. Also we have a very energetic and incredibly supportive board of directors which makes it possible to achieve things that would never be possible through the efforts of one or two people on their own. They've helped us in ways I can't even begin to describe.




AE:

You mention collaborating with curators on your site. You have mentioned before that your calendar is based upon thematic months such as 'vocal month', 'percussion month' 'multimedia month'. Can you explain the reason for this type of programming based upon musical instruments? Will this continue or what will a month look like in your new space.




SF:

Collaborations are a huge part of ISSUE's mission. Last month we collaborated with

Meredith Drum

on Women's Experimental Cinema, with

Zach Layton

and

Nick Hallett

for a week of classic avant garde music through their "darmstadt" series. Percussion month was hosted by

Billy Martin

, one of my favorite percussionists. I think these collaborations yield a huge amount of exciting and fresh ideas and that is what ISSUE is all about. In the new space we will continue these programming models and expand them even further.




AE:

I'm a young (25 year old) unknown composer/performer and want a gig at IPR. I just arrived in town and cannot say 'I'm a friend of so and so'. Do you answer the email/phone still? What is the process of being invited to the new IPR?




SF:

Yes, we try to listen to all of the requests that come in via email and so forth. If someone sends us mail we like to listen to the CDs that are included. We ask that people send us a proposal for what they would be interested in doing at ISSUE and if there is a way to fit them into our calendar that makes sense programmatically then we like to introduce new artists to the community. It's very important to support emerging talent. For instance, ISSUE has an Artist-In-Residence Series that has featured

Ashley Paul

and

Eli Keszler

, young and brilliant musicians. They wanted to use their residency as an opportunity to perform with musicians in new york and build alliances. They played incredible sets with

Phill Niblock, Aki Onda, David Linton

and many other established musicians. Another new talent we're excited to work with next is

Duane Pitre

. His work is magnificent…he just sent us a CD. I was listening to it in the car and loved it and invited him to perform…his performance just blew us all away. Now he's our next Artist in Residence.




AE:

The freefall economy is and will affect everyone for a while. You have a lot of courage to start a more ambitious performance space. Where does that courage come from, can you tell us about the magician/yourself behind it all from when you planted the seed until now?




SF:

It has always been with me. Since I was in college I remember telling a friend of mine that I was going to make my life surrounded by art and I remember this feeling that I was going to open up a performance space. I was the gallery director of

Brent Sikkema

for a while and then came ISSUE and it seemed like destiny. It doesn't necessarily feel like courage, it just feels right. It feels like this is what I'm here for. There's something honest about this place that I think a lot of people feel too and are drawn to and the power and the courage doesn't come from me, it comes from everyone. Remember, this is now the

Obama

generation.



AE:

I am coming from the east village to see a concert/performance. It costs me $2 on the metro, $10(maybe $12 or $15 in the new space?) for a ticket and $16 taxi ride to get home (I am 53 years old). I come home with $28-32 less. Why would I go to IPR and not The Stone, Le Poisson Rouge, Roulette, or Bowery Poetry Club?




SF:

ISSUE does offer something that these other clubs don't and they offer something we don't. There are a lot of people living in Brooklyn, now, remember. Many people are being priced out of Manhattan and are coming over here. For many it's actually more convenient to stay here than to go to the Village for a concert. So it's really a balance. The great thing about 110 Livingston is that it is so accessible from Manhattan with almost every subway going right there and is really accessible from Brooklyn too. Besides this, there's only one space in New York with a 15 channel hemispherical sound system…ISSUE.




AE:

When Tonic closed many people felt they lost their second home. You have catered to a similar crowd. Does IPR see themselves as 'family' or 'guest'?




SF:

Family




AE:

Its 12:30am in Paris, I have about 4 hours to go before I know if Obama wins. I believe in the trickle up effect. If he is elected president, how will that affect IPR?




SF:

Well, it shows that this country is heading in a new and positive direction. We've felt at times like we were besieged trying to keep expermintal culture alive in the Bush years. Now it's a new situation, Brooklyn was absolutely beautiful Tuesday night, people were hugging and laughing and crying tears of joy. I think ISSUE represents a place that cultivates and sustains culture not denigrates it. The Obama Administration, we hope, will make arts funding a priority. There's a lot of work for him to do, but we need to keep this up there on the list. Since Reagan, the government has been cutting funding for the arts…we need to change this pattern now.




AE:

Better to end an interview on an even number as they say. Far-sighted analogies can be insightful. If IPR were a plant what would it be?




SF:

A weeping willow tree.


Angie Eng

, NYC/Paris


ISSUE Project Room has received generous support from the Annenberg Foundation, Brooklyn Arts Council, Foundation for Contemporary Arts, The New York City Department of Cultural Affairs, Mary Flagler Cary Charitable Trust, Brooklyn Arts Council, Meet the Composer, The Golden Rule Foundation, The Edwards Foundation Arts Fund, The Puffin Foundation, mediaThe foundation, the Independence Community Foundation, and the Experimental Television Center. BOARD OF DIRECTORS: Marc Zegans, Board Chair, Jo Andres, Steve Buscemi, Suzanne Fiol, Robert Longo, Steve Wax, ART ADVISORY BOARD: Paul Auster, William Basinski, Rhys Chatham, Tony Conrad, David Grubbs, Shahzad Ismaily, Bob Holman, Jim Jarmusch, John Jesurun, Charlotta Kotik, Jonathan Lethem, Evan Lurie, John Lurie, Moby, Rick Moody, Stephan Moore, Lawrence D. Morris, Julian Schnabel, Elliott Sharp, Mark Stewart, Edwin Torres, John Turturro, Kate Valk, Anne Waldman, Hal Willner, Robert Wilson

Angie Eng is a media artist who works in video, installation and time-based performance. Her current work draws inspiration from nomadic cultures. Her work has been performed and exhibited at the Whitney Museum at Philip Morris, Lincoln Center Video Festival, The Kitchen, New Museum of Contemporary Art, Renssalaer Polytechnic Institute, Eyebeam Art and Technology Center, Roulette Intermedium and Experimental Intermedia. Her videos have been included in digital art festivals in local and international venues in Cuba, France, Greece, Japan, Holland, Germany, Former Yugoslavia and Canada. She has received numerous grants and commissions: New Museum of Radio and Performing Arts, Harvestworks, Art In General, Lower Manhattan Cultural Council, New York State Council on the Arts, Jerome Foundation and Experimental TV Center.


Artist Organized Art
as seen in:


help by linking us (click in box, copy code, paste code into your site or blog page)
http://artistorganizedart.org
Makes Example:
http://artistorganizedart.org
XML
::.. bookmark this page:
del.icio.us
Furl
reddit
Yahoo MyWeb
Get More Involved: Donate Now | Log In | Sign Up Now | Subscribe | About Us