Tuesday, December 30, 2008
Meditation on Mediations— An East West Cultural
Exchange: Dialogue, Misunderstanding, Growing Pains and an Evolution of Artists Before Egos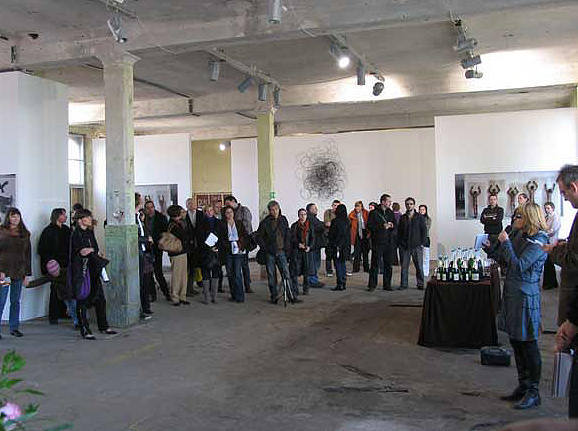 CamouFLASHED Mediations
Curators: Mariusz Soltysik, Aurelia Mandziuk, Anja Tabitha Rudolph, Roland Dolfing


Event in frame of Month of Mediations - MEDIATIONS Biennial, 3-30 of October 2008, Poznan, Poland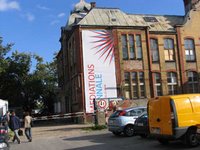 MEDIATIONS BIENNALE

Biennale director: Tomasz Wendland



Voyage Sentimental,

curator: Lorand Hegyl


Identity and Tolerance

, curator: Gu Zhenqing


Corporeal/Technoreal

, curator: Yu Yeon Kim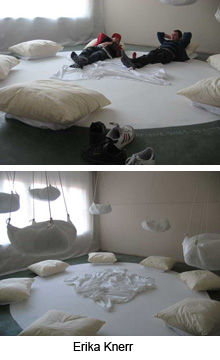 Thursday, October 2, 2008

- As an artist in

CamouFLASHED Mediations

I had the luxury of actualizing my sound
installation,

Atmospirit, The Last Breath and the Big Wind

on my birthday. The painted white circle on the floor was dry and I suspended the pillows from the ceiling. There were the typical problems of finding materials and tools. I needed a ladder to reach the ceiling and managed to negotiate one of the few available.
There was some mix up that evening about when exhibitions were opening so

Suzy Sureck

and I went to the opening of "Voyage Sentimental" at the National Museum a day early and were turned away by the guards. Luckily,

Eric Binder

, a Slovakian artist from Bratislva, showing in "Voyage Sentimental," was returning
with supplies. He was able to get us past the guards as his guest. This was great to get a preview before the opening. Most of the work was installed and a few of the artists were hanging and/or finishing their installations. We were struck by the contrast of the slick white Museum space to our abandoned Old Printer house with all its character. I liked the less precious approach of Eric Binder finishing his large, playful, graffiti influenced drawings suspended directly from the ceiling. We also met
Barthelemy Toguo

from Cameroon with some of the strongest works in this show. There were quite a few big name art stars in this venue like

Anselm Kiefer

,

Michelangelo Pistoletto

,

Hermann Nitsch

,

Arnulf Rainer, William Kentridge

and

Marina Abramovic

among others. I was happily pleased to see the beautiful, straw blown drawings of

Roland Flexner

, from New York. I was also struck by the amount of figurative and narrative works here, but made sense for this more traditional setting.



That evening at the Dragon Pub I spoke to artist

Adam Klimczak

about Dresden and the continuation of

Camouflash

there with the young group of artists who formed the UNACTO group about 2 years ago. Above all he stressed that there is something quite positive about the fact that the Dresden group of artists are trying to organized themselves, like we have done, in Lodz, and that's a good thing. All the details are not so important in the end.
"We focus on non-commercial, experimental and alternative work….created often in unconventional spaces such as streets, shops, factories or public places"

Galeria Wschodnia, Lodz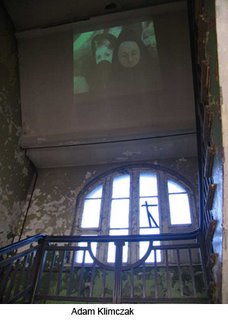 Friday, October 3, 2008

. This was the longest day of the trip. I awoke early this morning at the Hotel Ryzimsky where most of the Mediations Artists were staying about a 15-20 minute walk to the Old Printer House, which housed

CamouFLASHed Mediations

and also one of the three feature exhibitions of Mediations Biennial, curated by

YeoYeun Kim

from New York, titled "Corporreal/Technoreal." I got to the Printer House later than I had hoped.

CamouFLASHed Mediations

opened the next day at 12:30 PM. There was still an overwhelming amount of work to do to prepare for the opening.

Reinigungsgesellschaft

, an artist collaborative in the space next to me on the first floor had arrived to install their video,

The Japanese Garden

, 2008. We worked through a few problems with lighting and basic co-existense of
two installations with sound. There's with the sound of children and a security guard explaining behavioral rules and the cultural meaning of the garden in Berlin at the recreation park "Gardens of the World," mine with the sound of basic meditation instruction, overlaying the sound of wind and the breath of my father, a few days before he passed away.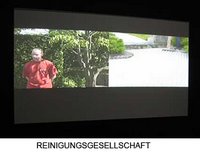 I was able to mostly finish my installation today and resolve some issues with the pillow heights and with the recommendation of a Viennese artist we met the day before,

Clemens Fuertler

, I wrapped the bases beneath the pillows with white cotton fabric. I was still unhappy about using a laptop for sound of the audio. It was not loud enough and the fact that the laptop with sound was stolen from my installation at "Disappearing in Art", in Dresden, and was left without audio for 7 days of the installation was disconcerting. After many requests for speakers I ended the day with confidence that speakers would arrive by morning.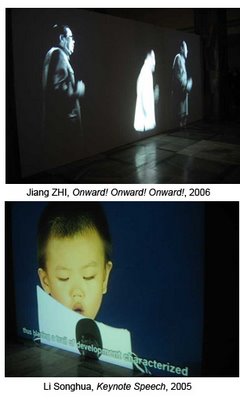 Friday night was the opening of the first two Mediatons shows, "Voyage Sentimental" at the National Museum and "Identity and Tolerance" at the Zamek Castle Cultural Center (Kultury Zamek). We missed the 6:00 pm opening at the National Museum still working on "Camouflash". Luckily we saw the preview the night before with Eric. The contrast was dramatic between spaces. Ours is a gutted old unheated shell of the old Printer House (except my room actually has heat which I was given as a good space to encourage meditation). The National Museum space is a huge open atrium with many smaller, white boxed rooms. We did make it to the Zamek Castle. This was a Historic space. A favorite piece, a performance on the front steps, near the entrance, was a fallen angel by

SunYuan

&

Peng Yu

simply titled

Angel

, 2007. There were great videos in the lobby space of the Zamek Castle now the Cultural Center of Poznan.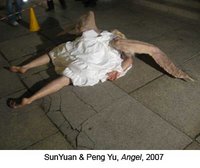 Upstairs was a large hall with people waiting for speeches from the curators and organizers. The entrance of the rest of the exhibition was down another hall near the beer tap and wine table. In trying to go in I was promptly stopped and pointed back toward the direction of the speeches, so more waiting, than another attempt to pass the ladies guarding the hallway to the artwork. Once again turned away by the stern, cross-armed guards. The speeches finally came and went with movement toward the drinking hall. We ran in to Warren, a Polish writer we knew from NY and had a brilliant talk about 12 years of living cycles. Warren was a fixture at every art event in NY for 12 years and has now migrated to Warsaw as he sees more happening here than in New York.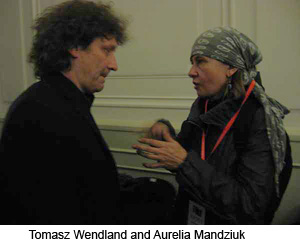 Next we were moved to a banquet where all the artists, organizers and curators where invited for a big spread of sushi, polish dishes, fruits and drinks. Off the balcony, there was a lovely view of the Castle gardens. Being that our opening was the next day at 12:30 pm, Mariusz, Agata, Aurelia, Margaret, Henrich from the Dresden group and other artists & installers worked all night with one or two hours sleep to prepare works.
CamouFLASHed Mediations

was an enormous undertaking for the curators. It was overly ambitious and chaotic to deal with this beautiful old building, the Old Printer House in Poznan, smack next to a Sheraton Hotel and a short walk from the main railway Station (Poznań Główny). Not only did art need to be installed on three floors of about 8,000 sq. ft. each, walls were built and painted, electricity run to spaces for a huge number of monitors, projectors, lights, speakers, laptops etc. to be set up and all of this in only 4 days before the opening. This is an amazing "portrait" of overcoming obstacles.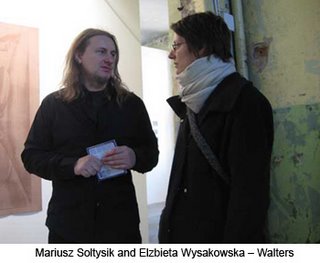 "Camouflash" was first shown in a smaller venue, an old office building connected with the Patio Art Center, in Lodz, Poland, in October 2007. Conceived by

Mariusz Soltysik

and co-curated with

Aurelia Mandziuk

, this show was tight and concise in its curatorial vision and openness toward supporting it's artists to realize their works. At the time there were also obstacles to leap in terms of the building, wiring and cleaning an old building for a show that was almost all media based. This idea in itself is a paradox; to show so much new media in an old world building that was not at first technology friendly.
So this was a similar case in Poznan, but on a much bigger scale. The next obstacle was moving from its second incarnation, "The Disappearing in Art" that took place in Dresden in a contemporary building shell of future offices, a little more than a month earlier. A group of young artists from a group called UNOACTU in Dresden, headed up by

Anja Tabitha Rudolph

became interested in "Camouflash" after their first UNOACTU project in which Mariusz Soltisik, Adam Klimczak and others from Lodz were involved.
Soltysiks approach was adopted by UNOACTU. At this point, a mixed encumbrance occurred. UNOACTU took Soltysiks concepts and ideas in "Camouflash" and augmented them thematically, with the subtitle "Disappearing in Art," expanding the ideas of hyper-reality and presenting "Camouflash" now in Dresden. Interestingly an experiential and generational shift occurred, where a group of young, recently graduated art organizers are hosting a group of seasoned artists and organizers with a long and important history from Lodz.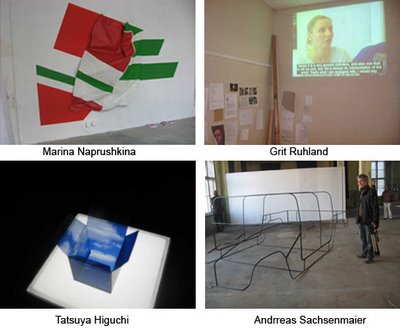 Looking at the experiential differences in cultural and generational shifts is one way of understanding the different styles of organizing.
This was not only a cultural exchange between artists from Poland and Germany, but also between the parallel histories of both Dresden, from GDR, and Poland, coming from the soviet bloc era ending in 1989. A new generation of artists organizing in their twenties, grew up for the most part in a Germany undivided, giving them a different perspective.
Egos are a huge part of the art world, commercial or otherwise and of the "artist" mentality. "Camouflash," coming from a long history of

Construction in Process

,

The International Artist Museum

and

Galeria Wschodnia

is the anti market, anti economy driven art world, supporting social change through artistic exchange. It takes a position of artists for artists, where egos play a secondary role. This is antithetical to the commercial gallery system of the art world. This contrast of approaches is important to the continued shift of a post-communist Central Europe and for future generations of global artist organizers in general.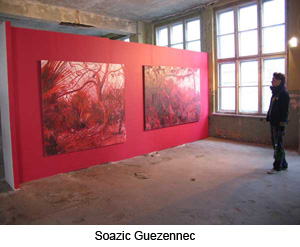 A third time around, this incarnation,

CamouFLASHed Mediations

was back in Poland for Poznan's first international Biennial,with yet another expansion, including curator

Roland Dolfing

from Luxenboug, and Inner Spaces bringing in painter

Soazic Guezennec

, and others.

CamouFLASHed

is about something other than a tightly thematic Biennial exhibition and highlights it's strong contrast to the three main shows supported by the Mediations Biennial.

Tomasz Wendland

brilliantly invited "Camouflash" as a large "fringe" exhibition to show a deeply multilayered, multi-cultural, inaugural Biennial presentation for Poznan.
So with unquestionable odds and little funding all involved came together with big ambition in an enormous undertaking. There was chaos, many problems much compromising, swirling egos, envy of the finished white cube for some, incredible dedication, fear, frustrations, family, dancing, laughter and drinking, very little sleep, a nice hotel, over 300 artists from around the world all convening on Poznan for the Mediations Biennial because of the efforts of Thomas Wendland & Co.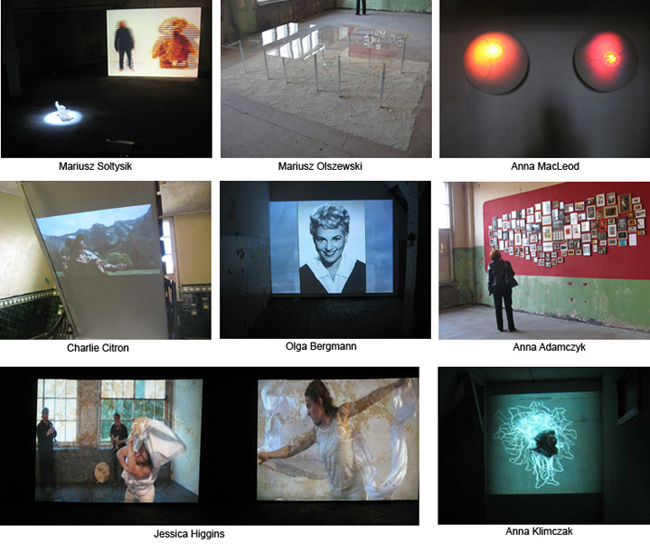 Saturday October 4, 2008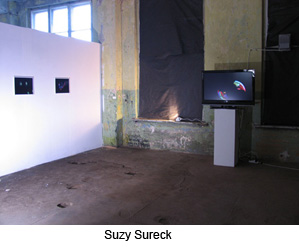 Saturday morning Suzy and I had to check out of our hotel, drop bags at the Train station and get to the Exposition before the opening at 12:30 pm. I needed to check on the sound of

Atmospirit

. On arrival I found boxes of brand new Creative speakers and a DVD player and 2 laptops. More than I needed. I had a very short time to set it up myself, since everyone else was still installing, cleaning on the second and third floors and perhaps rooms down the hall from me, on the first floor. A little miracle happened and I hooked it up right the first try and the sound was perfect for the room.
Breaking through our limited expectation
of the way things should be, and when
things happen spontaneously, in unexpected
ways, we learn from this.


Yu Yeon Kim

's opening of "Corporeal/Technoreal" took place in the same Printer House building as

CamouFLASHed

and opening at 12:00 noon, just a half hour before ours. "Corporeal-Technoreal" is part of the main program and had a different quality. It was a strongly curated new media exhibition of video work and one sculptural floor installation by

Yuan Shun

. His "O" Project, of a mist shrouded landscape of the Forbidden City was a stand out. The content of Yu Yeon Kim's show was the harshest, most heavily psychological. Another favorite was

Oswaldo Macia

&

Partrick Jolley

's,

Soufle

, 2008, film, sound. The room on first glance showed projections that looked like beautiful color field painting. On further investigation one realizes the color comes from "flowing surfaces of edible sauces and the audio track is of machines used in slaughterhouses. The sauce also feels like blood.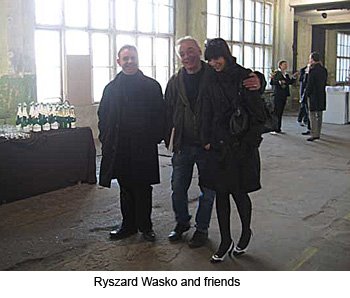 A highlight of the day was seeing

Richard Wasko

there. I was very happy to see him after many years and he is in good form. He was there with

Marika Kuzmicz

and friend, from Rempex, Galeria Sztuki Wspólczesnej in Warsaw. He joked that this photo would appear in the New York Times, only better here for AOA. The enigmatic Wasko disappeared as quick as his wit. He has a big exhibition up now at the National Museum in Lodz documenting his years there and in Berlin.

Now there was movement upstairs for more speeches by the curators of

CamouFLASHed

this time. After this was a strong performance by

Janusz Baldyga

titled,

Cheated – Rescued

, 2008. At the beginning of the performance he announces, "Be Careful With Glass". There were two pieces of glass, one wrapped with bandage with an image of a soaring hawk , the other plain, laying flat on the floor. He slowly unwrapped the glass, while at the same time wrapping himself in the bandage, letting it fall time after time and finally shattering on the floor. The second part consisted of taking the plain glass sheet, sliding it down a corner of the wall till it fixed itself there. It eventually smashed from the force of gravity some time after the performance ended.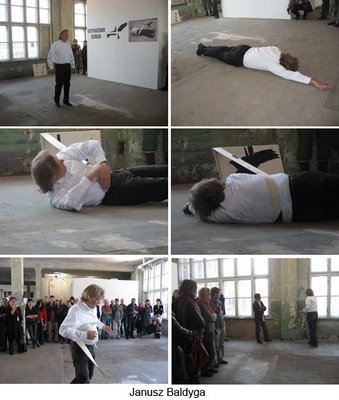 The other performance by

Gabriele Horndasch

called

Found Footage

, 2008, became a wall installation on it's completion. She started the dart throwing earlier that morning, before the opening and ended about a half hour into the opening. Each throw of the dart is replace with a nail where a wire hoop in hung. There is a beautiful sense of time in this work where the image on the wall is built up slowing creating a layered wall drawing. The active, almost violent action of throwing the large dart is offset by the stillness of the final piece.
Event in frame of Month of Mediations - MEDIATIONS Biennial, 3-30 of October 2008, Poznań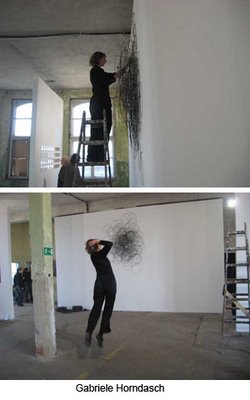 Artists:
Anna Adamczyk, Chrisitian Aschman, Janusz Bałdyga, Olga Bergmann, Martin Brazina, Sarah Browne & Gareth Kennedy, Henrik Busch, Agnieszka Chojnacka, Charlie Citron, Stephen Cornford, Disorientalism, Shige Fujishiro i, Sven Giessmann, Karolina Głusiec, Kristaps Gulbis, Shilpa Gupta, Soazic Guezennec, Tobias Hantmann, Eytan Heller, Jessica Higgins, Tatsuya Higuchi, Gabriele Horndasch, Eric Van Hove, Markus Huemer, Bernd Imminger, Adam Klimczak, Anna Klimczak, Erika Knerr, Patricia Lippert, Krzysztof Łukomski, Christine
Mackey, Anna MacLeod, Cristina Maldonado, Tomasz Matuszak, Nadja Verena Marcin, Marina Naprushkina, Aisling O'Beirn, Łukasz Ogórek, Mariusz Olszewski, Arianne Olthaar, Pia MüllerSusana Pedrosa
, Wiktor Polak, Ewa Szczyrek–Potocka, REINIGUNGSGESELLSCHAFT, Grit Ruhland, Andreas Sachsenmaier, Mariusz Sołtysik, Suzy Sureck, Aki Tarr, Richard Thomas, Elżbieta Wysakowska – Walters, Miyuki Yokomizo
Friday, December 05, 2008
Festival- Hopping Paris
Spring, Summer 2008, Slideshow

If yesterday was "spend," today is "save." Economize money, energy, space, time, water, food, thoughts. If I'm not watching images move, or moving images, then by default I'm roaming. A to B, equals New York to Paris. At a discreet global position, vaguely sitting in cafes for hours chatting, discussing, debating. Cartesians: "wearing the clock" not "watching the clock." Spending vagabond days, writing, editing, reading, but do we, with one glance, have enough information to spark a sequence of ideas, feelings, inspiration?

Le Cube Festival 2008

, Issy Les Moulineaux,
www.cubefestival.com
|

Festival Nemo 2008

, Élysées Biarritz,
www.arcadi.fr
|

Festival Agora 2008

, Ircam,
www.ircam.fr
|

Exit Festival International

, MAC Creteil Maisons Des Arts,
www.maccreteil.com
|

VisionSonic

, La Générale en Manufacture,
www.lespixelstransversaux.net
|

Vision-R Festival

, Mains D'Oeuvres,
http://www.mainsdoeuvres.org
|

Scènes Ouvertes à L'insolite

, Le Theatre de la Marionnette, Theatre de la Cité Internationale,
www.theatredelamarionette.com
Angie Eng is a media artist who works in video, installation and time-based performance. Her current work draws inspiration from nomadic cultures. Her work has been performed and exhibited at the Whitney Museum at Philip Morris, Lincoln Center Video Festival, The Kitchen, New Museum of Contemporary Art, Renssalaer Polytechnic Institute, Eyebeam Art and Technology Center, Roulette Intermedium and Experimental Intermedia. Her videos have been included in digital art festivals in local and international venues in Cuba, France, Greece, Japan, Holland, Germany, Former Yugoslavia and Canada. She has received numerous grants and commissions: New Museum of Radio and Performing Arts, Harvestworks, Art In General, Lower Manhattan Cultural Council, New York State Council on the Arts, Jerome Foundation and Experimental TV Center.

Artist Organized Art
as seen in:


help by linking us (click in box, copy code, paste code into your site or blog page)
http://artistorganizedart.org
Makes Example:
http://artistorganizedart.org
XML
::.. bookmark this page:
del.icio.us
Furl
reddit
Yahoo MyWeb
Get More Involved: Donate Now | Log In | Sign Up Now | Subscribe | About Us