Friday, April 25, 2008
Jeremy Boyle
at Hudson Franklin Gallery, Chelsea

Mar 20 - Apr 26 2008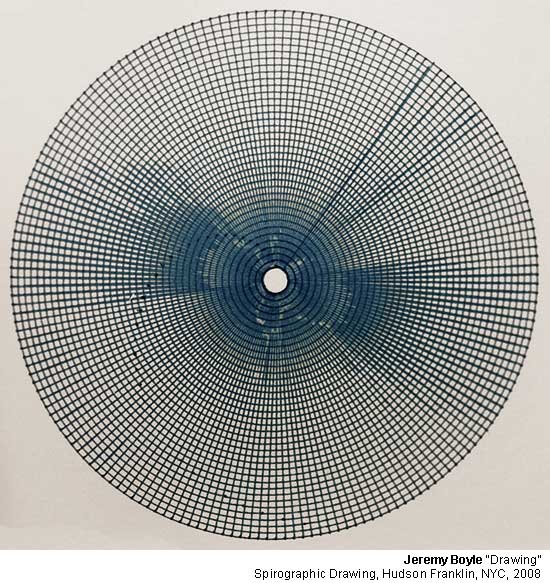 correspondent: artist

Nicholas Sullivan
J

eremy Boyle's ingenuity ranges from everyday three-word emails to his students, to solo art shows, like the one now at the Hudson Franklin Gallery in Chelsea, New York. As a student of Jeremy's, I found his approach to instruction deeply refreshing. Coming from a high school where the emphasis and concentration was either on drawing a tree outside the classroom on a piece of paper with oil pastel (in, gasp, unrealistic colors) or churning through the ridiculous number of still life requirements for the AP art portfolio (I got a 3), Jeremy's take on the foundations program at UMass made me realize the limitless possibilities within the realm of "art." No longer would I slave at a charcoal self-portrait, nor would I even take a gander at a set of oil pastels. A new world had been opened up, and I was sailor-diving into it.


I have taken four different classes with Jeremy. It is always quite an unusual comparison between the classes I take with other professors and the ones I take with Jeremy. Where some instructors concentrate overwhelmingly on technique, and what I deem as replication, Jeremy instead pushes concept. We have talked a number of times about the power and value of teaching conceptually strong art earlier in an artist's formal training. An artist with a strong concept, and the will to achieve it, will take those steps to make it happen. Thus the technique follows the concept. Creative freedom is exactly what Jeremy gave me. It is then when art really became exciting, when those doors were open and the vast expanse of everything lay open before me. It was wonderful.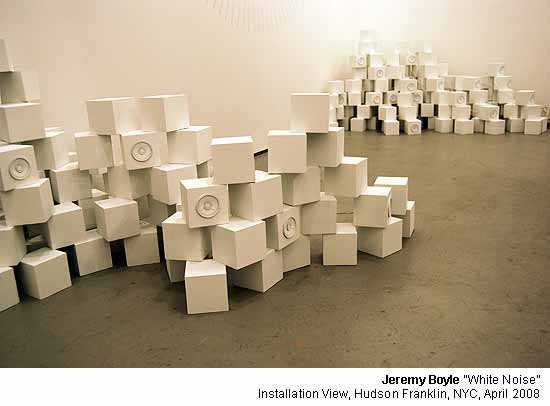 From that point on I was brimming with ideas, some rather outlandish, and some a bit more conventional. Regardless of the idea, Jeremy's expertise and general knowledge on just about everything constantly came to the rescue. At one point, for instance, I attempted to make a Jell-O mold for a project. I was never able to complete the project, but I brought up my failed Jell-O attempts to Jeremy and off the top of his head he gave me a list of ways that Jell-O could solidify faster as well as hold its shape better. How he knew this was something I ponder quite frequently. Instances such as this occur on a daily basis with Jeremy. His capacity to help, and to provide information is boundless.


During this current semester I had the opportunity to work with Jeremy as his assistant preparing for his show at the Hudson Franklin Gallery. Every Saturday for about a month or so, I was over at the Boyle residence ready to rock and roll ... or sand and paint. The first day we spent the entire day cleaning an astonishingly thick layer of sawdust off everything in his studio. The rest of my days were usually spent working and reworking the exterior of the small wooden boxes involved in his White Noise piece. We deduced at the end of the entire process that each box (there were approximately 250) took around an hour of labor. But, might I say, dear god they looked good. I loved sanding, spackling, and painting. Jeremy's ipod provided a plethora of new musical discoveries, and I routinely encountered bands I had never heard before (my first day on the job I played 5 straight hours of Morrissey--something that I believe now may have been slowly driving Jeremy insane). The process was exciting to be a part of, and I know that many of my other professors, sadly, would have no art to need help on. Having a professor who is a successful working artist is something that I feel is invaluable. Jeremy's dedication spanned out of the classroom and into his own studio space, where he spent hours going over every meticulous detail of his pieces, exemplifying a practiced and precise level of craftsmanship.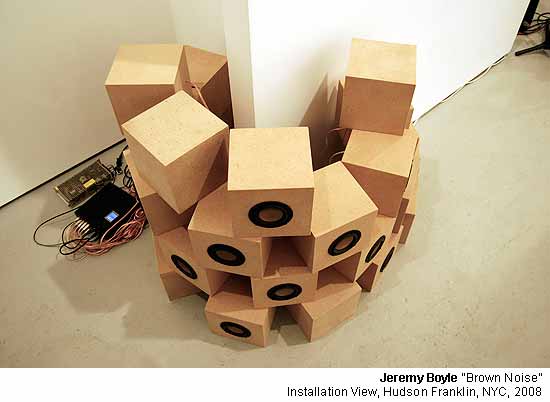 As the show neared, we packaged up the stuff and Jeremy made the long voyage to New York for his installation (which was apparently quite grueling). A few days later a few classmates and myself made the journey to New York for the opening. As we approached the gallery we saw approximately thirty people waiting for the elevator just to get up. I thought to myself, "This is like a godamn Kiss concert." I hadn't expected to see such a huge turnout.
Jeremy's work in the show, I think, can be viewed on a number of levels. But, for the most part I view it as an explanation of the ironies and idiosyncrasies of human behavior, as well as exploring the close relationship of process and creation. For example, his piece involving the large circular screen with the rotating projection, and the video on a rotating pedestal, both deal with similar ideas. The dichotomy that existed between the two pieces I thought was one of the most important of the show, and really embodied ideas reflected in a lot of the other pieces (more on these works below). It is these minute observations that Jeremy is able to delicately bring to the forefront and make obvious. Our human experience is under close scrutiny by Jeremy Boyle, and I think his art will tell you that. Jeremy's sound pieces also seem to illustrate a certain form of dissection and re-contextualization. Since the gallery was so packed, it was hard to hear the white and brown noise pieces, but I felt that their relationship existed similarly to that of the two video pieces. The machine drawings on the walls were something that I never was able to see the actual construction of, nor had I seen the devices that created them. It seemed unimportant to me because I have seen how Jeremy works, and the work around the drawings explains them completely. The self-playing guitar (I think all of UMass has talked about his self playing guitar) was a manifestation of what Jeremy had been teaching our small independent study class about electronics. It is just so visually complex, and so actually complex, it nearly exists in another realm of understanding. It becomes for me something very different than a guitar.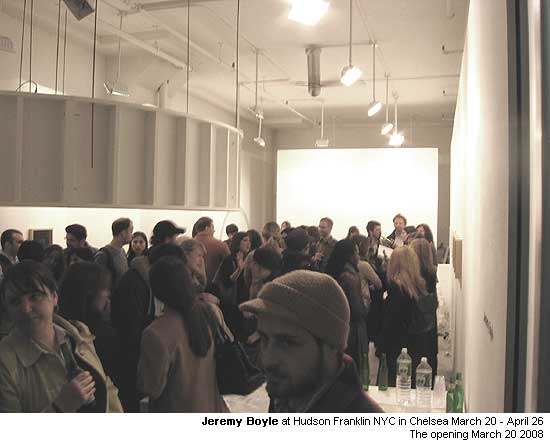 Jeremy was able to show a lot of brand new, and newly refurbished work in this show, and individual pieces are situated in ways that help individual pieces complement each other in interesting ways. For instance, as viewers enter the gallery space, they immediately encounter a large circular construction that is hung from the ceiling screen (one layer of Spackle, one layer of primer, two top coats) at eye level. Projected on the inside of this circle is a digital image of Jeremy's head. The image of Jeremy's head rotates around the inside of the circle. Similarly, nearby, there is another video piece involving rotation. In this case it is a video that stands on a rotating pedestal, with again another rotating image.
In two corners of the room were some of Jeremy's sound pieces, one being White Noise, and the other Brown Noise. The white noise boxes (which I worked on) were approximately 3" x 3" inch white cubes, some with speakers in them and some without, all stacked on top of each other in a pile. The piece emits a soft hum of "white noise." Nearby was the similar Brown Noise piece, made of brown boxes a little bit larger (about 6" x 6") arranged in the same manner and form as White Noise. Finally, Jeremy's self-playing guitar, a complex electronically based instrument made to play without any help of the human hand, and instead running off a micro computer, electronics, hydraulics, and a lot of highly advanced programming.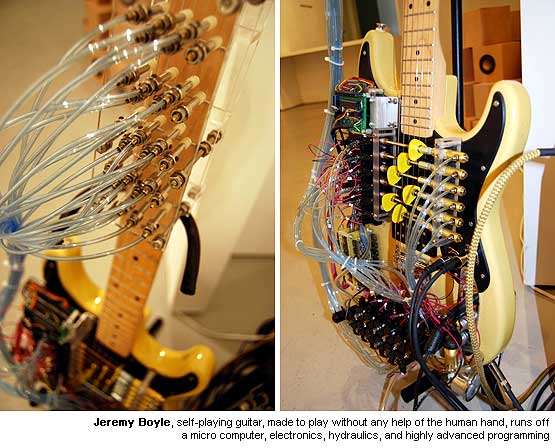 The machine drawings were one of the pieces that I was most excited about. Although I played no role in their construction, nor did I actually ever see them being made, I found them to be deeply compelling images. The complex images rendered by Jeremy's hand-made machines seemed to fit perfectly with his other pieces that showed some of his elaborate electronic handiwork, such as the self-playing guitar. I find the idea of removing the artist's hand almost completely from the final product, and really having the artist's role exist behind the scenes a compelling idea. Upon closer inspection these machine drawings, done in a surprisingly simple ballpoint pen, have their imperfections. The process did not produce perfect drawings, but it was these mistakes that really drew me to them. Seeing the areas where the pen began to run out of ink were the most aesthetically pleasing, and the most interesting, as the flaws in even a mechanical design are exposed.
Jeremy's large wall Spirograph seems to play off of Jeremy's use of machines as well, although in this case the artist's hand is visible, and the machine is instead just a facilitator. Rather than in the machine drawings, this Spirograph just literally guides Jeremy's hand to make the pattern. In this case, there is a closer connection between the artist and his materials and final product. On another level, the Spirograph hints at a certain youthful vigor that Jeremy seems to occasionally play off of within his work. This can also be seen in his use of the ballpoint pen, often in my case associated with school-book scribbles and haphazard note taking. But, upon closer inspection of what the Spirograph really is (a series of gears within gears that creates mathematical curves in a very specific manner) you are able to see where the connections in Jeremy's work begin to be made.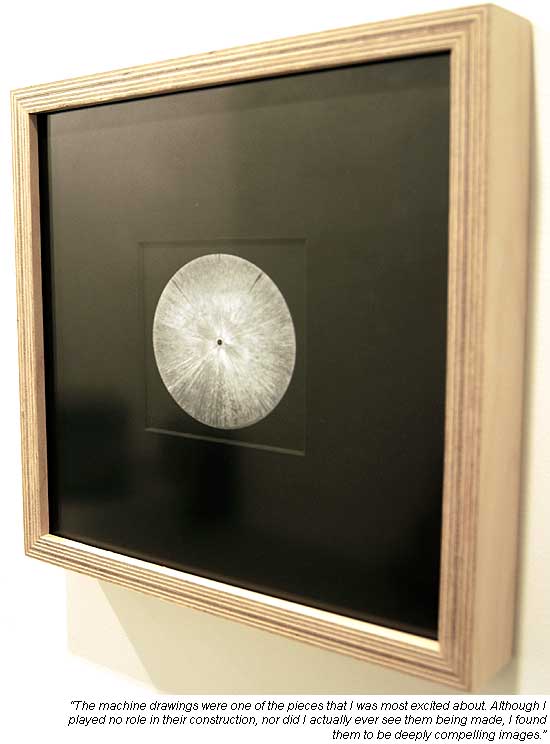 Finally, a piece that I have grown to know and love, whether it be because of my role in its production or its simple genius, is White Noise. I have found a place in my heart for this piece. "White noise" by definition is a signal with equal power across all frequencies. Jeremy's piece was approximately 250 small boxes stacked on top of each other, some with speaker playing a level of white noise out of them. In this piece Jeremy actually provides a physical representation of sound, while including the sound that is being represented. Although during the opening the white noise was hard to hear coming out of the speakers (unless your ear was directly against them), I had heard them previously and the actual white noise that emits is quite interesting. It is a short of high hiss sound. This piece is accompanied almost directly across the room by the Brown Noise piece, and this created an interesting relationship within the gallery. The two pieces were speaking to each other in their different pure forms of sound, carrying on a kind of conversation. The literal stacking of the boxes creates an almost post minimalism take on sound. The White Noise and Brown Noise pieces both literally and figuratively converse with each other, describing an arena where audio landscapes are transcribed into physical realizations, thus providing. Similarly, the Spirograph wall drawing, and the machine made drawing also hold a dialog which suggests a distinct relationship between creator and creation, as well as the imperfections of not only the human hand, but also the machines.
After the show I felt a bit of remorse, knowing there would be no more topcoats to put on, no more boxes to sand, and no more Morrissey playing in a dusty studio. But from those days I spent in Jeremy's studio, and from the time I spent with him in the classroom, I have learned a great deal not only about art, the art world outside of college, but also life itself. Jeremy Boyle works hard, he works very hard, and it shows not only in his show at Hudson Franklin Gallery (which I think was a tremendous success), but also in his students' loyalty and dedication to his teaching. Jeremy does not gain respect from his students by being loud, or by enforcing rules and deadlines. Jeremy gains a students' respect by being a teacher, by being kind and generous, and by doing what he does best: creating amazing art.
In the end I am constantly left questioning whether my college experience, and my parents hard-earned dollars, are worth a BFA, which in my mind really means nothing. I think often of a philosophy student. A philosophy student is taught philosophy, only in most cases to become a philosophy teacher, thus creating a static cycle. But there is always that one Nietzsche, or that one Marx. Similarly, this is true for the art world. It is not really about the diploma, or AP portfolio, but instead it is about working hard for what you want. College is merely a way to facilitate that. Jeremy's show at Hudson Franklin is a manifestation of what I am working for during these four years, and I will be eternally grateful to him for showing me that.
-Nicholas Sullivan

Born in Pittsburgh in 1975, artist/musician Jeremy Boyle received his BFA from the University of Illinois at Chicago and MFA from the Ohio State University. He was a founding member of the Chicago group Joan of Arc and has performed music (both solo and collaborative) extensively throughout the United States, Canada, and Japan and his recordings are internationally distributed. He has exhibited artwork, most of which is sound and technology based, in major cities across the U.S. including Chicago, New York, Los Angeles, Boston, Sacramento, Seattle,Miami, and Pittsburgh. he was awarded the PA Council on the Arts Fellowship in 2003, received the Heinz Creative Heights Award and completed a residency at the Mattress Factory in 2004, and received a Sprout Fund Seed Award in 2005-6. Recent projects include the completion of a public artwork commissioned by the Pittsburgh Downtown Partnership and the Heinz Endowment in collaboration with architect Gerard Damiani and a solo exhibition at the Hudson Franklin Gallery in New York City. he is currently an Assistant Professor of Art at the University of Massachusetts at Amherst. His work has been most recently seen at Deadtech in Chicago, IL, and at a mini-tour of performances last fall featuring his (self- playing) guitar and drums. Also in 2007, Boyle created the score for Jennifer Reeder's first feature film, "Accidents at Home and How They Happen," which premiered at the Wexner Center for the Arts in Columbus, OH, on March 1. This is his third solo show with Hudson Franklin.
Nicholas Sullivan is an emerging artist completing a degree at UMASS Amherst where he has studied closely with and worked as assistant to artist Jeremy Boyle.
Hudson Franklin Gallery, 508 W 26th St., NYC, was established by Nicole Francis, a graduate of the School of the Art Institute of Chicago's MA program in Art History. Artists at Hudson Franklin includ Michael Bernstein, Jeremy Boyle, Jesse Chapman, Martin Esteves, Peter Fagundo, Alice Konitz, Elizabeth Saveri, Genevieve Walshe
Wednesday, April 23, 2008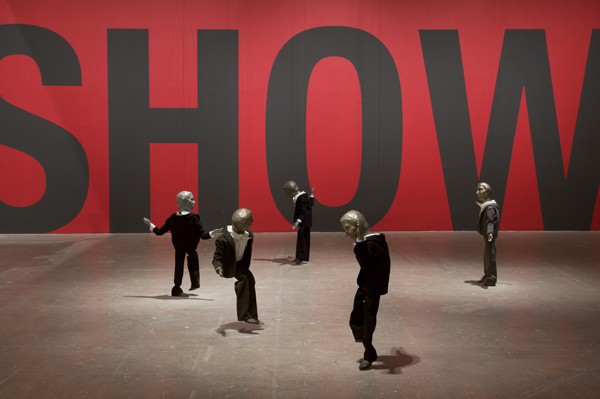 Dennis Oppenheim.
Theme for a Major Hit, 1974. "The Puppet Show."
Installation view.

Institute of Contemporary Art
. University of Pennsylvania. Photo: Aaron Igler
Puppets, Mortality, Humor and Suffering;
Three States, Three Venues Explored



AOA correspondent: Artist

Eva Mantell
The Puppet Show
,
Institute for Contemporary Art in Philadelphia, Pa,
from January 18 to March 30, 2008; traveling to the Santa Monica Museum of Art;
the Contemporary Museum, Honolulu; The Contemporary Arts Museum, Houston;
Frye Art
Museum, Seattle.
Bianca Neve
, Teatro del Carretto, LaMama E.T.C., NY, NY,
January 10 - 27, 2008; Teatro Araldo, Torino, Italy, April 18-19
2008




Argonautika

, The Voyage of Jason and the Argonaut
s,
directed by Mary Zimmerman, McCarter Theatre, Princeton, NJ,
March 20 - April 6, 2008
P

uppets look easy, child-like and direct.

They are obviously about the body, about power, about imagination, about the self, about comedy and about mortality.
Any artist can drop in on this art form and give it a try. A puppet could be made from anything: your hands (

Cindy Loehr

gives us a video with talking fists which quickly reminds me of "The In-Laws" with Alan Arkin); your genitals (

Guy Ben-Ner

's video gives a sometimes shy body part a star singing role); your whole body as you act like a puppet (

Paul McCarthy

, scary clown slopping paint around for us).
Puppets are about drawing and about sculpting too. Film, video, computer animation too. Robotics (

Survival Research Laboratory

lavishly blows up robots, which is certainly one approach). I think the thing vacuuming my neighbor's home right now is a puppet. I'm pretty sure some of my children's pets are puppets, that "live and die" by various digital reenactments of nurturing. And this month I had my first sighting of a Baby Think It Over Doll at, where else, the mall! A teenage girl, right out of an after-school special, is dutifully carrying her puppet baby, waiting for its electronic wail, her cue to turn a key in its back while it digitally records her mothering skills. Looking at her a little more closely: does she or doesn't she? Is she also wearing a strap-on empathy belly?
http://www.enasco.com/product/SB43113G

Where, America, can you get a brain to strap on?
Memories can be strapped on or strung up: by

Kiki Smith

,

Louise Bourgeois

, or by

Dennis Oppenheim

with his mini-me's. Playing with dolls can transport you to the realm of fear.

Natalie Djurberg

's romps in a cardboard world are kinda sick, kinda cruel, kinda cool.

Kara Walker

's shadows time-travel into a conflicted, messed-up American history. Her elegant lines are an ironic pleasure, a facade for the crude sadism that is the real story.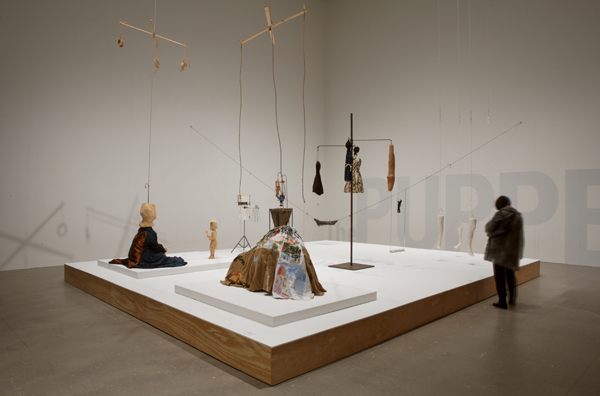 "The Puppet Show."
Installation view.
Left to right: Anne Chu, Louise Bourgeois, Kiki Smith,
Annette Messager and Maurizio Cattelan in the background.
Institute of Contemporary Art
.
University of Pennsylvania. Photo: Aaron Igler
Take a break with someone else's problems:

Bruce Nauman

's dinner date gone yucky.

Doug Skinner

and

Michael Smith

's potty mouths. The body and the world are about failure. Things regress then fall apart. Chaos was a greek proto-god who got in at the ground floor.

Ubu Roi

, an early expression of things gone ape-shit almost gives a classical feeling to stuff going beserk.
Ubu Roi

and the Truth Commission, a play from South Africa, with

William Kentridge

on visuals, riffs on this little archaic psycho-policeman. The brutality of the regime, the document-shredding, the erasing of crimes, create, warp and envelop the testimony of the citizens' suffering. This stuff is real and the art is just mediating the experience. Being good or bad art doesn't matter so much as that it just is art, and art helps me be human in the face of unbearable absences of humanity.

Just do art, and keep it coming. Teatro del Carretto's

Bianca Neve

(Snow White) at LaMaMa E.T.C. feels Medieval, distilled, sorrowful. A velvet lined box opens up in different ways to reveal shifts of scale, humor and suffering...from the miniature 7 dwarves to the terrifying full-scale actress portraying the witch/queen with an unmoving mask.
The mask that doesn't move and the strings that don't work are the stuff of nightmares. What we most need is agency in the world, connection, love, action and reaction. In the play

Argonautika

at McCarter Theatre in Princeton, early on, a marionette puppet of a baby wiggles its arms and legs making eager clicking sounds. I laugh at the repetitive, silly motions, but laugh too soon because now the king's henchmen cut the strings, and leave it dead, noiseless, still on the stage.
Any fool knows that plaster, wood, screws and glue don't add up to life, but puppet that I am, my heartstrings are pulled and here come the waterworks.
Wednesday, April 02, 2008
Gema Alava: "Tell Me the Truth"
at Messineo / Wyman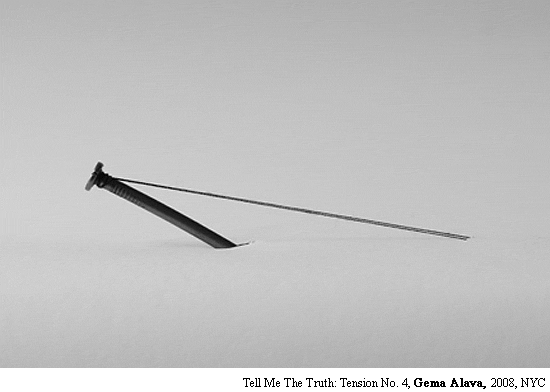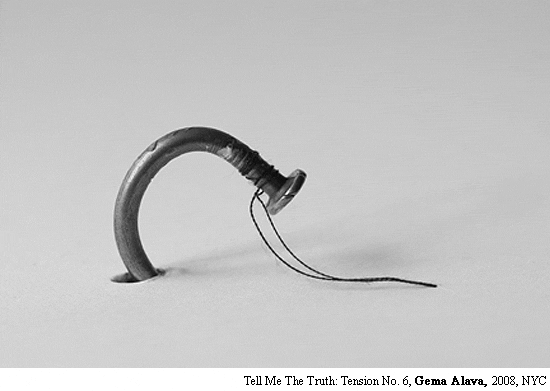 ! Extended to May 2 !

March 20 - April 26, 2008
Messineo Art Projects and Wyman Contemporary
227 West 29th Street, 4th Floor (# 111)
New York, New York

T
he truth is a hard apple, whether thrown or caught, as this young Spanish artist clearly knows. She tends, at her best, to think three or four moves ahead of her work's viewers-not out of disdain for them or out of personal elusiveness, but simply to allow herself room to adjust her own thinking in relation to the effect her imagery has on her (rapidly growing) audience. One even gets the sense that these adjustments are what she's most interested in. And that, if correct, is promising news indeed.
Alava's most recent show, thoughtfully installed in Messineo / Wyman's tiny 29th Street space, is breathtakingly elegant, deftly using the gallery's space limitations to the works' advantage. On exhibition are nine black-and-white silver gelatin digital photographs, printed on fiber paper and individually framed in white maple. Each work depicts, toward the left side of the print, a nail of indeterminate size-no scale is established in these works-protruding from a light gray, almost bluish ground that subsumes both foreground and background. Meanwhile, toward the right side of each print, emerging from a hole in this same placeless gray-blue void, are a few black threads, which seem to have ventured out along the ground to wrap themselves around the nail at midpoint or higher in what appears to be an attempt to uproot it from the security of its hole. A struggle, then-and so, inevitably, the appearance of a narrative. Each print shows the two elements-nail and thread-in a different state of dominance or submission relative to one another. At times the nail leans rigidly away from the threads, drawing them so taut they seem to fray almost to the breaking point. At others, the threads, exerting no less force, bend the nail savagely toward them, flexing it and nearly extracting it from its stubbornly held position. Occasionally, the two forces reach an equilibrium, though whether in exhaustion, momentary truce or even a hard-won peace, it's hard to say.
At least on first encounter, it would be all but impossible for the viewer not to see in this struggle, which is presented to us as if on a completely featureless proscenium stage, the successive seasons in an emotional, probably romantic, human relationship. It could even, if the "time" interval between prints is imagined to be much shorter, be thought of as depicting various moments in a single act of lovemaking. The nail is undeniably phallic, the threads undeniably tactical in their approach and adaptive in their manner of struggle, almost certainly feminine. But no sooner has the viewer hit upon this fairly obvious thought-one even the most completely unreconstructed, frankly fanatical formalist would be hard-pressed to deny-than other, totally different questions begin to bubble up, one after another, in almost alarming profusion.
These questions begin with purely pragmatic speculations as to how these scenarios were physically created. The background suggests a space that is either infinite or non-existent, and, like someone who has just witnessed a magic trick, the viewer is seduced into trying to figure out how this effect was accomplished. Whether one arrives at a satisfactory answer or not, these speculations segue very quickly into the oddly threatening realization that there are absolutely no clues as to what the scale here might be. The force of the depicted struggle (as well as the size of the rather large, horizontally formatted prints) makes it hard not to succumb to the illusion that the stature of the protagonists-nail and thread-is equally epic. And yet when was the last time you saw a ten-foot nail? By now the sense that you are being manipulated is so strong that you begin to question everything. Where exactly can the physical tableaux that appear in the photographs be found? Why aren't you being shown them, instead of what suddenly seems like photo-documentation of the real works, which are being denied you? Did the "true" art work somehow slip away between its physical embodiment and the trace of it preserved in the photograph? Or is the photo itself the art work?
And if these simple physical matters cannot be pinned down, then what about your earlier snap-judgment-strongly reinforced by the linear, apparently sequential installation of the photographs-that together they constitute a definite narrative, from image one to image nine ("The End," as it were). Could the photos be resequenced so as to make a different "story"? Is the story you take from the photos really there, or is it a story you make from them because that's the story you know: your story. Naturally, you then try looking at the prints in different orders to determine the possibilities. And so, by degrees, and quite unexpectedly, you find yourself stranded on a sparsely populated plain in the land of Beckett-or, more befittingly, given the artist's Spanish background, that of Salvador Dali. (Note the Dali-esque shadows cast by the nail.) The seamlessness with which you have been transported from an almost cartoonishly amusing allegory of human relations to a place where some of the darkest fears and needs of the human heart are enacted-enacted and reenacted over and over again unto death-suggests that the artist's intentions were, just possibly, not quite as innocent as you may have assumed. What you still have left to go on, however, is the title of the show: "Tell Me the Truth."
To ask someone to tell you the truth-not a truth but the truth-is to instantly vaporize for good the very object of your request, the one that was so comfortably within your reach until you opened your mouth. Now the possibility of knowing the truth you asked for is forever denied you, because it died the moment you expressed your desire to hear it. This is something all unfaithful lovers know. And, however much we might wish it otherwise, when it comes to the truth, we are all of us unfaithful lovers.
Gema Alava's work carries an uncanny power whose source lies precisely in how lightly she offers it. Often made from the humblest of materials, her art nevertheless gives off just the faintest trace of intense and prolonged concentration. Modest in scale, frequently fragile, it makes you think not of modesty or fragility but of resistance and struggle, life and death, the largest matters. Alava has a gift for effortless reversals that she does not hesitate to use in making her mortal point. And that point, more often than not, has to do with the universality of human suffering-cast by her, at times, in a Spanish key, for Spain's suffering at the hands of history is well known. But the artist is under no illusion: such suffering is a condition of life, not of nationality.
Alava's show remains open until April 26. See it now, before she becomes too well known for her work to be shown again in such intimate quarters.
copyright (c) 2008 by Ted Mooney
Artist:

Gema Alava

born Madrid, 1973. MFA San Francisco Art Institute, 2000. Her work has been shown at The Bronx Museum of the Arts, The Queens Museum of Art and, thanks to the generous collaboration of Cai Guo-Quiang, her latest art project took place at the Guggenheim Museum, New York, February 21st 2008.
Tuesday, April 01, 2008
Rough and Ready at Pier 94
The Armory Show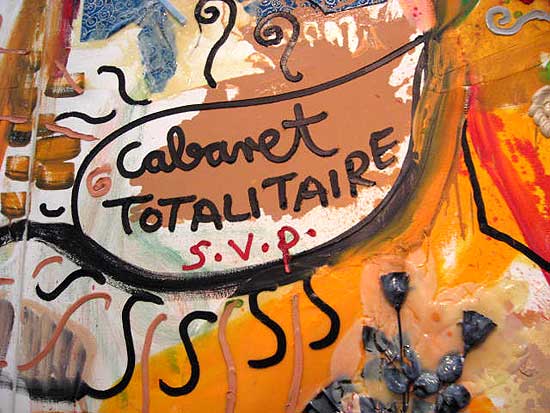 Jonathan Meese

detail at Contemporary Fine Arts, Berlin
by artist
Alison Knowles



Convinced by a friend that I should see more art that is almost next
door I ventured out with

Bonnie Marranca

of Performance Art Journal to
the Armory show at 12th Avenue and 55th Street. Commenting that this
is hardly next door on a cold March day she smilingly retorted. "There
will be coffee. "Once inside there in my immediate sites was

Leah Fried

of the Lombard
Fried gallery. She had the best show at the fair for my vote. His name
is

Michael Rakovitch

, a third generation
Iraqui American who started
out by putting his sculptures in his fathers Import Export store on
Atlantic Avenue. The work was so compelling one had to pick it up and
look closely. About twenty small sculpture filled the table: dogs,
shoes, lamps, perhaps all rejects from his father's store I imagined.
Each
piece wrapped in a daily newspaper, impeccably glued and adhered
smoothly so the Arabic or Turkish or English could be read. One had to
guess the object that supported the newspaper accounts.
Leah was one of many friends that had shown up for this fair and she
pointed the way to another series of works by

Emily Jacir

. These were
clearly Fluxus like event accounts, suggesting to walk a certain
street in Gaza and find one corner to observe. I decline to take the
Gaza walk at this time, but the pieces were evocative of what this young Palestinian was going about to make art from her torn homeland.
Then turning around there in my sites was artist/student from Cal
Arts,

Aviva Rahmani
now in Maine. She is an artist doing a PHD as
part of her "art practice". Her field is ecology and she has repaired
a huge pond water-site in Maine. Today she said "we have to think of
knowledge particularly science as the material of art". It is up to
artists to start thinking and make their own archives available she
said,
as loose theoretical writing and reportage have made it
necessary for artists themselves to communicate what they are about. I
mentioned AOA to her: "It was great getting in with AOA. They said 'we don't care if you're an artist, you have to be a writer to get in here.' Fortunately, my Shoreline had my name attached as writer."


Around another corner I found a work by

Idris Khan

titled "Hearing
Voices". A large spread of grayish notes based on a Schumann concerto
had been transferred as a digital c-print onto aluminum, a glowing
beautiful work. Finally with coffee in hand I could sit for a moment
with

Dominique de Menil

, a strong and generous contributor to the
work of John Cage for decades. She is the remarkable person who bought
and island in the Caribbean and built a college there.
Julie Harrison

informed me that

Steve Clay

at Granary of Granary
books was not present but caring for the kids. She was sipping tea on
a huge cushion.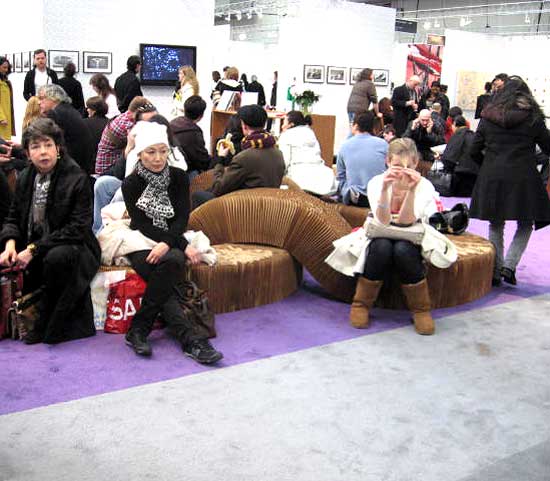 "At

The Armory Show

an air of orderly professionalism pervades..."
On the news just now I see that artists in Brooklyn have rented a

dumpster

and are showing digital tapes inside for free entry. Because

I am a member of Artists Organized Art I was able to bypass the line

and get free entry by showing a work Shoreline on the Internet.

It

worked. They gave me a badge and let me through. The line was more

than a half hour long and the fee $30. I disagree with this situation

of large fees for museums and fairs. Clearly I better stick with those

enterprising artists renting a dumpster in Brooklyn.
photography:

Erika Knerr

Artist Organized Art
as seen in:


help by linking us (click in box, copy code, paste code into your site or blog page)
http://artistorganizedart.org
Makes Example:
http://artistorganizedart.org
XML
::.. bookmark this page:
del.icio.us
Furl
reddit
Yahoo MyWeb
Get More Involved: Donate Now | Log In | Sign Up Now | Subscribe | About Us