Monday, June 29, 2009
Berlusconi Meets Marinetti:
Notes From the 53rd Venice Biennale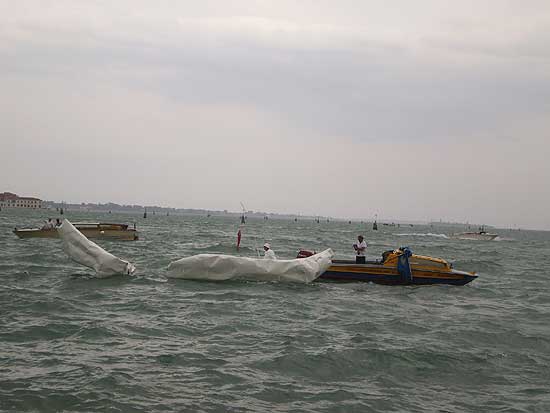 "

Swoon

took her boat show to the LIII Venice Biennale Opening,
where it became invisible: so little visual impact looking out
on the open Adriatic Sea from the Giardini"
by correspondent
Sante Scardillo

assisted by
Leslie Hirst
K
i11 The Bienna1e
: Some years ago,
Quentin Tarantino
successfully challenged the notion that a movie has to last 90 minutes...not for the first time; the industry simply went back to the roots of film as an art form, and only because it seemed profitable. From a narrative point of view, I think it is better to have a story broken down in installments rather than successive installments posthumously added on to try to cash in on a franchise because people want more of the same, which isn't always true… But I am getting carried away here: after all this is supposed to be about the LIII Venice Biennale and this is to say: the story is being parceled in different installments.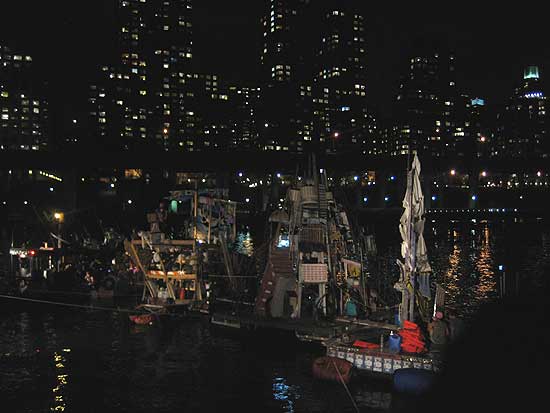 Swoon

's Descent Down the Hudson
I already wrote 2 years ago about the mirthless anachronism biennials incarnate: after all, Venice invented the franchise, in the year 1895. Now, in the dim light of the financial crisis, megasurveys seem even less pro-active (or pro-creative, to make an etimologically accurate joke, no double-entendre meant) while their bent toward pro-fit seems even less probable for two reasons: the high cost of the productions, both of the event itself and the pieces produced seems an insult to thrift the times call for, while the possibility of return for the investors who foot the bills are less secure.

Unknowingly, I started writing this piece last fall. I was struck by how not one, but two shows were entitled simply: Shit. They were reportedly (and coincidentally) completely different shows and concepts. Soon afterwards, Swoon's Descent down the Hudson on a flotilla of Coast Guard-wise unworthy ramshackle vessels and trailing multi-artist, multimedia collective in tow docked at the Trump City Piers and by contrast offered a fresh, ingenuous approach to art and art making: quite the opposite, I posited, in a piece that I never finished.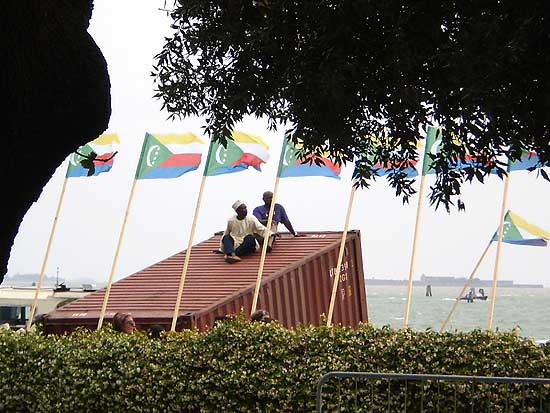 Comorans on Display Outside the Giardini Entrance
Swoon supposedly took her boat show to the LIII Venice Biennale Opening, where it became invisible: so many boats, boat shows and showboats, so little visual impact on punters looking out on the open Adriatic Sea from the Giardini.
Swoon's was just another MIA exhibition, whereas the boats taken from the Comores Islands, in spite of being mostly a feat of cultural entrepreneurship by a former unknown vying for attention, rather than expressing true creative energy or questions of re-contextualization, had at least a visual impact. These were traditional cargo boats outlawed by the Comoran government in a radical effort at modernization, disassembled, shipped to Venice in containers that were then placed inside the re-assembled boats. And the unknown Japanese gate-crashing the wet center stage in front of the Giardini Entrance, tentatively governing his paper-made (apparently) boat complete of paper made giant red goldfish, made a comedic counterpoint, with real rescue boats falling for his antics and stopping to offer help, before realizing none was needed. It must be remarked, though, that the visual impact of a succession of battleship-size yachts walling off of the waterfront immediately following the entrance to the Giardini (and its implied display of vast economic power) takes another lion's share: anybody walking to or from the Biennale can't avoid it, just like in New York one has to walk through the Midtown skyscrapers to get to MoMA.
In art, like in war, today commercial battles are fought donning the cloak of defenders of ideas and civilization, and often it is a war of preemption. For weeks prior, Italian magazines and dailies had been awash in ink baptizing the new bi-yearly art caravanserai that just opened in Venice, trumpeting more shows, more celebrities, more, more… just more. The extensiveness of the media campaign is unusual, but consistent with the ethics and practice of the government in power now. Of course the media-saturation strategy is preemptive: flooding the media creates a buzz of expense account paid journalism, which creates the impression of critical acclaim
before
critics have even seen the show. Acceptance seems established, so the impact of negative criticism will be minimized, since it will be in dissonance with the predominant discourse. If you are well versed in Italian politics and culture, the motive is easy to find: the Venice Biennale is deemed a propaganda project of great importance and as such is being made resonate with the echo given to important government projects. Italy's current Prime Minister
Silvio Berlusconi
knows how to do one thing and that is to stay in the eye of the media. Berlusconi, who is also a media publisher, was an Italian Socialist Party member in more recent, much less militant times, though he never was in jail, yet.
Mussolini
must have been consumed with envy when
Marinetti
, up to then a war correspondent for aesthetic reasons, scored the ultimate media coup: through his working knowledge of journalistic procedures, he landed his Manifesto Futurista on the front page of Le Figaro, The Parisian Daily, and The New York Post of its day, who published it because of the shock value of its proclamations. And that is how Futurism began. This year the centenary of this event is being celebrated, and the crypto-fascists in power now in Italy have decided to go for a second milking of Italy's main artistic contribution to the XX century.
So, dear reader, suspend your disbelief and journalistic expectations: what follows will be more an Alice in Wonderland meets Total Recall than Jerry Saltz reports from the Venice trenches (or moats, as the case would be). Unless Jerry decides to cut and paste from my report like he did two years ago...
copyright Scardillo 2009, all rights reserved
Tuesday, June 23, 2009
Taketo Shimada, Calder Martin
Keith Connolly & Yuji Agematsu

can we expand MUSIC? (CWEM)
At Hanne Tierney's FiveMyles
558 St. Johns Place in Brooklyn
Curator:
Yuzo
Sakuramoto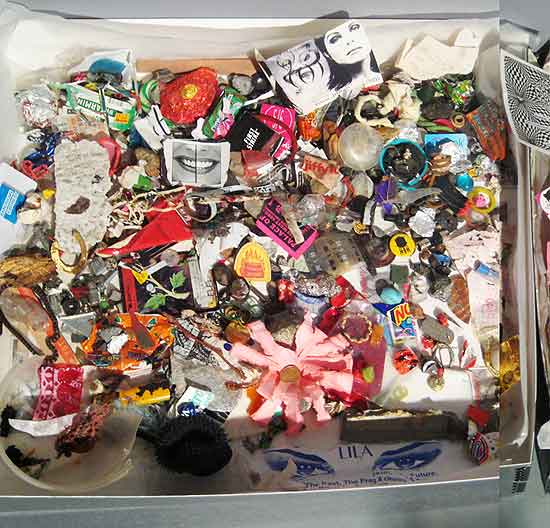 Yuji
Agematsu
, Found Objects at

FiveMyles
M

aking

the trip out to

FiveMyles

last week gave me the chance to support this brave and exciting endeavor created some years ago by

Hanne

Tierney.

FiveMyles

, derived from Five 'Myles' (names of the deceased male members of her family) is located in a profoundly

underprivileged

section of Brooklyn serving the ethnic youth of that community. She has brought in significant culture to these deserving people by buying a large ground warehouse space without any windows and making it very attractive.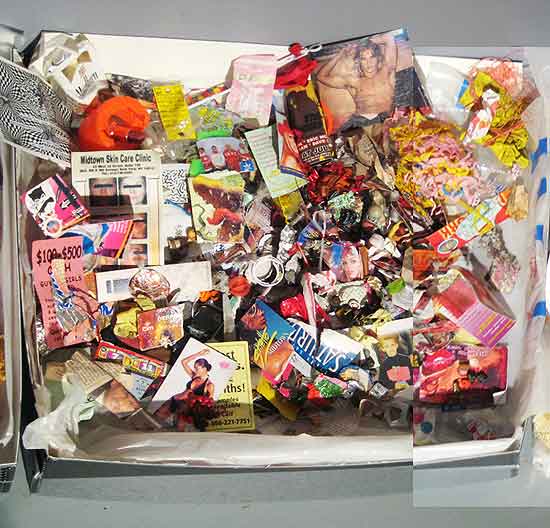 Yuji

Agematsu

, Found Objects at

FiveMyles
'The four artists in this exhibition are both musicians and visual artists. This exhibition is presented as an attempt to explore different aspects of encounters between sound and image. With an emphasis on creative process, the exhibition, consisting of four installations, is itself an experiment into a possible unfolding of such encounters. It is also meant to be a documentation of, or status report on these artists, the first in an on-going series.'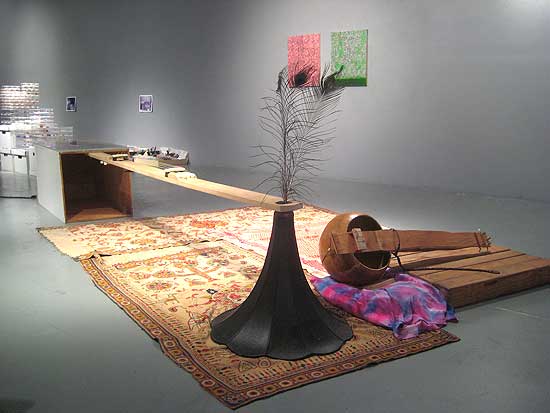 Taketo

Shimada

, Work Environment Installation at

FiveMyles
The place was packed, free beer flowed as the performers arrived for the "closing" of the event "can we expand music?" or

CWEM

. These musicians:

Taketo

Shimada

,

Keith
Connolly
,

Calder Martin

and

Yuji

Agematsu

had a variety of instruments and installations available to look at and talk about. Calder Martin's plastic bag sculpture initiated the space as it quietly moved in the open air(the warehouse doors were open) and franks and hamburgers were cooking on the barbecue next door.

Taketo's

floor instruments were spread out on various rugs and colorful cloths. The longest sitar-like stringed instrument (hand made by

Taketo

from a length of wood with strings attached and pegged for tuning) show his interest in string resonance theory particularly of the

Kirana

school of Indian music. His music is heard without electric enhancement. This remarkable instrument is supported by boxes decorated by the candy wrappers he uses to make his art. Very beautiful drawings of

Pandit

Pran

Nath

completed

Taketo's

homage

to the master. I wanted one of these drawings but learned that they were not for sale.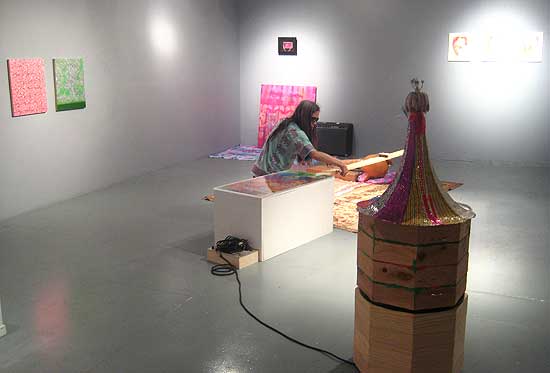 Taketo

Shimada

, at work tuning an instrument at

FiveMyles
The work of

Yuji

Agematsu

attracted me since collecting street objects is a pass time of mine in

artmaking

.

Yuji

packaged tiny portions of what he had picked up in tiny plastic bags, hundreds of them to be picked up and looked at. The street

cullings

were from one year of walking the same city blocks.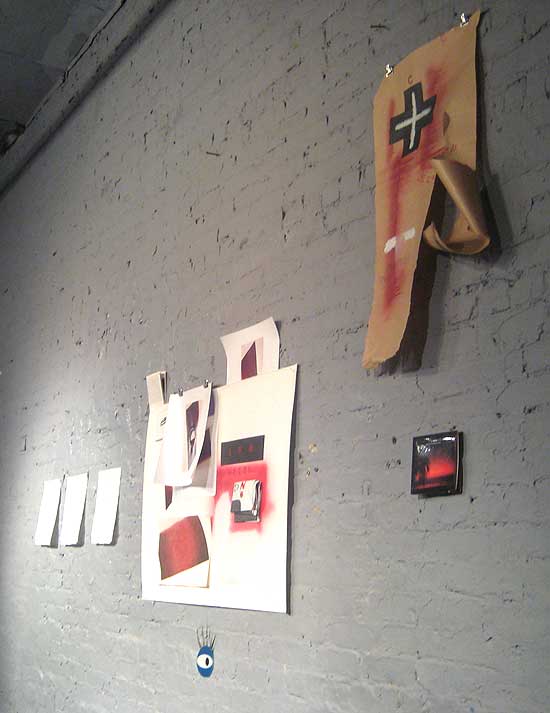 Keith Connolly

, design process wall pieces at

FiveMyles
This combination of visual art and music was a safe haven for this community and the opening and closing reminded me of the vigor of the lower East side of the 1970's. Bravo to
Hanne
Tierney.
Taketo

Shimada

(

meend

tanpura

)

Tres

Warren (Guitar)
video by Kristin

Mullane

Shimada

at Can We Expand Music
curated by

Yuzo

Sakuramoto
Caitlin Cook

and

Calder Martin


video by Kristin

Mullane

Shimada

at Can We Expand Music
curated by

Yuzo

Sakuramoto
Taketo
Shimada
has made music with
Tres
Warren

of Psychic Ills as Messages since 2006.
Doug

Mosurak
of Dusted commented that the Messages 7" record released by The Social Registry "is some heavy, humid drone, pregnant with 4am electricity. Best record in the Social Registry's singles series to date." His work has been shown at Postmasters Gallery, Wall Space Gallery and Emily Harvey Foundation.
Calder Martin

is a guitarist and visual artist and the founder of the band
Vizusa
. Arthur Magazine said that
Vizusa
's debut LP "
VizUSA
is the new psychedelic simple, hard: the rock and roll of
Buddy Holly
bare bones with the doors of perception
jimmyin
' and repetitious riff
milkin
' of Les
Rallizes
Dénudés
." Calder has produced video projections at the Kitchen for
Caitlin Cook
and company, and live music and installations at
Deitch
Projects with
Exceptor
. His work has been shown at Emily Harvey Foundation and Participant.
Keith Connolly

is an artist and musician, and is a founding member of the No Neck Blues Band. His most recent work was exhibited at Parade Space in London. In New York he has exhibited his installations and performed live events at Greene
Naftali
Gallery, PS 1, Roulette and the Sculpture Center.
Yuji
Agematsu
is an artist/photographer. For the past thirty years he has been picking up discarded things from the street and meticulously archiving them. He has worked with
Tokio
Hasegawa
, former member of
Taj
Mahal
Travellers, and studied
yara
with
Milford Graves
. He is also a fervent fan of
Cecil Taylor
and
Miles Davis
.
can we expand Music? curator
Yuzo
Sakuramoto
is a New York-based researcher, translator and the publisher of the legendary, now defunct fanzine Music. He recently translated the liner notes for the
Taj
Mahal
Travellers album, Live in Stockholm 1971 and DVD, on "Tour," as well as
Takehisa

Kosugi

's
Catch Wave '97.
Monday, June 22, 2009
Easthampton Bear Fest 2009
In Hard Times Locals Come Out In Generous Support of Art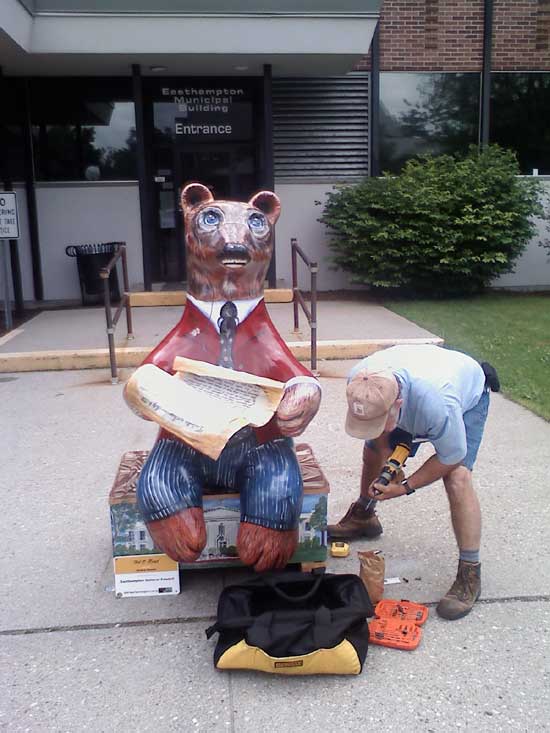 A townsman maintains a commissioned bear
E

asthampton City Arts (ECA) is a local art organization that, according to their website, makes its mission to enhance "the collaborative efforts of the artist and business communities to increase economic opportunities for artists" and "the opportunities of local artists to showcase and market their work and to provide the public the opportunity to discover emerging and established artists." Easthampton City Arts collaborates with other local arts organizations such as Art Walk Easthampton, and various local galleries.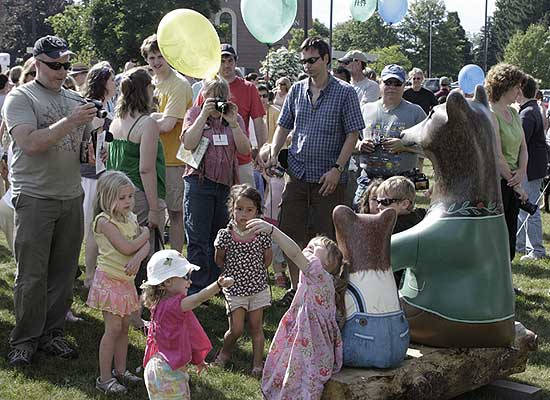 Bear Fest benefits include "community involvement,
cooperation between artists, businesses, and local and state government"


John Polak

, ECA Marketing Committee
The Easthampton Bear Fest was a public art event in which Easthampton City Arts (ECA) of Massachusetts obtained 35 life-sized fiberglass bears and paid local artists to decorate them. Once painted, the bears were made into a public exhibit, scattered and displayed throughout Easthampton. ECA received the sponsorship of various local businesses, banks, galleries, and media outlets, and is donating proceeds to public schools for arts education.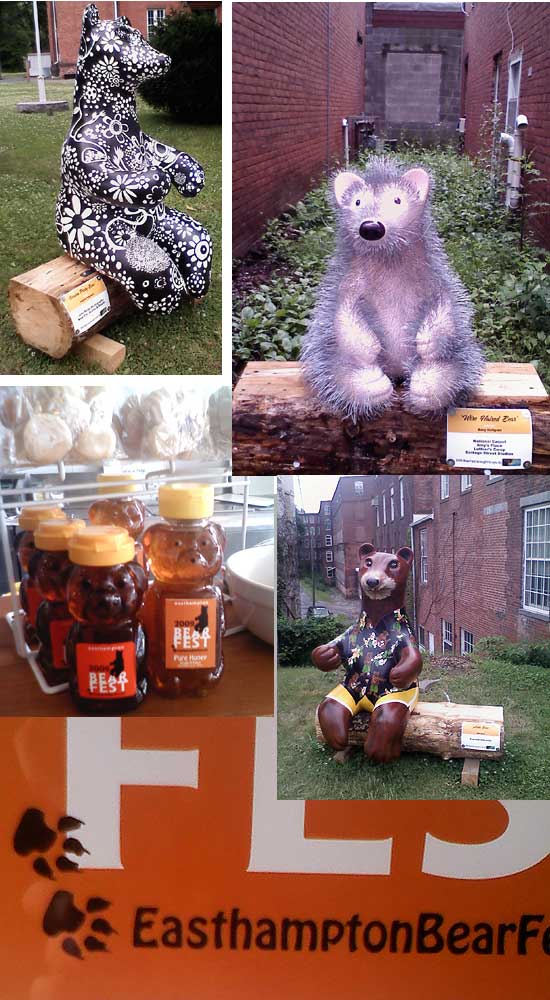 Site specific commissioned bears are found throughout Easthampton
as are many Easthampton Bear Fest branded objects
The Bear Fest has successfully integrated art into everyday life. In Easthampton, art objects are naturalized as part of the environment— a work of art graces the steps of a bank, the very capitalistic center of town, or the outside of a supermarket, where the purchasing of all of life's necessary trivialities occurs.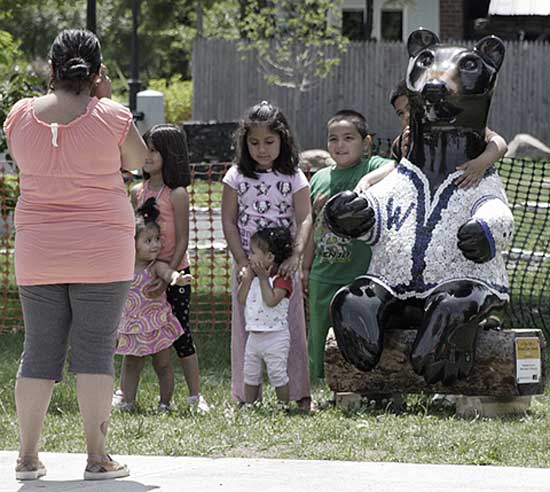 Bear poses for a photo op with local children
But how does one go about soliciting monetary support for such an event? What would one have to say to these businesses to convince them that this type of event is worth the investment? Just how much money is actually available from local businesses in a small town such as Easthampton? And what can we take from the Bear Fest example for future arts fundraisers? I spoke to some of the people in charge of running the event to get some answers to these questions.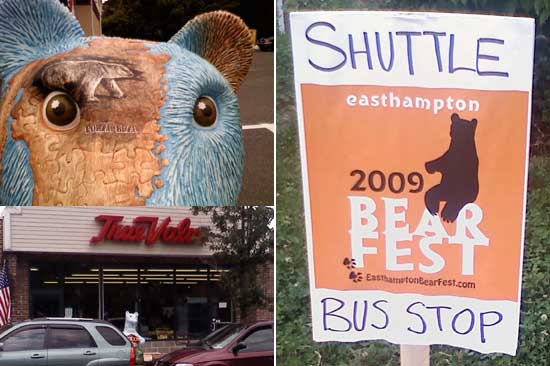 Art objects are naturalized situationally and throughout the town's environs
One of the key differences between this event and, a benefit is that Easthampton Bear Fest, paid the artists $500 each for their work rather than asking artists to donate their work The proceeds for the event were thus split between the artists, Easthampton City Arts, and Easthampton public schools, mutually and financially benefiting both the organizers and the community. In addition, the artwork was on random display in many locations in the city. According to

Briana Taylor

, Coordinator at Easthampton City Arts, "The main appeal of this project was that it is public art. Being an arts organization we are very interested in creating a forum in the community for art and culture, something that would bring the community together around art. The Bear form that we chose is so engaging, to both children and adults and especially an audience that might not be used to looking at art. Everyone can appreciate it."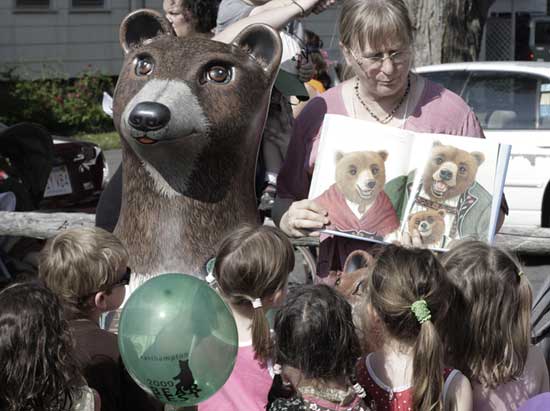 Bear Fest related activities augment the exhibit
The Bear Fest managed to involve local businesses in more ways than one. In addition to making donations, businesses created and sold co-branded products to coincide with the Bear Fest. Mt. Tom's Homemade Ice Cream offered a new flavor especially made for the Bear Fest, and Opa-Opa Brewing Company introduced their Country Bear Ale. Mt. Tom's Homemade Ice Cream in particular "has seen increased profitability over his entire business due to the Bear Fest," according to Taylor. But Bear Fest mania doesn't end there. Spectators were able to vote for their favorite bear, and kids were encouraged to enter a "My Bear Story" contest. Related events are being held, including a "Create Your Own Bear Story" program with actress and children's drama teacher Ilana Meredith, slated for Saturday, August 15th at the Easthampton Senior Center.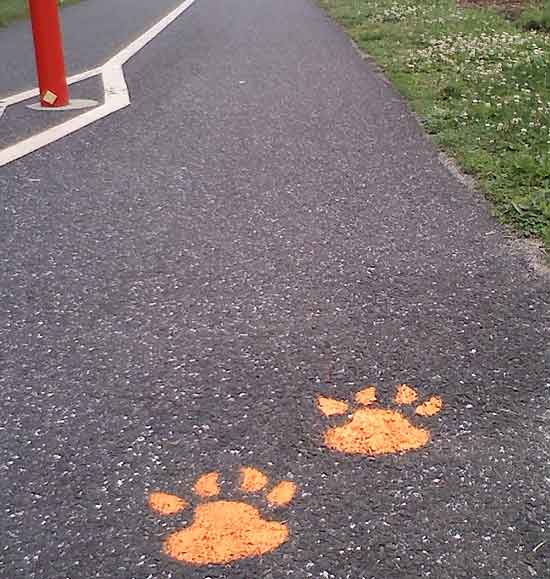 Painted bear tracks added suspense for pedestrians hunting art
All in all, the Easthampton Bear Fest raked in an impressive $50,000. Briana Taylor expressed her pleasant surprise at the success of the event in this way: "We were hugely satisfied by the response from the community and visitors alike. Attendance at the first day event was much more than expected, we think around 5,000 people came through the City throughout the day to the different events and to see the bears. It was just fantastic."
Artists & Bears:
Jeffrey Calvi: Madam Bearterfly, Luke Cavagnac: This Bear is Worth One Thousand Words, Sara Chalifoux: Transoceanic Bear, Amy Davis: Paddy O'Bearen, Jo-Ann Denehy: Bear Hugs, Deshria: Rubber Ducky, You're the One, Adell Donaghue & Justin Brown: Ursa Major, Jennifer Dorgan: Garden Bear, John Casey Douglas: Astronaut Bear, Michael Fitzgibbon: Aurora "Bear"ealis, Amalia FourHawks: A Bear With A Buttoned Down Education, Gary Hallgren: Wire Haired Bear, Elsie Hasskarl: Berry Bear, Beverly Hosmer: Ted E. Bear, Amy Johnquest: Clementine (the Circus Bear), Jim Johnson: The Bearon, Heather Kasunick: Garden Party, Mary Klaes: Master Essential, Silas Kopf: Aloha Bear, Gary LaCroix: Mountain Park Bear, Jill Lewis: Williston Button Bear, Michael MacTavish: Bearly There, Leah Moses: Bumble Bear, Dianne Murphy: The Gingerbear Man, Kim Parkhurst: Three Bears, Maria Parasiewicz: Peace Bear, Crystal Popko: Hiding Bear, Marcia Reed: Ursa Great Spirit, Ruth Sanderson: Papa Bear & Baby Bear, Greg Stone: Something's Fishy, Christopher Woodman: Bear, Bath & Beyond, Jean Zampiceni: Mother & Child at Parade
Committees & Volunteers:
Event Planning Committee: Stuart Beckley, Amy Davis, Denise Herzog, Jen Moulton, Denise M. Riggs, Kim Schmitt, Carol Abbe Smith
Marketing Committee: Stephanie Gibbs, Trace Meek, Marcia Morrison, Jean-Pierre Pasche, John Polak, Briana Taylor
School Participation Committee: Stuart Beckley, Erin Binney, Cyndy Chamberland, Francis DiMenno, Michelle Geoghegan, Kim Hunt, Rob Orlando, Susan Pepin Phillips, Susan Pouliot
Easthampton City Arts Coordinating Committee: Stuart Beckley, Cyndy Chamberlain, Amy Davis, Ellen Koteen
Co-Facilitator: Sharon Keene, Marcia Morrison, Jean-Pierre Pasche, John Polak, Denise M. Riggs, Briana Taylor
Tuesday, June 16, 2009
The 53rd Venice Biennale, 2009
Making Worlds, Directed by Daniel Birnbaum
with Bruce Nauman, Wolfgang Tillmans and more...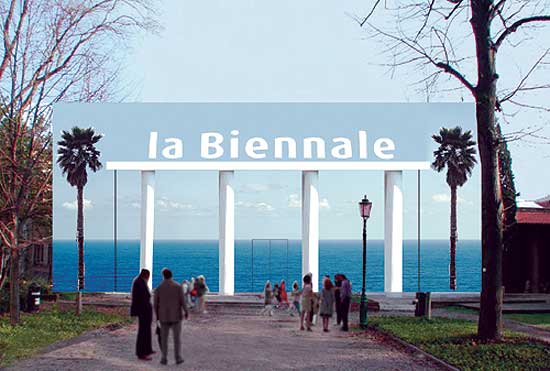 John Baldassarri
Project
Photo: Press CD, La Biennale di Venezia 53 Esposizione d'Arte
by artist and critic:
Emilio Fantin
What should an Italian be considering during a trip from the city of Bologna to the city of Venice bound for a biennial circus of art? An Italian who is at that moment reading an article about the Italian Prime Minister's latest "conjuring tricks." An Italian who lives in a nation who's gags, jokes and public clowns have migrated into the institutional sphere using positions of power to harvest techniques of parody from progressive discourse?

No more "spaghetti" but anecdotes. This seems the sudden pleasure of politicians and pedestrians: kidding someone or kidding around at something to fulfill their heartfelt interest. They mock their own institutions, anyone's work, collective or individual suffering, murders, garbage, sickness, the dead and life itself. Dry drunks clowning for themselves and seeing the world flat as a cartoon, but dominated by "cunning," the hidden character trait of the two dimensional hero. Each little pun, caricature or gag hides the gratification of cunning, the pleasure of faking everybody out and making fast money. Everything else is useless and without application, parliaments, laws, human rights, human beings, old people, kids and, of course, useless democracies. But this Italian parody is the spectacular backdrop in front of which our clowning divas debut for this year's society soap opera, the Mediterranean Character, dangerous yet vulnerable and sometimes capable of salvation. Meanwhile in the European situation, something very different is emerging: the last elections showed that in most of the European states neo-Nazis gained a large percentage of votes from which they are at this moment extracting sizeable power and dangerous capability, but what fears could possibly lurk in the hearts and minds of Italians.
With this fleeting insight in mind I stared back at the day, scratched an itch over my eyebrow and committed myself to the carefree abandon of the great circus of tourism, 2009's 53rd Venice Biennale.
First stop: Sant Erasmo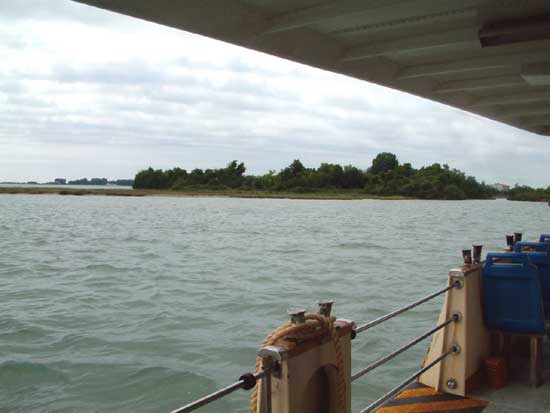 "Sant Erasmo from the boat"
Photo:

Emilio Fantin
Sant Erasmo is a beautiful island where I myself have installed a work in an ancient fortress, "Fortezza Massimiliana," for the show IsolaMondi, which is one of the collateral events of the Biennale. Collateral events, parties, meetings, openings constitute the true earth of art scenes today in Venice, where the biennial itself is just one of the shows and it might not be the most interesting one.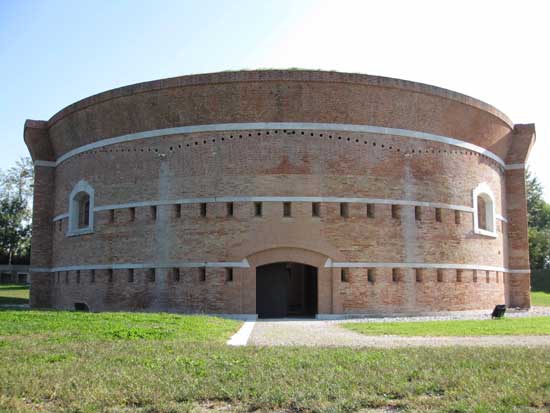 "Fortezza Massimiliana"
Photo:

Emilio Fantin
Sant Erasmo is an example of the variety of places that constitute the residential area of Venice. It is a big island, where only six hundred people live. It is where the most vegetables and fruits sold at Venetian market are produced. It is covered with Gardens and vast green areas.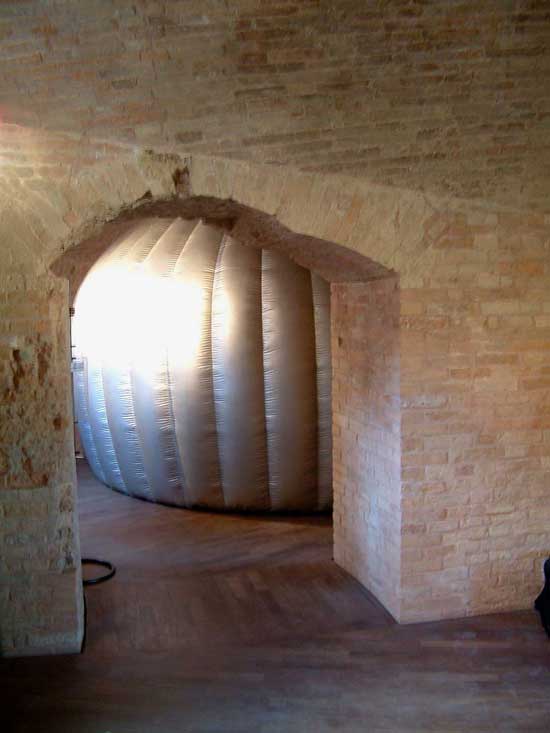 Emilio Fantin
, "Inner Encounter," inflatable structure, 2003
Photo:
Emilio Fantin
Second stop: Giardini e Arsenale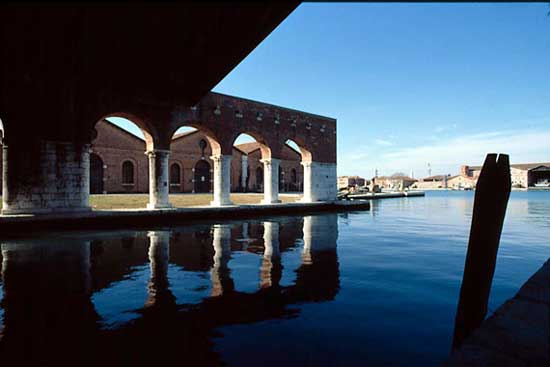 "Arsenale, Gaggiandre, Before the Exhibition"
Press CD, La Biennale di Venezia 53 Esposizione d'Arte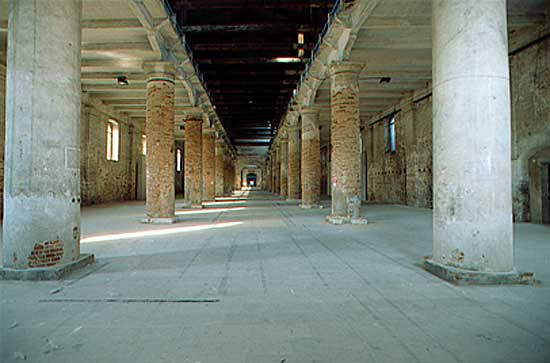 Arsenale, Corderie, Before the Exhibition
Press CD, La Biennale di Venezia 53 Esposizione d'Arte
"Venice." Here we are, and the entire city is involved in the Italian art scene's biggest carnival. I asked some folks for their impressions.

Cesare Pietroiusti

and

Mario Pieroni

said to me:

"I like this vortex: happenings, openings, performances , different places and people not just the Biennale itself. What we like is the general "status," the atmosphere."

A few days later, in her intervention at the meeting "il Falso Oreste" in Bologna,

Francesca

, a young girl, said:

"...it is only this vortex that justifies operating the Biennale. Language, messages and expressions of the artists are not important: here art work functions like a merry go round in a huge amusement park."
I jump from Giardini to Arsenale from Palazzo Fortuny to Punta della Dogana, a new space restored by Pinault Fondation. At the Arsenale there are few works worth seeing; better to spend time at Giardini's international pavilions.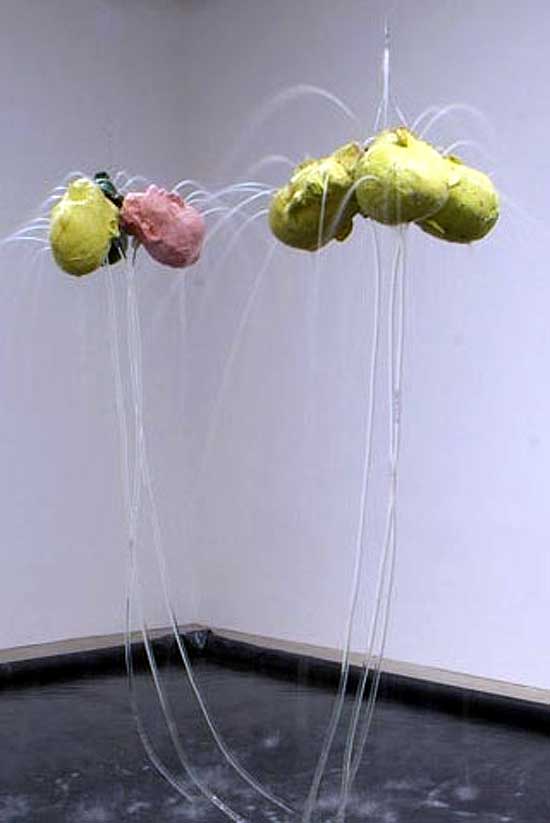 Bruce Nauman

, Three Heads Fountain (Juliet, Andrew, Rinde), 2005 (detail)
Someone told me the choice of
Bruce Nauman
for the American pavilion was a political choice and a very expensive one. Here again, instead of inviting a young talent, we are put in front of another "political choice." I am known for having criticized this kind of thing and I still do, but in this case the power of the artwork outstrips that of the critic. Among all the art works that I have seen in this 53rd Biennale, those of Nauman and Tillmans really touched me. I'm very happy to have seen Bruce Nauman's work, which is clear and simple because his manner of drama and capacity for depth leaves absolutely no ambiguity. The work speaks to my heart and mind directly, through lightness, successfully liberating itself from the Biennale's amusement park culture and taking me along.
Wolfgang Tillmans
too, shows the beauty of simple images and colors. A good artist is able to create imagery with few things. All he needs is the courage to relate himself directly to the world, without bluffing, simply drawing on personal wisdom and humility.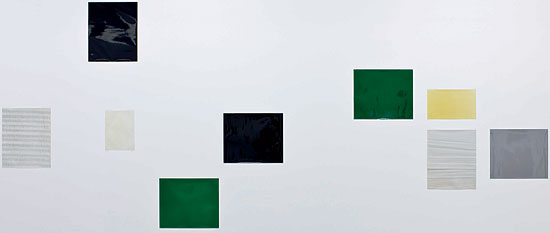 Wolfgang Tillmans

, Installation, 2009 (detail)
Press CD, La Biennale di Venezia 53 Esposizione d'Arte
Third stop: Palazzo Fortuny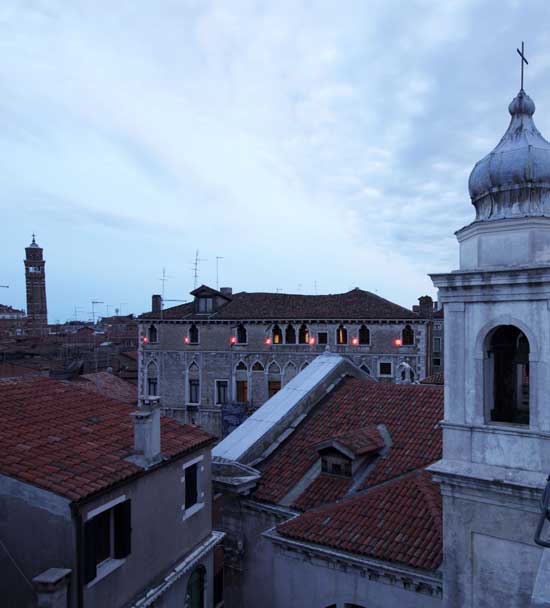 Palazzo Fortuny Façade,
Mario Merz
(1925–2003) "Fibonacci Sequence," 2002
Photo: Press CD In-Finitum Palazzo Fortuny, Venezia 2009
At Palazzo Fortuny the show "In-Finitum" is a wunder-kamera immersed in smooth darkness. Art works of various ages dialog inside a beautiful context furnished with different objects, a sort of historical dialog between images and objects. The setting up of the exhibition is extravagant, curious, but it is very difficult to remember a single artwork.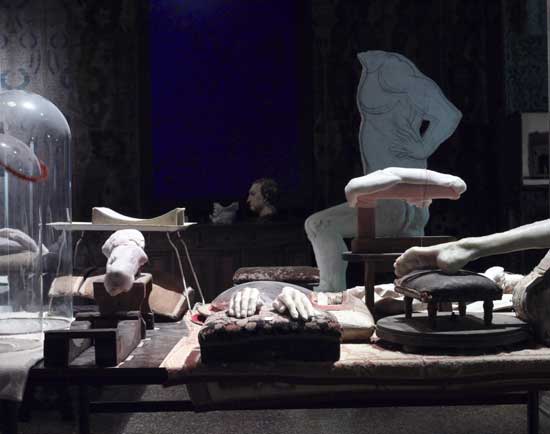 First Floor, Sala Grande, Palazzo Fortuny
Berlinde De Bruyckere
(1964) Infinitum 2009
Thomas Houseago
(1972) Figure (Oedipus) 2008
Anonymous, Small basin with double zoomorphic resemblance
Anonymous, Portrait of Colleoni from the collection of Mario Fortuny
Photo: Press CD In-Finitum Palazzo Fortuny, Venezia 2009
The show at "Punta della Dogana" is an ostentatious display. The restoration of the old building made by Tadao Ando is, of course, beautiful, but the exhibition "Mapping the Studio: Artists from the François Pinault Collection" is anything but. The atmosphere resembles one you might "enjoy" from the interior of a glamour yacht berthed nearby. A crude demonstration made in bad taste.
Fourth stop: Ponte dei Sospiri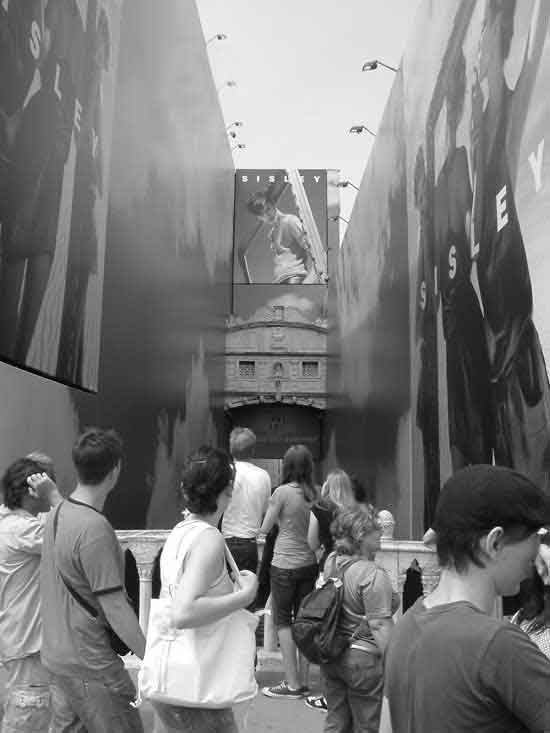 "Advertisement" Ponte dei Sospiri, Venezia 2009
Photo:

Emilio Fantin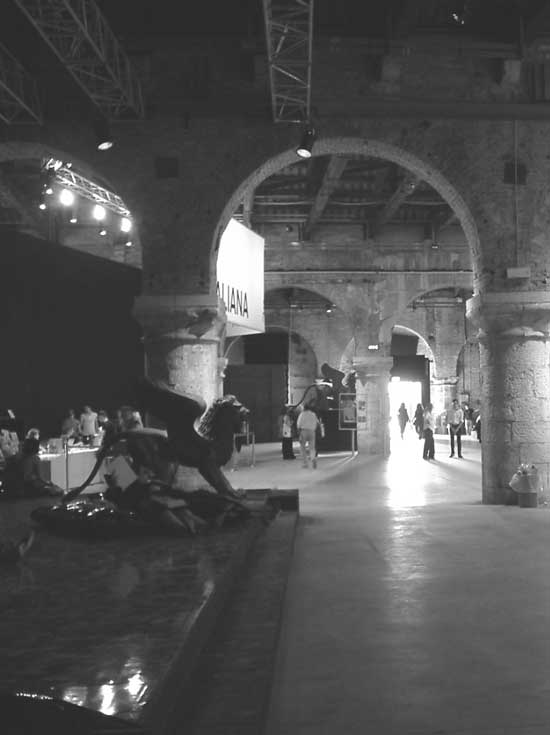 "Press Office" 53rd Venice Biennale
Photo:
Emilio Fantin
Around the city: Inside this huge forest of varied artistic proposals and events we wonder whether a tree, a bridge or a colored wall are works fabricated by artists or if they merely look so. In the biggest museum of souvenirs, the city of Venice, it is difficult to separate daily life from the tourist attraction, especially when every little thing trumpets an industrial parade of art. The famous "Ponte dei Sospiri" (the Whispering Bridge) has been appropriated by a huge advertisement, and is headquarters to the Biennale Press Office. I actually find it one of the best installations of the Arsenale.

In this article I will avoid reviewing individual art works of the Biennale, you can find that and reproductions anywhere, rather I prefer to relate a feeling, a "status" which can be experienced in Venice as well as in many other artistic events or festival nowadays: commoditization and slavish obedience to the rules of the culture industry and a palpable sense of the consequent loss of true research and meaning in art making itself.
This enables demagogy, a strategy for gaining political power by appealing to the prejudices, emotions and expectations of the public: the Italian pavilion expresses a cliché of political thinking which affirms that art has to be subdued to the role of entertainment, castrating its capacity to generate ideas, transformations, to get to the heart of things and the heart of the people.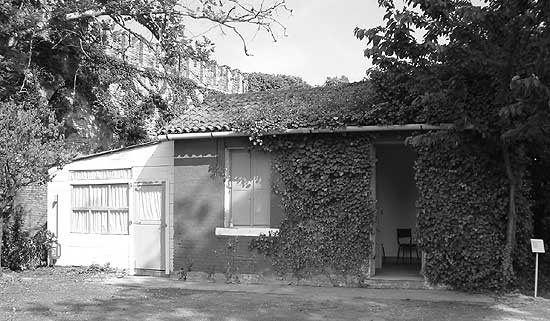 "Poetic Loss" casual installation at Giardini, Venice
Photo:

Emilio Fantin
Why this happens is understandable. Today artistic choices and exhibitions are managed by boorish collectors and ignorant politicians. Not just in Italy, but here it is frankly due to a particularly low consciousness about contemporary art.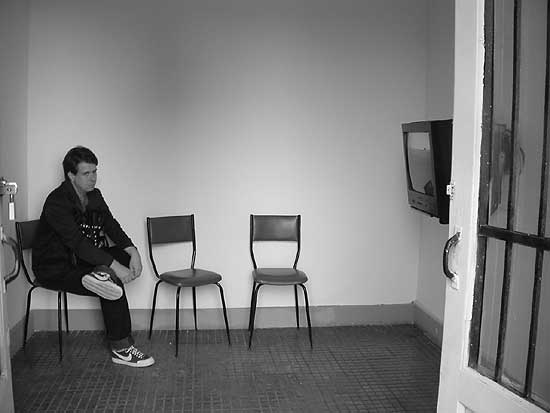 "Poetic Loss" casual installation at Giardini, Venice
Photo:

Emilio Fantin
What we might discuss, after having seen such a "biennale," is something about the industry of culture itself, which, of course, includes the art-system. As Paolo Virno suggests, "fabricating politics" out shines the reality of work itself. The equity in verbs like creating, producing and making is cashed out. According to Guy Debord, the show is a productized form of human communication, yet it is also a staple of the culture industry. Artworks function as special devices of communication, as such they are interchangeable and adaptable to varied trends. Regardless of what they transmit, express or evoke they stand subsidiary to the culture industry. As it expands and monetizes communications in traditional sectors of the daily economy, eventually it requires the very role of the artist to be conformed to its strategy. It requires art making to sacrifice its sovereignty. The artist is scripted to the character type of independent thinker, original inventor or simply autonomous worker. Omnivorous and ravenous, involved only in its own flourishing, the show alone, must go on however.
Emilo Fantin


Artist Organized Art
as seen in:


help by linking us (click in box, copy code, paste code into your site or blog page)
http://artistorganizedart.org
Makes Example:
http://artistorganizedart.org
XML
::.. bookmark this page:
del.icio.us
Furl
reddit
Yahoo MyWeb
Get More Involved: Donate Now | Log In | Sign Up Now | Subscribe | About Us