Monday, October 22, 2007

Camouflash,

an international artists meeting


curators:

Mariusz Sołtysik

,

Aurelia Mandziuk
coordinators:

Agata Nowicka

,

Małgorzata Nowak

correspondent, Erika Knerr



The exhibition is currently on view until 27 October 2007 at Patio Art Center, The Academy of Humanities and Economics, in Łódź, Poland. Below are some shots of the opening night, friday, 12 October. The evening started with a press conference at the Patio Gallery space with the artists, curators, staff, students, faculty and public.



Participants and guests then moved across the courtyard to the Camouflash exhibition spaces.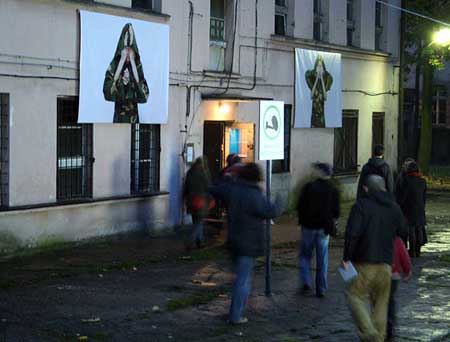 Shilpa Gupta

from India showed large photographs on the outside front of the building and

Kristaps Gulbris

from Latvia installed a signpost titled, "No Security Cameras Here." An intermedia peformance by

Jessica Higgins

took place at 6:30 pm called "Poem Song." She was assisted by

Erika Knerr

with saxaphone performed by

Tomasz Ogrodowczyk

.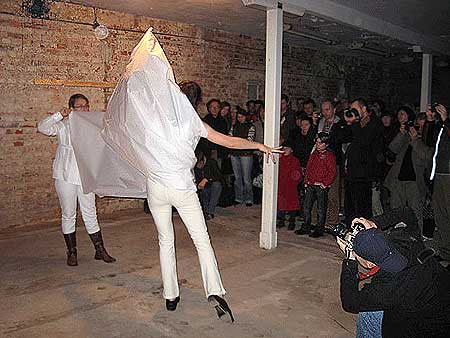 http://ww6.tvp.pl/6527,20071008575548.strona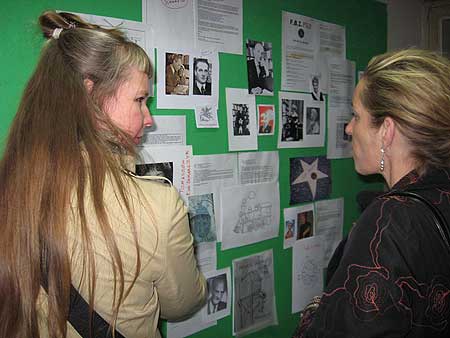 Participating artist

Anna MacLeod

(right) from Ireland discusses with viewer the research wall of drawings, photos and text for
Olga Bergmann's
video based on the poet

Julian Tuwim

from Lodz and Oscar winning actress

Judy Holliday

(Judith Tuwim), who are both distant relatives of Bergmann from Iceland.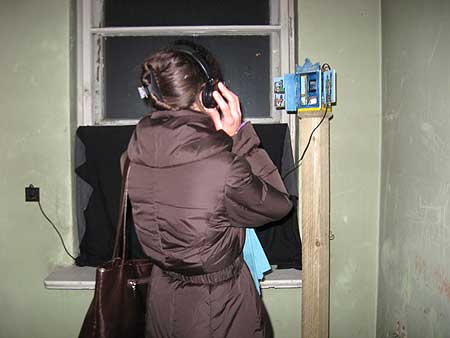 An opening goer interacting with Irish artist

Christine Mackey's

intimate video

"Beyond Soundings – (mobile shrine)"

which is a 'tourist' record of an event at Wagah Post, a road crossing that divides India and Pakistan.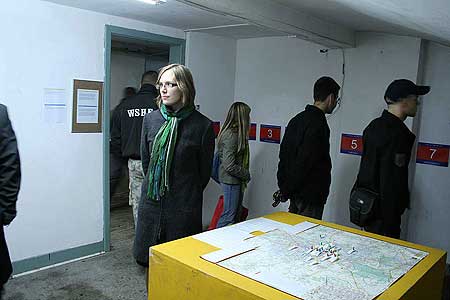 "Nicknames" by

Aisling O'Beirn

from Ireland.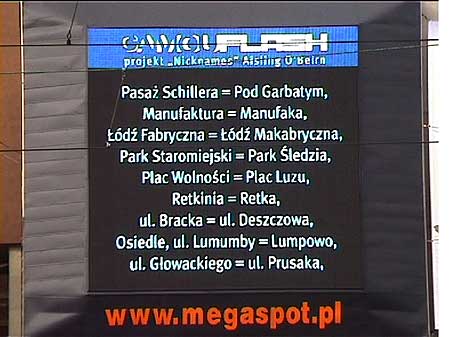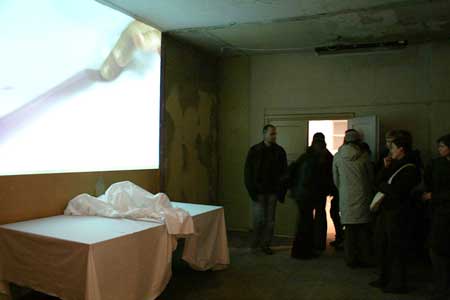 A video and table made for Camouflash event by

Janusz Baldyga

from Poland.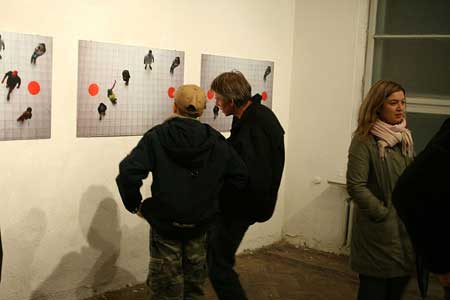 Eyeballing

"Perfect Symmetry

,"

photographs by

Tomasz Matuszak

from Lodz.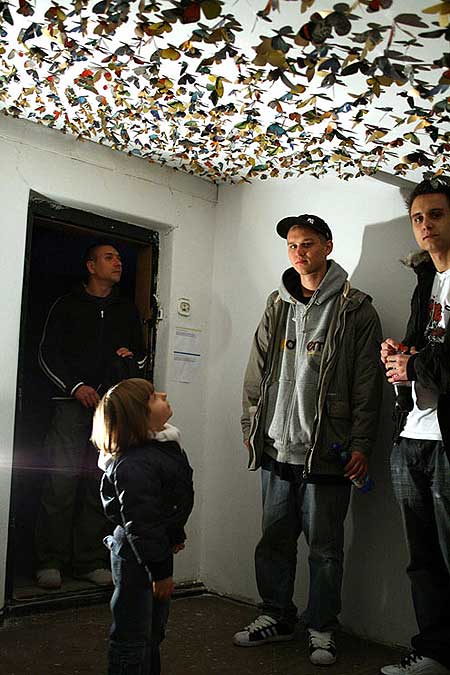 One of the younger opening attendees taking in the ceiling installation of butterflies by

Miyuki Yokomizi

from Japan.


photo credits:
Mariusz Sołtysik

,

Pawel Pilat, Erika Knerr

,

Kristaps Gulbris
Feature articles about Camouflash will be published throughout the following weeks.
Friday, October 12, 2007
Sculpture Projects Muenster 07
correspondent Alison Knowles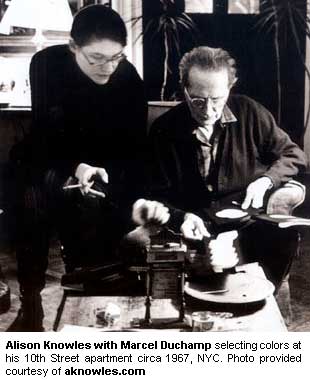 This urban sculpture festival started in 1977, an idea initiated by Kasper Konig - the man who now runs the Ludwig Museum in Koln. There are miles and years between each of the works standing permanently outdoors. We didn't have 92 euros for the guide so were left on our own among green stretches, old churches and the winding river Aa.
The exhibit is not user-friendly, neither are the pieces well labeled. In order to find the sculptures at all, we ended up following clumps of tourists who had a guide. Here is what we found that interested us particularly:
The Mike Kelly Petting Zoo featured Lot's Wife, a sculpture cast in salt and constantly licked by the goats, the sheep and the pony. You remember Lot's Wife was the women who dared to defy the gods by glancing back to see the destruction of Sodom and Gomorrah. Here she is cast in salt and constantly licked by the animals.
Gustav Metzger, who performed with Fluxus years ago, made an intriguing installation by moving stones with a fork lift randomly through the park. The number of stones is determined each day by chance operations.
We enjoyed the eight petaled flower made of skateboards installed in the town of Munster which had a film projection at its center.
Finally arriving at Bruce Nauman's hugely successful Square Depression, we could actively stand inside the artwork. See this on the cover of Artforum September issue. A white square of white cement slabs are pressed into the earth and decline to the center where a tiny drain takes care of the rain. This piece has taken 30 years since its planning to realize, one must compliment the organizers for holding on to a good idea for so long.
We enjoyed the performance quality in Maria Pask's Beautiful City. It is her search for life styles and values based in the 1960s. Tents and tables spread out on a green field where talk and food represent for me the East Village at that time. One could at last sit down and perhaps even talk to the some of the people living and working there. In the guidebook I read that the emphasis for this live sculpture was "religions in context of art and modernity" this would explain the interesting variety in ages and races that we found.
My two favorite pieces in the show were by Rosemary Trockel and by Ian Hamilton Finley. Her piece was titled Less Savage Than Others. She works politically and socially in a vigorous way. Two blocks of yew trees planted closely in an open field and by the river allowed passage through on a tiny muddy path. Seven meters long and three and half meters deep, we could squeeze through the narrow gap to see the lake Aa. The yew trees are poisonous. The sculpture is trimmed constantly and will not grow wild. The metaphors are clear and scary as well.
Ian Hamilton Finley presented us with a high brick wall in a circle. One could look through tiny window slots and perhaps reach in to pick the blackberries close at hand. The installation is several years old with berries still producing.
The three of us, myself, Hermann Braun and Hannah Higgins, found our way to a good German beer.

Artist Organized Art
as seen in:


help by linking us (click in box, copy code, paste code into your site or blog page)
http://artistorganizedart.org
Makes Example:
http://artistorganizedart.org
XML
::.. bookmark this page:
del.icio.us
Furl
reddit
Yahoo MyWeb
Get More Involved: Donate Now | Log In | Sign Up Now | Subscribe | About Us