Monday, June 30, 2008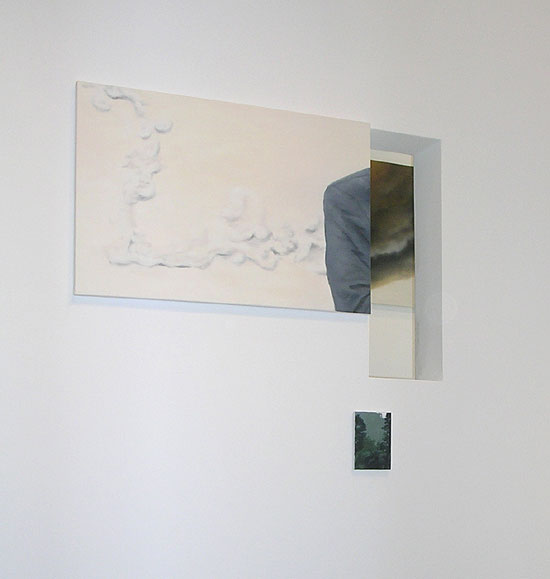 photo:

Jean Pike

, onsite view
Site Santa Fe Biennial 2008



Overlaps and Relocations
New Architecture at the Site Santa Fe Biennial
Lucky No. 7
Site Santa Fe's generic warehouse space was transformed for its 7th Biennial into a rich spatial experience by architects Todd Williams and Billie Tsien and unveiled during weekend opening events June 20-22. The architecture that was inserted into the space was an armature for movement and viewing and provides the thread that holds together a show of site-specific work by 25 artists from 16 countries.
Todd Williams and Billie Tsien, who had used ideas about "spatial curiosity" and "approaching" to generate a previous project with curator Lance Fung for the Snow Show in Torino, developed peripatetic ways of moving through the Site exhibition space that offer elevation changes (ramps, steps, balconies and raised walkways) and the possibility to perceive space, art and people from multiple angles, heights and perspectives. Spaces for moving become event spaces: locations for stopping, gathering, looking, listening, sitting, talking, art-making and other random actions.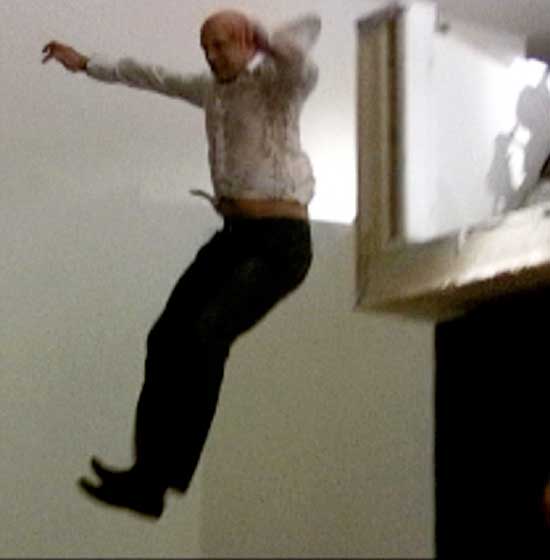 photo:

Megan Fisher McHugh

, courtesy of santafelucky7.com
The exhibition space is largely defined by the presence of the surfaces upon which and within which one moves. Vertical walls, where they exist, are sometimes punctured, sometimes partial, allowing for moments of spatial transparency, parallax and specific perspective views. Because of the complex ways of moving and looking at the art one starts to perceive an overlap, an overlapping of spaces, of art, of one artist's work upon another and of one location upon another, of digital onto analog and vice versa.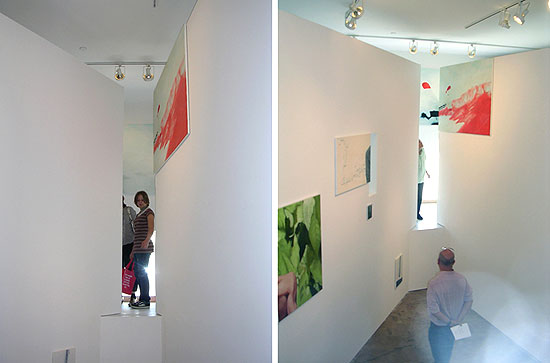 photo: Jean Pike, onsite view Site Santa Fe Biennial 2008

The idea of spatial overlap and extension mixes with the content and concepts of the art: paintings of internet images made in Korea and paintings of internet images made in Santa Fe (artist Soun Myung Hong), Mnemonic connections between disparate locations such as that which exist between Studio Azzurro's interactive video projection, Fourth Ladder, and actual ramps with actual people climbing on them within the exhibition space, work like an alternating montage between digital and analog.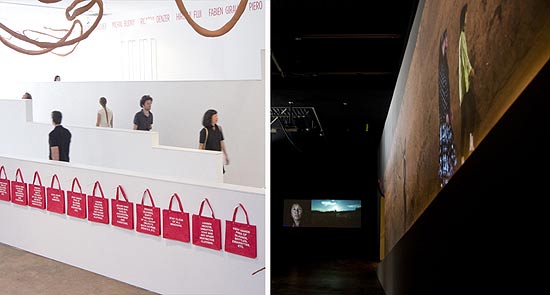 photos: BayAreaEventPhotography.com

Abduction, a work by Fabian Giraud and Raphaël Siboni also references alternate locations. Their piece, taken from a Santa Fe gallery, was transformed, installed at Site, and is intended to be relocated back to its original gallery after the Biennial closes, having been transformed yet again. Even the materials used for the architectural construction of the exhibition will be dismantled and reused elsewhere at the end of the show. Be it literal or conceptual, the offsite projects are now also overlapped onto the site, and a sort of simultanaeity begins to occur. Work created elsewhere and the sensibilities of artists from elsewhere, an interest in recyclable art-making materials and a spatial experience that, through movement and view, emphasizes montage, are all brought to bear on the site and reverberate back outward beyond its confines.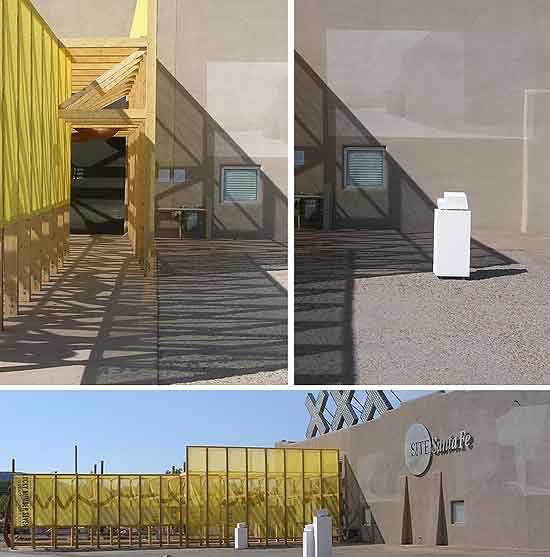 photo: Jean Pike, onsite view Site Santa Fe Biennial 2008

At the front, the new transparent entrance structure, built with manufactured materials, is a contemporary version of the traditional New Mexican ramada, a trellis-like structure made from wood branches that provides ventilation and shade in the harsh summer months. It's moving shadows mix with the simulated and static (painted) projection images of Michal Budny and Zbigniew Rogalski's Slideshow and vibrate with the complexity of here and now and then and somewhere else all at the same time. With the addition of the piece by Rose B. Simpson, Eliza Naranjo Morse and Nora Naranjo Morse snaking through, it makes a great introduction to the show, revealing all the passion and energy of the artists', architects' and curators' work.

Can we, as Christine Boyer asks in reference to postmodern cities, "find the unity of community in this fragmented experience?" At Site we see our stories overlapping into new and exciting configurations that offer the promise of an even greater community, no matter how complex.
Jean Pike is an artist|architect living and working in New York City. She holds a Master of Architecture degree from the Yale School of Architecture. Her work has been shown at Viridian Artists Gallery in NYC, The California College of Arts and Crafts, The University of New Mexico School of Architecture and Planning Gallery, Tao Gallery in Hong Kong and Gallery 61 at The New York Institute of Technology. Her work is about translating between various forms of representation (abstract drawing, video) and three or four dimensional work (sculpture, architecture and installation). Coming from a background in dance, it is often about the physical sense of the body in space and time and how that relates to psychological and emotional states.

Lance M. Fung (fungcollaboratives.org) is the 2008 curator of Site Santa Fe Biennial titled "Lucky Number 7." There are currently 25 artists from 16 countries participating including: Martí Anson, Fabio Cirifino, Paolo Rosa, Stefano Roveda, Leonardo Sangiorgi, Erick Beltrán, Luchezar Boyadjiev, Michal Budny, Ricarda Denzer, Hiroshi Fuji, Fabien Giraud, Piero Golia, Soun Myung Hong, Scott Lyall, Nick Mangan, Eliza Naranjo-Morse, Nora Naranjo-Morse, Ahmet Ögüt, Mandla Reuter, Nadine Robinson Born in 1968 in London, Zbigniew Rogalski, Wael Shawky, Raphaël Siboni, Rose B. Simpson and Shi Qing Born with a curatorial team including: Ferran Barenblit, Iara Boubnova, Gregory Burke, Colin Chinnery, Alexie Glass, Lukasz Gorczyca and Michal Kaczynski, Laura Steward Heon, Barbara Holub, Vasif Kortun, Chus Martinez, Martina Mazzotta, Tsukasa Mori and Yuu Takehisa, Joseph Sanchez, Patrizia Sandretto, Guillermo Santamarina, Hyunjin Shin, Alessandro Vincentelli, Marc-Olivier Wahler, William Wells, William Wells,

SITE Santa Fe was launched in 1995 to organize the only international biennial of contemporary art in the U.S. Conceived to bring the global contemporary art dialogue to the art-rich Southwest, and as a major event on par with such renowned exhibitions as the Whitney Biennial and the Venice Biennale, it has become an integral event for contemporary art aficionados, attracting tens of thousands of visitors from around the world. To date, SITE Santa Fe has successfully held six biennials, each of which has drawn worldwide attention and brought important contemporary art from all over the world to Santa Fe. Past biennial curators have either arrived as or have subsequently become superstars in the world of contemporary art. Following their SITE Santa Fe Biennial guest curatorships, Francesco Bonami (1997), Rosa Martínez (1999) and Robert Storr (2004) were chosen to organize the Venice Biennales in 2003, 2005 and 2007, respectively. Dave Hickey received the coveted MacArthur "Genius Award" after curating SITE's Biennial in 2001. In 2006, Klaus Ottmann, a New York-based independent curator organized SITE Santa Fe's Sixth International Biennial, Still Points of the Turning World that ran from July 9, 2006 to January 7, 2007.

Past artists have included: Marina Abramovic, Chema Alvargonzález, Francis Alÿs, Robert Ashley, Rebecca Belmore, Barbara Bloom, Imre Bukta, Carlos Capelán, Thomas Joshua Cooper, Braco Dimitrijevic, Felix Gonzáles-Torres, Ann Hamilton, Gary Hill, Jenny Holzer, Rebecca Horn, Anish Kapoor, Catherine Lord, Chie Matsui, Jakob Battner, Gerald McMaster, Bruce Nauman, Marta María Pérez Bravo, Alison Rossiter, Meridel Rubenstein, Andres Serrano, Lorna Simpson, Valeska Soares, Pierrick Sorin, Trinh T. Minh-ha, Tseng Kwong Chi, Millie Wilson, Massimo Bartolini, Vanessa Beecroft, Maurizio Cattelan, Olafur Eliasson, Giuseppe Gabellone, Kevin Hanley, Noritoshi Hirakawa, Gary Hume, Lukás Jasansky & Martin Polák, KCHO, William Kentridge, Suchan Kinoshita, Udomsak Krisanamis, Sharon Lockhart, Esko Männikkö, Tracey Moffatt, Chris Moore, Elizabeth Peyton, Huang Yong Ping, Tobias Rehberger, Miguel Rio Branco, Rudolf Stingel, SubREAL, Sam Taylor-Wood, Pascale Marthine Tayou, Jaan Toomik, Eulalia Valldosera, Helena Almeida, Ghada Amer, Janine Antoni, Monica Bonvicini, Louise Bourgeois, Tania Bruguera, Cai Guo-Qiang, Lygia Clark, Diller + Scofidio, Dr. Galentin Gatev, Greenpeace, Yolanda Gutiérrez, Mona Hatoum, Carl Michael von Hausswolff, Carsten Höller, Simone Aaberg Kærn, Zwelethu Mthethwa, Nikos Navridis, Shirin Neshat, Rivane Neuenschwander, Gabriel Orozco, Pipilotti Rist, Francisco Ruiz de Infante, Bülent Sangar, Arsen Savadov & Georgy Senchenko, Charlene Teters, Sergio Vega, Miwa Yanagi, Kenneth Anger, Jo Baer, Jeff Burton, James Lee Byars, Pia Fries, Gajin Fujita, Graft Design, Frederick Hammersley, Marine Hugonnier, Jim Isermann, Ellsworth Kelly, Josiah McElheny, Darryl Montana, Sarah Morris, Takashi Murakami, Nic Nicosia, Kermit Oliver, Jorge Pardo, Ken Price, Stephen Prina, Bridget Riley, Ed Ruscha, Alexis Smith, Rafael Soto, Jennifer Steinkamp and Jimmy Johnson, Jessica Stockholder, Jane and Louise Wilson, Ricci Albenda, Louise Bourgeois, Charles Burns, Francesco Clemente, Bruce Conner, R. Crumb, John Currin, Carroll Dunham, James Esber, Inka Essenhigh, Tom Friedman, Ellen Gallagher, Robert Gober, Douglas Gordon, Mark Greenwold, Lyle Ashton Harris, Jörg Immendorff, Jasper Johns, Kim Jones, Mike Kelley, Maria Lassnig, Sherrie Levine, Christian Marclay, Paul McCarthy, Jennifer and Kevin McCoy, Elizabeth Murray, Bruce Nauman, Hermann Nitsch, Jim Nutt, Tony Oursler, Gary Panter, Lamar Peterson, Raymond Pettibon, Lari Pittman, Sigmar Polke, Neo Rauch, Alexander Ross, Susan Rothenberg, Peter Saul, Jenny Saville, Thomas Schütte, Jim Shaw, Cindy Sherman, Laurie Simmons, Fred Tomaselli, Adriana Varejão, Davor Vrankic, Kara Walker, Jeff Wall, John Waters, John Wesley, Franz West, Lisa Yuskavage, Miroslaw Balka, Jennifer Bartlett, Patty Chang, Stephen Dean, Peter Doig, Robert Grosvenor, Cristina Iglesias, Wolfgang Laib, Jonathan Meese, Wangechi Mutu, Carsten Nicolai, Catherine Opie, Thorns Ltd.

Friday, June 20, 2008
Harvard Nashawannuck Remix
Nashawannuck Gallery Easthampton Massachusetts Meets

Harvard University's
Peabody Museum of Archaeology & Ethnology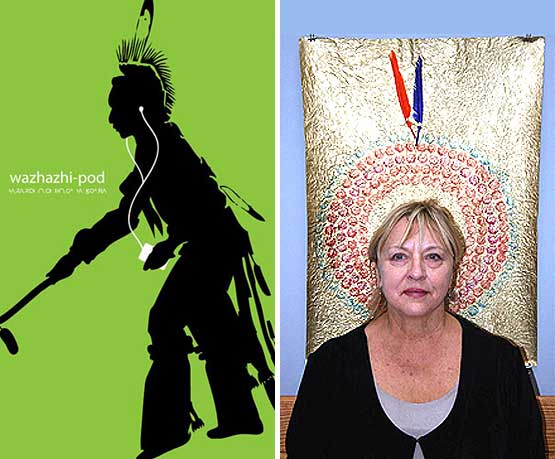 left:

Ryan Red Corn

, Wazhazhi-Pod, REMIX,

Peabody Museum of Archaeology & Ethnology, Harvard University


right:

Dan Loudfoot

, Everyone Wants To Be An Indian,
Nashawannuck Gallery, Easthampton, Mass

From April 1st through the 30th at Nashawannuck Gallery located at 40 Cottage St. in Easthampton MA (nashawannuckgallery.com) hosted "Untold Stories & Native Voices." Participating artists were Dan Loudfoot, based in Brooklyn, NY with the tribal affiliation of Pequot. Courtney Leonard, based in Providence RI with the tribal affiliation of Shinnecock. Peter McLean based in Connecticut with no tribal affiliation and myself, Nayana Glazier, based in Massachusetts and affiliated with the Ojibwe and Potwatami of the Wikwemikong first nation.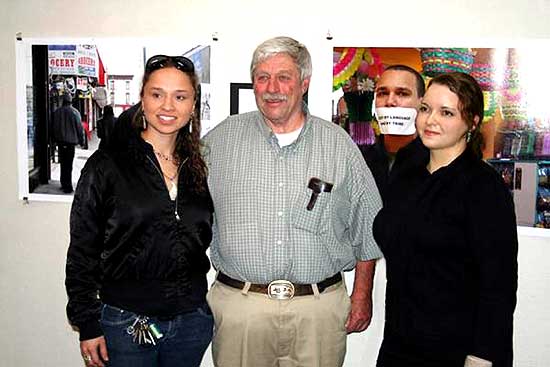 left to right:
Courtney Leonard

,
Peter McLean

,

Dan Loudfoot

,

Nayana Glazier



Untold Stories & Native Voices

Nashawannuck Gallery

Our media, styles and works are unique and could have stood on their own, however together they made a statement about the history, present and future of native people.
At the reception held on the second Saturday of the month each of the three attending artists (McLean, Leonard and myself) spoke about the work on display and answered questions from attendees. McLean, professor Emeritus of Fine Arts at the Hartford Art School/University of Hartford in West Hartford Connecticut, spoke first (http://www.petermcleanfinearts.com/) and his years of teaching were evident as he discussed the sources of his large and impressive charcoal drawings. Each has its own life and history using historical events and native pop culture icons to suggest the Americanization and de-culturization of native peoples through pop culture and the historical canon. His "Disney Pox", a 52"x 46" suspended charcoal drawing, uses images of Pocahontas with red pock marks and classic images of explorers with Americanized natives, comparing Disney to Small Pox in its negative effect on native life, or the perception of native life in modern culture.
I then spoke on my work and the work of Dan Loudfoot. Dan's work uses images from his interactive project "I lost My Language And My Tribe" about which Dan says:
"This work is a performance that deals with issues of colonization that I go through on a daily basis and this dis-connect I feel from living in present day American Society. I am a Pequot (Native American) artist. I am a direct result of what colonization has done to a people and the cultural disconnect that we face as a people. These words that I am writing and these words that I speak are not my own, my language was eradicated from my relatives mouths and I now speak English. This performance involves walking down the streets of Brooklyn, NY with my mouth covered with a piece of paper over my mouth with the words, "I lost my Language I lost my Tribe."

-Dan Loudfoot
Also included are pieces from his project of making paper dolls of himself and his loved ones in traditional regalia. He then takes those pieces to the Metropolitan Museum of Art where he uses some creative placement and a digital camera to place the figures as Christ-like in the museum's religious depictions.
Dan had this to say about this project:
"My recent work has taken me to the Metropolitan Museum of Art here in New York City conducting performances in the Religious Icon Art galleries that explore various modes of hybridity. I use paper caricatures of my wife and myself in our traditional regalia and hold them at a distance from actual paintings; after taking digital photos of the caricatures that I am holding they create an illusion that they are actually in the painting. In this performance I am bringing "Native Americans" to a Holy Iconic form, a form that does not exist in American Mass Media today. Creating a voice of authenticity while bring light to these issues is core to my practice. This series of performances has opened up an ongoing dialogue with the public. This work stems from memories of my childhood spent in Catholic school after troubling experiences at the local public school. A non-Catholic, being an outsider forced to sit alone in the pews while the other children received their daily bread and wine. In St. Patrick's church, I looked up at that man nailed to a cross and asked myself, "Where is MY creator?" ..."

-Dan Loudfoot
The last piece he included is "Everyone Wants to Be and Indian". Dan had this to say about the piece:
"This is an interactive project where the audience is able to participate in my art making and revive early childhood memories. I have drawn a Halo with Bingo Paint (my casino Indian media) on construction paper in this work I am trying to bring Native Americans to the holy Iconic form that we rarely reach. This work stems from my memories in grade school around the times of Thanksgiving and having to wear construction paper headbands with feathers in them. This work also deals with the actual painting becoming a figure similarly to art in museums, galleries and public spaces. When people stand next to or in front of artwork and take their pictures. With my project "Now Everyone Can Be an Indian" the audience is invited to do so."

-Dan Loudfoot
My own work is always difficult to speak about. The work itself does come from reflection on my experiences and ideas. My earlier work dealt very clearly with being native in modern society and feeling out of place, showing brightly colored native peoples feeling out of place in a monochromatic cityscape. But my more recent work investigates the existential and the challenge of remaining entirely human.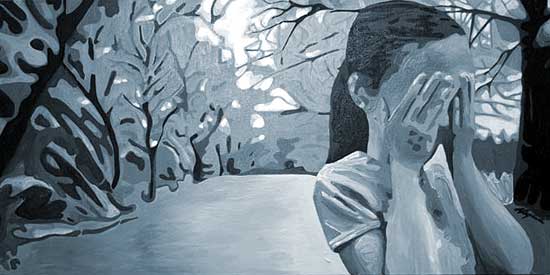 Nayana Galzier

, Untitled, Acrylic, Nashawannuck Gallery, 2008
Courtney Leonard then spoke on her work, its construction, where she came from and its purpose. What struck me was her candid nature in addressing the show's concept. "Untold Stories & Native Voices", Leonard Stated that by her experience these stories were not untold. Perhaps not heard, but certainly not untold. Her work calls on the skills she learned at RISD, her experiences traveling to different regions and missing her home on the Shinnecock reserve in Long Island. Though being native and an artist were part of her they were no more or less than her other history and experiences, her work spoke less to being native and more to being herself. Viewing native ceramic objects one might expect the traditional. Her work is more a representation of herself, her feelings, her experiences than the history of ceramics or a statement on modern art by native artists.
This got me thinking. My own work is now bypassing heritage to focus on humanity over label, individual sovereignty artist or not, native or not etc. Courtney had expressed similar ideas to me and so I set out to see if other artists from some of these exhibitions also engaged these issues.
Courtney mentioned the now famous Harvard show REMIX Indigenous Identities in the 21st Century at The Peabody Museum of Archaeology & Ethnology, Harvard University (April 5 - August 31, 2008.) REMIX features work by Doug Miles (San Carlos Apache), Ryan Red Corn (Osage), Courtney Leonard (Shinnecock), and an artist I've mentioned extensively on Artist Organized Art, Bunky Echo-Hawk (Pawnee and Yakama) also included is rapper Quese IMC. In REMIX, these artists transform traditional materials, ideas and iconography into contemporary art. The exhibition is curated by Kelsey Leonard, Tanner Amdur-Clark, LeRenzo Tolbert-Malcom, and Caitlin Young, members of Native Americans at Harvard College on behalf of the Ivy Native Council.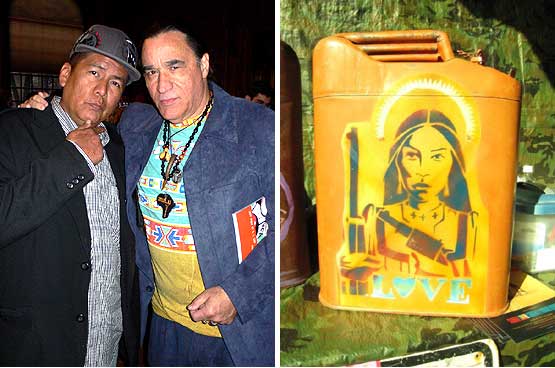 left:

Douglas Miles

with famed Hip-Hop photographer

Ernie Paniciolli

,
his film The Other SIde Of Hip-Hop was shown at REMIX Harvard
right:

Douglas Miles

, LOVE
That the show was presented at The Peabody Museum of Archaeology & Ethnology spoke volumes. Why are Native cultures, among the most heavily studied groups of different peoples under the same umbrella ever assembled in North American history, stuck in a time freeze. A view perpetually studied in the past tense, so much so that even virtually self organized contemporary art which, by global standards, is practiced by very contemporary artists, would still only find venue at the enlightened authority, Harvard University, through an archaeological and ethnological spin.
Archaeology

–

noun

1. The scientific study of historic or prehistoric peoples and their cultures by analysis of their artifacts, inscriptions, monuments, and other such remains, esp. those that have been excavated.

2. Rare. ancient history; the study of antiquity.

-www.dictionary.com
What is the function of such an alienating, analytical and clinical form as to be "studied." Some of the works in the exhibition were only created months before the show was hung, yet they are observed in the same respect that works are studied in a museum of natural history. The overwhelming consensus among the artists I have spoken to is the desire to be seen as artists, to have their work appreciated on its own regardless of the artist's ethnic affiliations or any other factors than the merit of the work itself.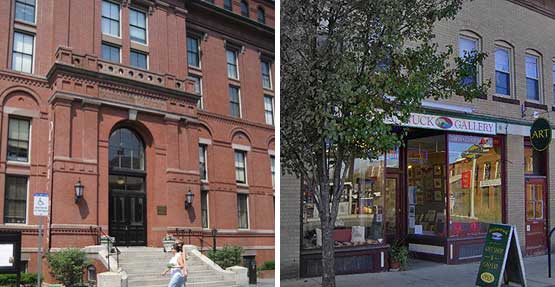 left:

The Peabody Museum of Archaeology & Ethnology

, Harvard University
right:

Nashawannuck Gallery

, Easthampton Massachusetts
I was fortunate to interview Douglas Miles briefly and get his perspectives on things.
"…It is tiring and somewhat demeaning (to artists / natives) in a certain sense. Because even though it is meant to serve an educational purpose it also serves to commodify and cleanly categorize a whole "people" in nice little dioramas, placards or booklets without respect to very real complexities…This is not to disrespect staff or "experts" in those fields, however why do we have to show in an "Anthropological (Archaeological) Museum?" Are we not artists with valid points of view like any other artists from any other background?….all artists should endeavor to let their ART speak for itself without regard for the ethnicity of its maker."

-Douglas Miles
Nayana Glazier(NG):

Knowing that you question the idea of the native themed exhibition based solely on the fact that the work was produced by native artists, and considering that all of us at our core would prefer to be known as artists and not specifically native artists...would you continue to participate in native themed shows in the future?
Douglas Miles(DM):

It's not that I question the purpose or reasons for showing. It's time for a new paradigm. The places we show(Anthropology Museums and Museums of Natural History etc...) seem to already dictate how our art is to be viewed, taken and is/isn't accepted. That is why new venues need to be discovered challenged, sought out or hi-jacked because time is short. I will support any show, curator, museum, gallery or collector(s) who does not try to label, categorize, define or pigeonhole what we (as artists) do.
The Harvard REMIX is/was revolutionary in that students (Youth) came up with the concept, felt these artists are significant voices of change, and requested us there. They basically hi-jacked some Museum space at Harvard and allowed us freedom to create. In "Native Art" that is almost unheard of with the exception of my projects like www.thenativeagents.com or www.apacheskateboards.com which not only include art but skateboarding, poetry, film, photography, sculpture, performance, music and whatever else we want to make. Major museums are now trying to emulate the concepts we built. Some are even opting to dis-include us from their discourse as they attempt to replicate our innovation. However what Apache Skateboards, The Native Agents and myself have done is well documented. It is art for the people.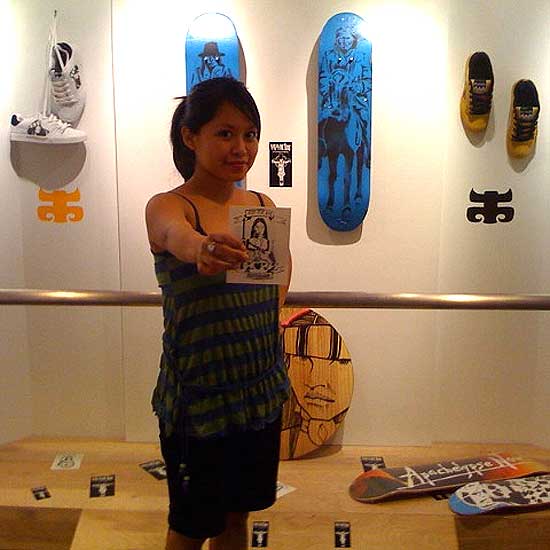 Douglas Miles

, Art For The People, apacheskateboards.com, 2008
with

Kelsey Long

in photo

NG:

Would you try to gear your career more toward shows about art and not the cultural backgrounds of the artists or the cultural themes in the work?
DM:

My art takes on a life and direction of its own. Though I am the composer, like a jazz musician, I've learned to improvise , embrace new styles, and work in various settings. It is almost impossible in the Native Art field to create a show concept that is not about your tribal background. However more and more I am being asked to participate in non-Native themed shows. I am not trying to "gear" my art in any direction. Nor am I trying to "cross-over." When an artist begins to understand the power of their own voice, develops a style apart from the norm and learns to walk blindly yet boldly into opportunity, their work can go anywhere. Good work can and should transcend any real or imagined boundaries. If I'm geared up for anything its to have fun with my work and work with others who share similar goals. It (the art) is taking me where it wants and needs to go. It is leading me into clothing/product design, the street art movement, underground galleries, film work, photography, performance, poetry, media, magazines, books, and a longer list of projects in the works. My job is to listen to my art and allow it to breathe and exist in the fields alleys, hallways, theatres, back streets or wherever and with whomever wants to see and be part of it.


NG:

Do you feel that this theme of show which is sprouting up around the country will eventually pigeon hole many of the artists involved? Or do you think that some or most of the artists will be able to define themselves as artists and humans first and native artists second?
DM:

The Harvard REMIX is unique in the sense that students not " Native Art Experts" curate the show. I would hope that this type of guerrilla art show becomes the norm. It allows access to artists who do not get any. Meaning access (to venues) is usually defined by who has the longest curriculum vitae or who has sold the most art or who has befriended the coolest curator/collector etc. All artists should try to be as human as possible. I hope I'm doing a good job. Artists need to be as creative as possible and as true to their current "here and now" as possible.
My current work is not romantic. It is dirty/gritty and not easy to look at. This is how our communities affect us. I am part of a community and a tribe. It will always inform the work that I do. However it does no artists any favor to constantly refer to their ethnic background as some kind of relevance. Especially if their art is mediocre. An artist's work must always do the talking. Eventually critics, writers, patrons will figure out that the artist is from somewhere. Artists (Native) really need to begin to look for ways to be as freely creative as possible without the demands of a "market". It may be awhile before that occurs yet it is necessary in order for art to flourish.
Keeping everything in mind that I have learned through this experience I can only speak from my own experiences and perspectives on what will happen with these kinds of exhibitions in the future. To be honest I think none of us can deny the allure of the exhibition regardless of theme or label that might be attached to it and subsequently us as individual artists. But when it comes to the idea of a native themed show with a grouping of artists who are brought together solely because they share a set of genealogical traits is one that is unavoidable for anyone. Who we are, weather we try or not, is directly reflected in whatever art we as artists individually make and as such our heritage comes though. It might be the feeling of a lack of heritage or the abundance of it that shines through behind the indistinguishable that makes us stand out as native artists but it is there. It would be foolish for any of us to deny it or try to stay away from it, it is who we are as much as anything else. Presenting us together as separate artists under the same umbrella can both be to our benefit and detriment depending on the audience and the location. In some respects being categorized as an ancient civilization has leant itself very well to opening the discussion on that very subject. Surely seeing modern art in an archaeological context is a different sort of education and experience for the students at Harvard studying our modern day historical artifacts. So long as these ideas are presented along side the work, that the body of combined artists and styles are presented as such different people from different backgrounds, brought together on one basis only…their ethnic heritage, their differences being the educator to those attending, to bring their concepts and understanding of indigenous cultures to the same stand point that they would think of people of other ethnic backgrounds and possibly take one small step closer to earning ourselves a spot as an easily recognized modern people. As complex, modern and Americanized as anyone else.
Personally I will continue to support and participate in these exhibitions whenever possible in the hopes that soon they will move past the historical stage and into the modern art world so that each artist can have their work seen on its own for what it is and not just what label they fit under.
Thursday, June 05, 2008
Théâtre de la Cité Internationale, Paris, France
Scenes Ouvertes à L'Insolite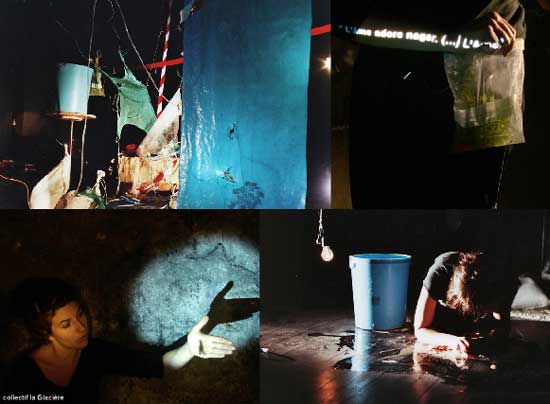 covered by

artist

Angie Eng
Théâtre de la Marionnette
Théâtre de la Cité Internationale, Paris, France
15-25 May 2008
http://www.theatredelamarionnette.com/scenesouvertes.html
In a country rich with history, how does one approach innovation? Experimental Tradition seems to be all too common in the Art Festival de Paris. For three weeks in May, Le Théâtre de la Marionnette presented 'Scènes Ouvertes à L'insolite' (Open Stage For The Unusual) This umbrella program of cross-genre theatre included: theatre of manipulated objects, puppetry, video, shadow play, circus, spoken word, magic show, contemporary dance/movement, actors, tap dancers, improvisational music, poets, 'clowns', mimes, did I forget anyone, anything? From the description of sub-genres the public is immediately informed to not expect the Muppet show. The closest might be Daisy/Violet, the ½ human ½ puppet Siamese twin strippers of "Me Too, A Sideshow," a performance ode to "Freaks" that merges the roles of object and manipulator.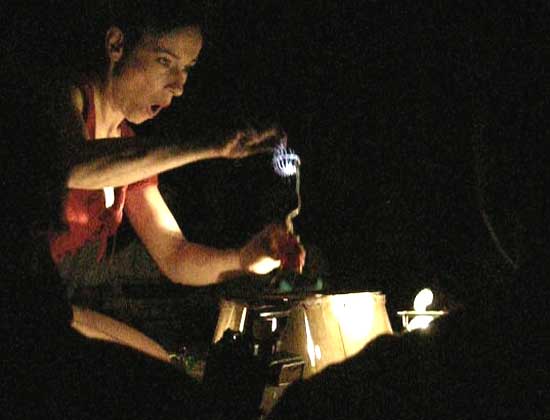 What we do realize after viewing a few performances, in my case 7 of the 14 presentations, is each collective remains faithful to the exploration of reality through the discovery of the make-believe. In other words, facing death by rebirth. As with a magic show, suspense is the key emotion to unravel the cycle of personal development. Like the art student exploring a canvas by copying the masters, the actor/manipulator reveals how the mind confronts existence. In "Desirée," we are thrown into the cellar with a suffering abused girl who survives by recreating a dialogue between self, object and an imaginary persona. In coping with fear she displaces all emotion into gestural scenarios. Here is a production that presents 'playing dolls'' in a most dramatic, intense one-person drama, grâce à the performance of Coco Bernardis. And an honorable mention to the improvisational musician, Antoine Arlot who truly played visual sound.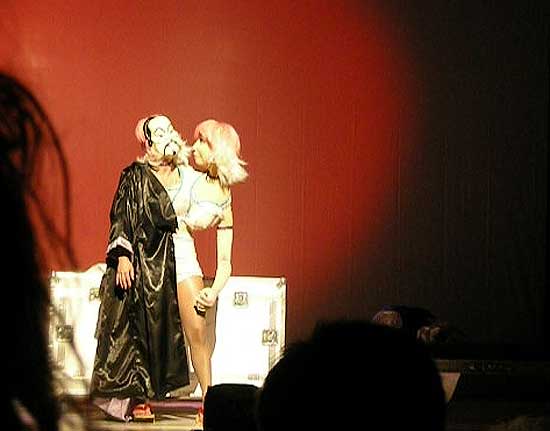 "Mr. H" (an adaptation of Dr. Jekyll and Mr. Hyde) is also a whirlwind in connecting the self with its multiple attempts and failures to illustrate life is a process. Visually dazzling as if watching a circus on acid, the three actors and one puppet move on, off, behind, sideways while playing tap dancing apes, reproducing via overhead projector "Journey to the Center of the Earth" mad scientist, syncing lights and alarms à la Richard Foreman, mocking Hollywood shadow dance and borrowing Film Noir in their mystic hysterics. Well, 'I-can't-remember-how-it-ended-but-I-liked-it-anyway' was my reaction. It takes courage to cross the border.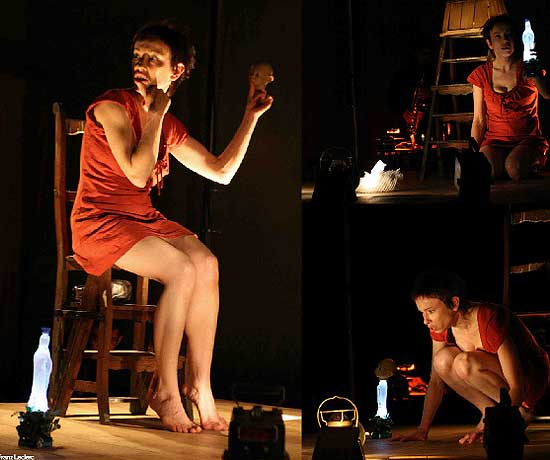 I've worked 15 years with experimental technology under the label of 'New Technology', 'New Media', 'Interactive Performance' and/or 'Experimental Video'. 50% of the time the questions were geared toward equipment brands and software development in-progress. Questions of poetry and content were non-existent. In "Me Too: A Sideshow," the story is about a baby puppet recounting his Siamese twin mother who reminisces of a time in a caravan by way of a video clip. (Did you catch that hall of mirrors?) Here, cinema is used as a dimension that could only be expressed by a window of moving images. (And nobody would ask how many lumens was the projector nor the name of the digital effects applied on the video!) Last month on the outskirts of Paris, I found myself every Sunday at the Théâtre de la Cité relearning the lesson on how marketing can jet your audience to a glacier mountain when the meeting point was in the Sahara. Under the heading of "Marionnettes" aesthetic parallels provided the base to the limitless use of tools and definition of 'spectacle'.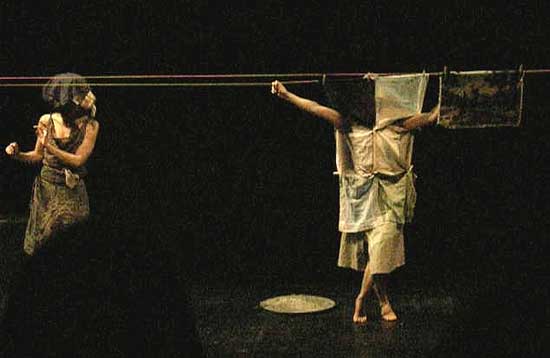 In Encore des Changements a poet crawls on the floor like a handicapped child reaching for a cord. Video projection is used to recite words projected on her arm as cinematic tree silhouettes dance inside the painter's paint. At one point she fondles a huge mass of cotton like a Fluxus inspired media artist dancing with paper (Jessica Higgins in "North Water Song"). It's so sensual you want this moment of simplicity that fulfills an urge to last longer. Spirituality and sensuality make a good couple. In the end as in the beginning and middle of the piece, a combination of techniques is used to examine the fragility of existence. The narrative arch seemed to be underdeveloped. Be that as it may, I still look forward to the next attempt.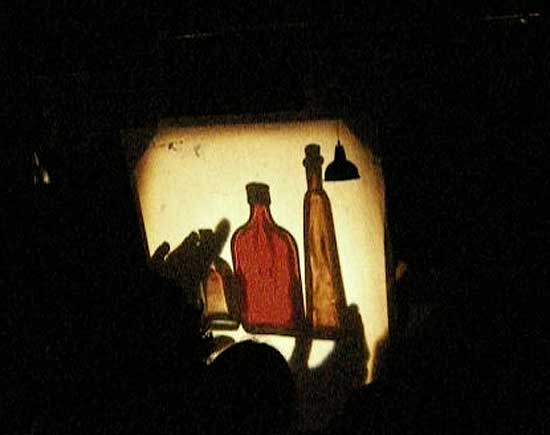 Incorporating cinema or merging forms effectively is no easy feat. However, the Festival Scènes Ouvertes à L'insolite' gave me hope again. Breaking rules is necessary in experimentation, however there is a certain tradition that holds true- Start with a foundation and voyage to the ephemeral can bring fruitful results.

Artist Organized Art
as seen in:


help by linking us (click in box, copy code, paste code into your site or blog page)
http://artistorganizedart.org
Makes Example:
http://artistorganizedart.org
XML
::.. bookmark this page:
del.icio.us
Furl
reddit
Yahoo MyWeb
Get More Involved: Donate Now | Log In | Sign Up Now | Subscribe | About Us